One of my first cooking jobs was as a prep cook for a cute little German-American Bistro in Northern California. One of the things I was responsible for prepping everyday were the caramelized onions. I would make batches upon batches them. I made them so often, that I even started dreaming about making them.....and that's when I knew I was in trouble.
Now, why would you want to know the tricks for making a delicious batch of caramelized onions? Because you can use them in so many different recipes! These onions are good in everything from French Onion Soup to quiches to appetizers and bread puddings. You can add them to stuffings, brussels sprouts and green bean casserole. This is the time of year we indulge in some of those comfort foods, so why not give them a little fancy, caramelized onion twist?
You can easily prep a batch of caramelized onions and keep them handy in your refrigerator for up to a week. So, how do you make these sweet onions?
First thing you are going to need is a heavy bottom skillet or stockpot.
Gather together:
Yellow or sweet onions
Salt
Water
That's it! It's all you need. You don't need oil and you don't need sugar to make perfectly tasty caramelized onions.
If you prefer your onions a little sweeter, I recommend going with sweet onions but the yellow onions work just fine.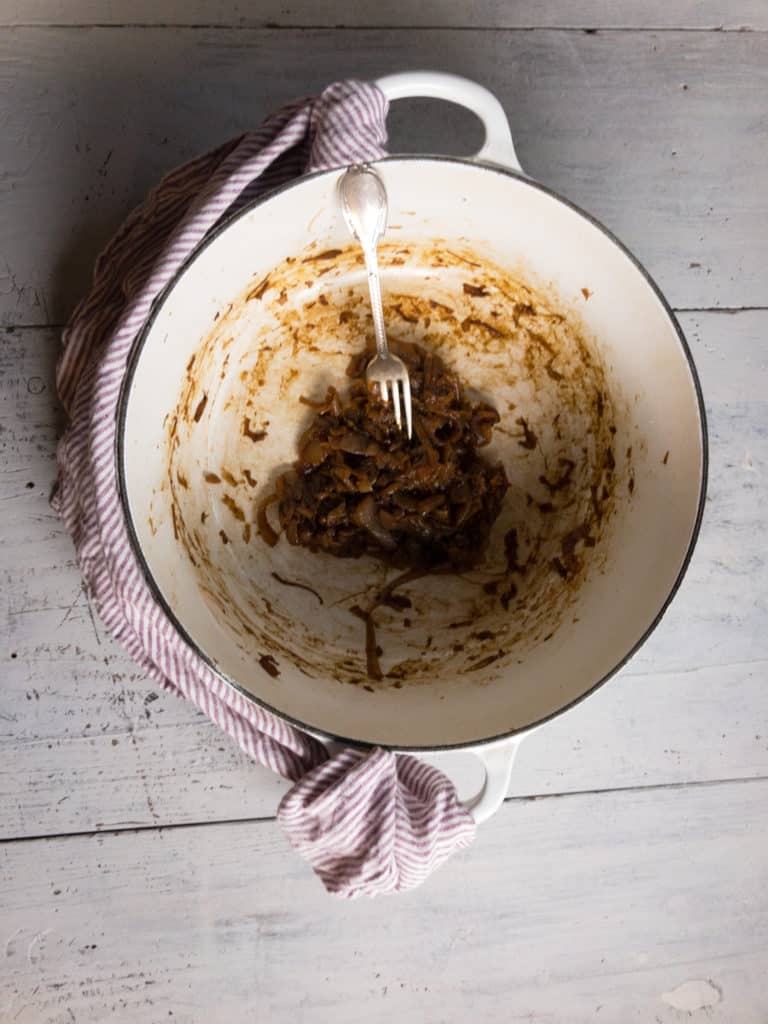 Slicing the Onions
You will need to slice 2 -4 onions to get a decent amount of caramelized onions. As they cook, they shrink -- a lot like spinach or mushrooms. Decide what you would like to make with them and plan your batch accordingly.
Be carful not to touch your face or your eyes while you are slicing onions.
To slice the onions, cut the top and the bottom off from each end of the onion. Lay one flat side of the onion on the cutting board and slice the onion straight down into 2 halves. Lay the large, flat side of each half of onion on the cutting board and slice into half moons ⅛ inch thick. Repeat the process with the other half onion and then with the rest of your onions.
Tricks to help with crying
You may cry. I do. I always do.
I've tried all the tricks in the book to stop myself from crying when I slice onions. Nothing works for me personally, but here is a list of things I have tried over the years. Some swear by these tricks.
Trick #1 - Soak the peeled onion halves in water for 15 - 30 minutes before slicing into half moons.
Trick #2 - After peeling and cutting onions in half, place them in the freezer for 20 - 30 minutes before slicing.
Trick #3 - Wear a pair of goggles.
Trick # 4 - My personal choice - Cry..just cry it out. And don't put on mascara right before slicing onions (like I did when making the onions for this post).
Do any of these tricks work for you? Do you know of any other tricks I haven't mentioned? I would love to hear about your onion tips in the comments. 🙂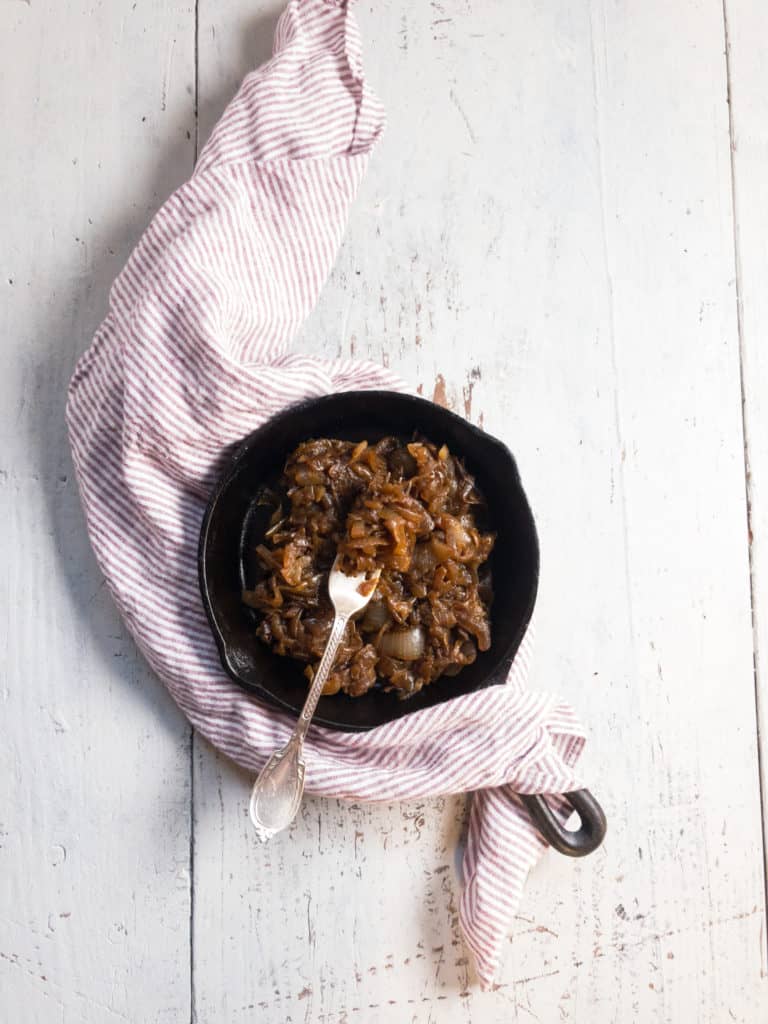 Alright, we have now sliced the onions and possibly cried like a baby. It's time to cook these puppies!
Cooking Caramelized Onions
Grab your heavy bottomed skillet or stockpot and set it over medium heat. Then, take all those onion moons that you're crying over and put them in the pan.
Sprinkle in 1 teaspoon of salt and stir with a wooden spoon or spatula.
Then....wait for it....let them sit. Allow the onions to steam into each other. This will help the onions break down.
After about 10 minutes, give them a quick stir and let them sit another 10 minutes but keep your eye on them to prevent any sudden burning.
(If your stove top has higher BTU's, you may need to reduce the heat just a little)
You will repeat this step over and over. After about 20 - 30 minutes, you will notice the bottom of your pan starting to brown (aka caramelize).
Once there is a good amount of caramelization on the pan, move the onions to the side of the pot and slowly pour a few tablespoons of water over the brown bits.
The water will get bubbly and brown. While it's bubbling, be sure to get all the brown bits off the bottom of the pan and stir the brown liquid into the onions.
Pile the onions together again and let cook another 5 - 10 minutes. You may need to reduce heat at this point. Repeat this process until the onions are dark brown and soft, but not burnt (about 60 minutes).
The finished onions should be soft but not falling apart, slightly sweet and a dark golden brown.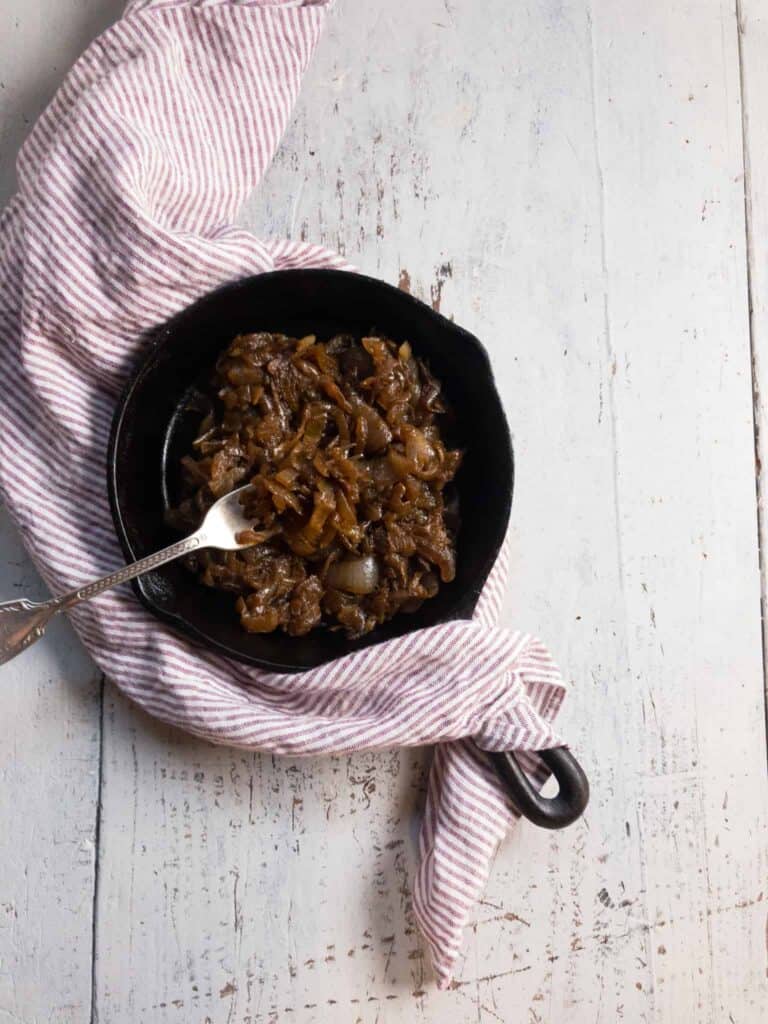 Storing Caramelized Onions
Once the onions have cooled. Store them covered, in an airtight container for 1 week - 10 days.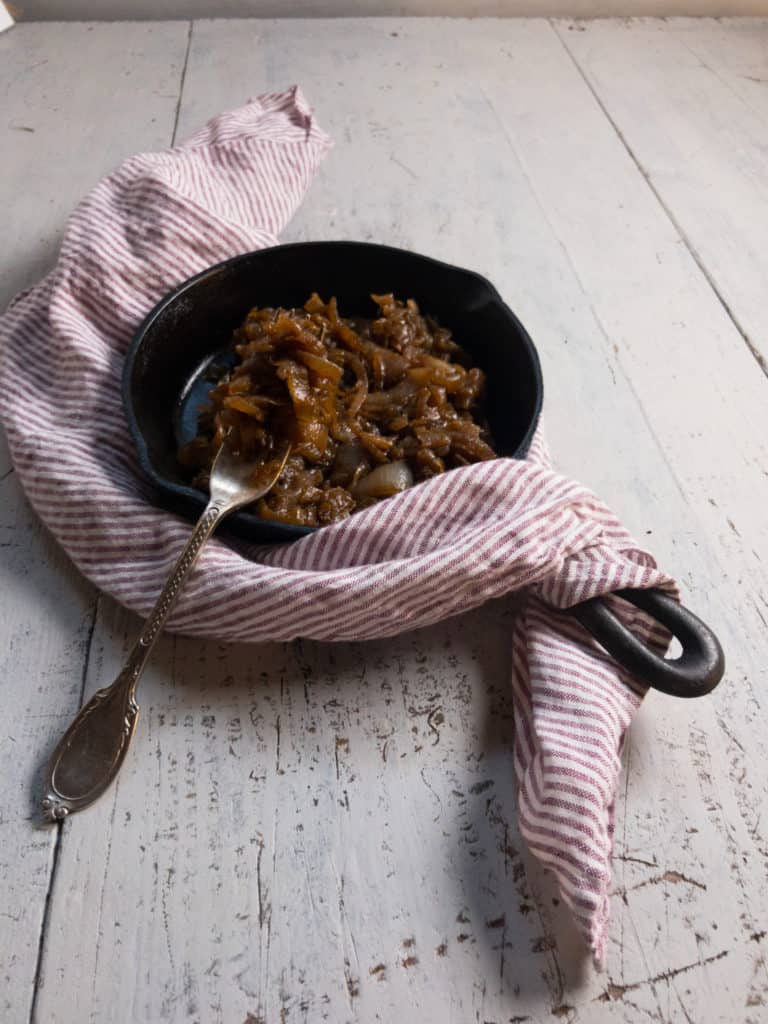 Did you try this recipe? Let me know how it went in below in the comments! I hope to see you at the next post!
Suzie