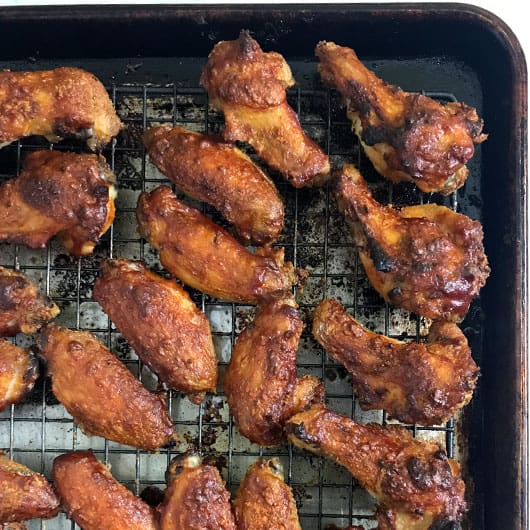 This recipe for Fall-off-the-bone, Crispy, Baked Chicken Wings is the ideal snack for watching Sunday sports with some good friends. Even the non-Chicken Wing lovers will want this recipe.
Some planning is required for this recipe to turn out just right. BUT, I promise, you will never need another wing recipe! Well--except for maybe my Smoked Chicken Wings (a current work in progress).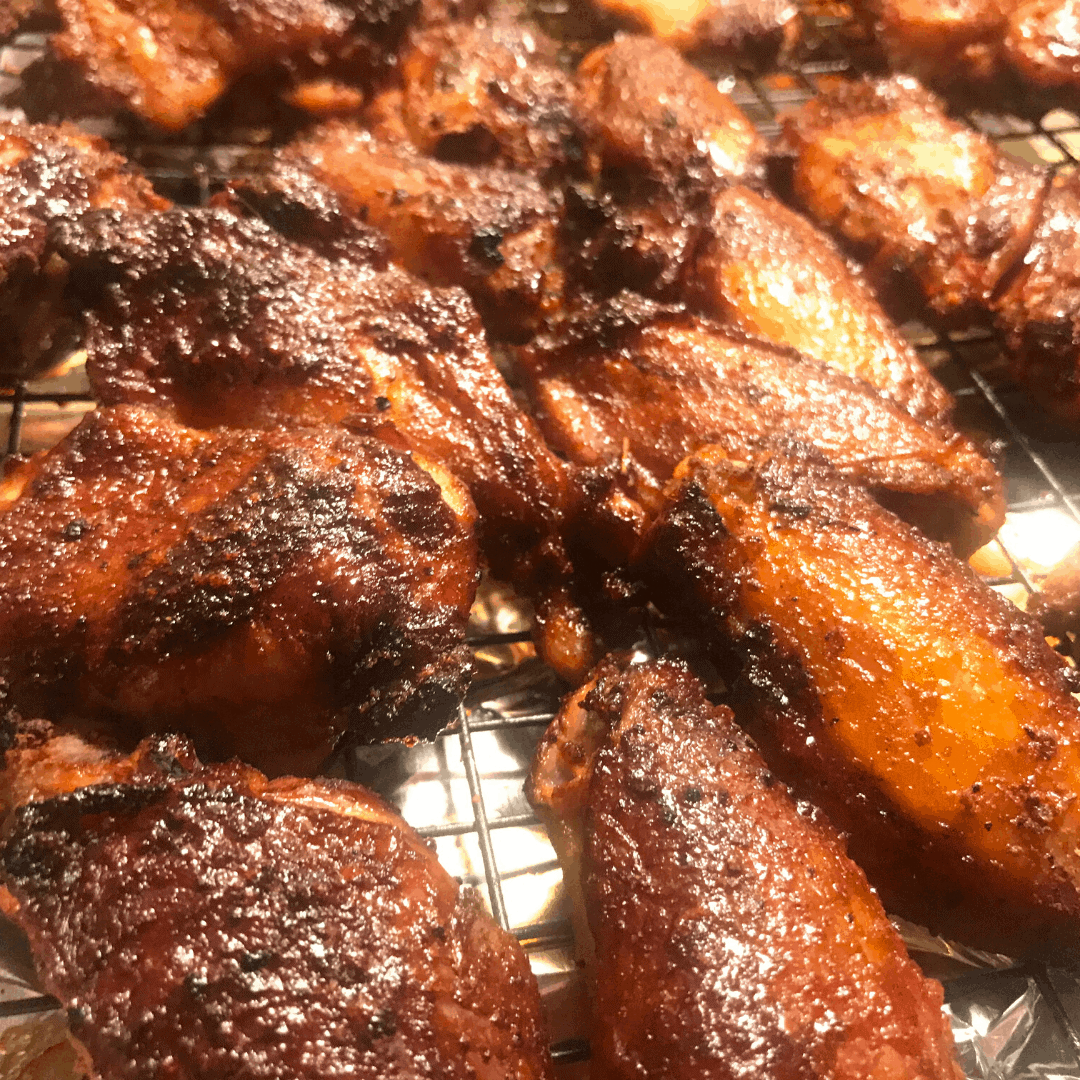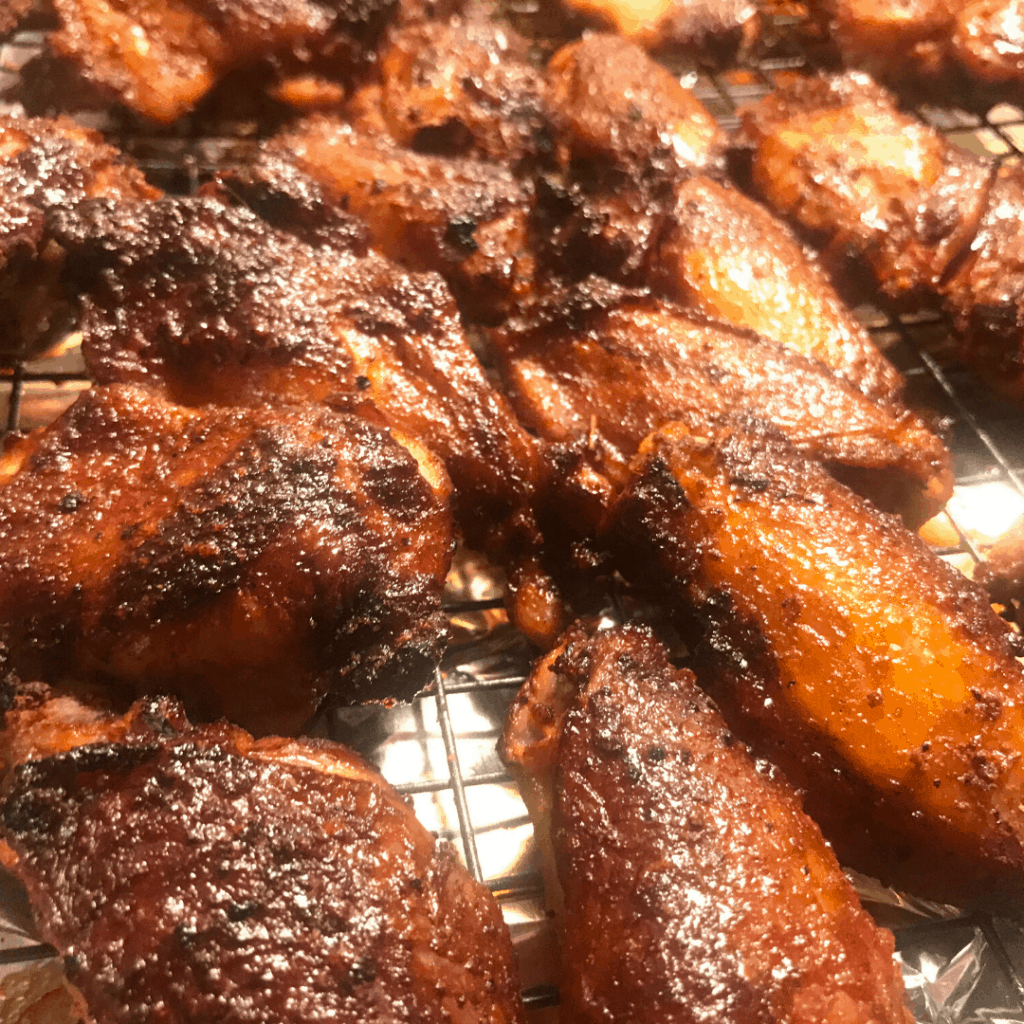 Seasoning the Chicken Wings
It's important to season the chicken wings before you chill them in the refrigerator.
We want the salt to take it's sweet time and fully flavor every part of the wing. The salt will also help to break down connective tissue and create a very tender and crispy bite.
---
Why we are marinating our Chicken Wings in the refrigerator for so long?
There are 2 reasons that we are marinating the wings in the refrigerator.
First, we want to dry the wings out as much as possible so we get a crispy exterior and a moist, fall-off-the-bone interior.
Second, we want to keep our chicken at a safe temperature while it marinates and dries out.
---
Why it's good to add the baking powder.
Lightly dusting the wings in baking powder will draw out the moisture from the wing and give you an exceptionally crispy crust.
*Do not substitute baking soda for baking powder. They are not the same.
---
Bake the wings on a Cooling Rack.
Why you ask? We want the fat from the skin to drip off of the wing. If you don't use a non -stick cooling rack, then your wings will be sitting in their fat and juices and may not crisp up the way you desire. AND the bottom of the wings will be greasy.
---
Bake Chicken Wings 2 times. Once at a low temperature. Then at a high temperature.
Baking the wings at 2 different temperatures will ensure your wings come out just right.
The low temperature will slowly melt the fat on the skin, softening the skin texture.
The high temperature bake will sear and crisp up the skin beautifully.
---
A few more Recipes you may enjoy:
Fresh Buttermilk Ranch Dressing
Steak Sliders with Blue Cheese
How to cook the perfect flat iron steak in cast iron
---
I hope you enjoy! Please share this recipe with friends if you love it. Please leave a rating and a comment below to let me know how this recipe turned out for you!
Cheers!
Suzie xo
---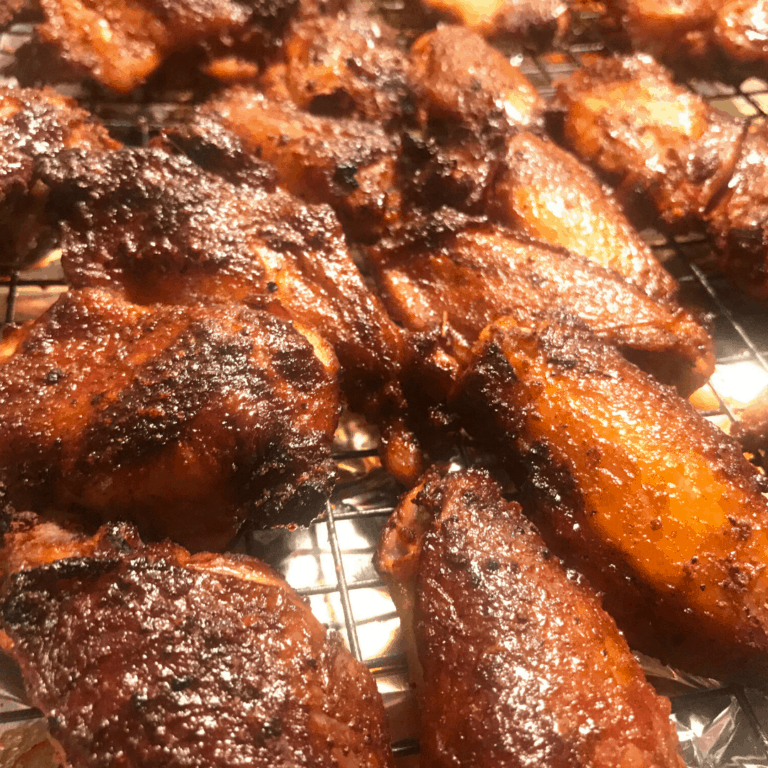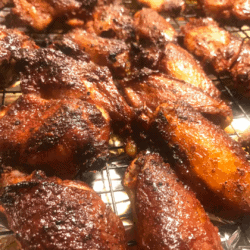 Fall-off-the-bone, Crispy, Baked Chicken Wings
A perfect appetizer when entertaining a small crowd. Even the non-wing lovers will approve!
Print
Pin
Rate
Ingredients
3

pounds

chicken Wings

1

tbsp

garlic Powder

2

tbsp

onion Powder

2

tsp

paprika

1

tsp

dired thyme

1

tsp

dried oregano

2

tsp

salt

1

tsp

black pepper

1-2

tbsp

baking powder (non-aluminum)

(Not baking soda - do not replace)

⅓

cup

spicy BBQ sauce

(Click for recipe)
Instructions
Season chicken wings with salt, pepper, onion powder, garlic powder, paprika, thyme and oregano. Gently massage seasonings into the wings. 

Spread wings evenly on a baking sheet and put in the fridge for 3 - 4 hours to marinate and dry.

Remove wings from fridge and let set at room temperature for 20 minutes.  

Preheat the oven to 250° F.

Sprinkle the wings with 1 -2 tablespoons of non-aluminum baking powder (don't use baking soda) toss to coat each wing lightly.

Place wings on top of a cooling rack inside a baking sheet. (You want the fat to fall away from the wings.  You don't want to cook the wings in the fat)

Bake the wings on the top rack of your oven for 40 minutes at 250°

Remove from the oven and turn oven up to 450° F.

Once the oven is ready, put the wings back in oven and cook on the top rack for 30 minutes - rotating half way ( at about 15- 20 minutes)

After 30 minutes remove from the oven and brush wings with Spicy BBQ sauce. (or you can use store bought) Place back in oven (top rack) for another 10 minutes or until crispy.  
Nutrition
Calories:
429.75
kcal
|
Carbohydrates:
5
g
|
Protein:
34.5
g
|
Fat:
29.5
g
|
Saturated Fat:
8.25
g
|
Cholesterol:
141.5
mg
|
Sodium:
1301
mg
|
Potassium:
350
mg
|
Fiber:
4
g
|
Sugar:
2
g
|
Vitamin A:
347.25
IU
|
Vitamin C:
21
mg
|
Calcium:
28.4
mg
|
Iron:
8
mg