Let's talk Mac and Cheese!! Specifically, this Creamy Vegan Mac and Cheese I made for dinner last night. Wow. I had no idea it would be so good. Even my boyfriend, Gregrey gobbled this up! He is the pickiest eater I know, by the way. I am only 5 weeks into a vegan lifestyle so I'm just learning a lot! And, this was my first time making anything with vegan cheese. So let me tell ya what I learned.
First and foremost, I have spent years crafting the perfect baked mac and cheese. You know, the kind that is super creamy, with loads of stringy cheese and topped with crunchy, fresh made breadcrumbs. (I will be posting that recipe next month) Anyhoo, I make this particular dairy rich mac and cheese for Christmas every year. My family loves it. It has become one of our traditions!
So, now, I'm eating mostly plant-based and vegan. And, I'm craving some comforting mac and cheese. Hmmmm.
Making Vegan Mac and Cheese for the First Time
There are a lot of things I have learned over the years making traditional mac and cheese, and I thought I would apply everything I have learned to this recipe. A majority of the ingredients are the same. The vegan cheese, soy milk and vegan butter are the variables here.
So, what is different about these how these vegan products taste, and act in a mac and cheese, verses their dairy-based cousins?
Vegan Butter vs regular butter
No difference here. Vegan butter is delicious. I use Miyoko's Vegan Butter and have been using their butter for over a year (before I was eating vegan). I actually prefer their vegan butter to dairy butter. Vegan butter melts the same as dairy butter, so it was very easy to replace, and again, not noticable.
Soy Milk vs milk and cream
A noticeable difference in the ingredients, not much of a difference in the end result. I chose to use a plain, unsweetened soy milk because I didn't want any of the sweetness that oat and coconut milk naturally have. Didn't want to use almond milk, because I didn't want that almond flavor.
Soy milk has a very different flavor, is lighter than dairy milk, and much lighter than cream. So, at first I thought the cream sauce would be too light and have a funky flavor. A little time on the stove and some traditional mac and cheese seasonings fixed that. By the time the sauce was done cooking, I couldn't believe the sauce I was tasting was vegan. It tasted so much like regular white sauce!
Vegan Cheese vs regular cheese
This was the biggest difference. Regular cheese melts easily and gets stringy when melted. This vegan cheese takes longer to melt and gets creamy when melted, not stringy.
The vegan cheese tasted like cheese. It was delicious! But, that stringy, cheesy texture texture I'm used to wasn't there. On a positive note, the vegan cheese didn't add any graininess to the dish. I spent years trying to figure out which cheeses, and what techniques will keep my traditional mac and cheese creamy and grainy-free. With this vegan cheese, graininess isn't an issue.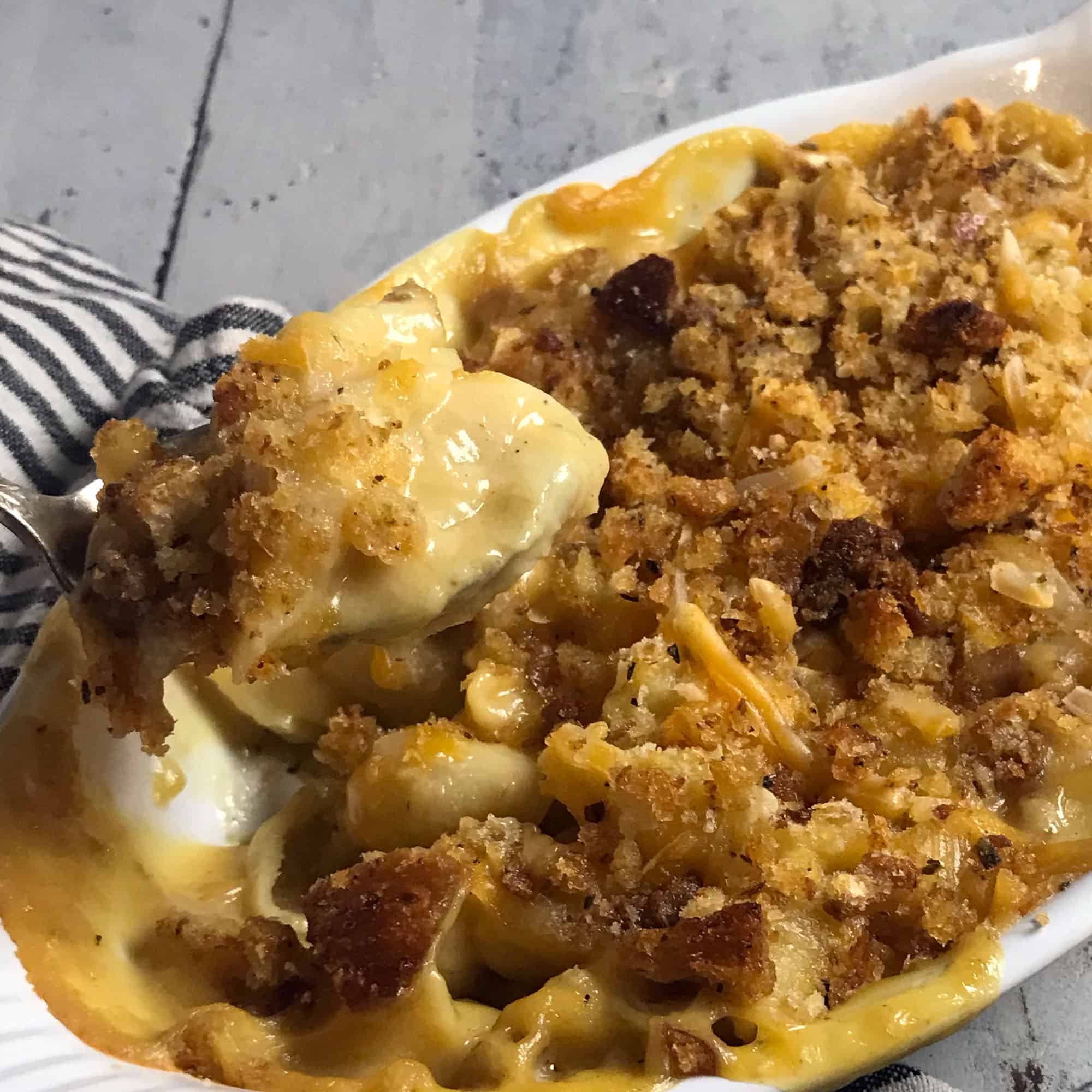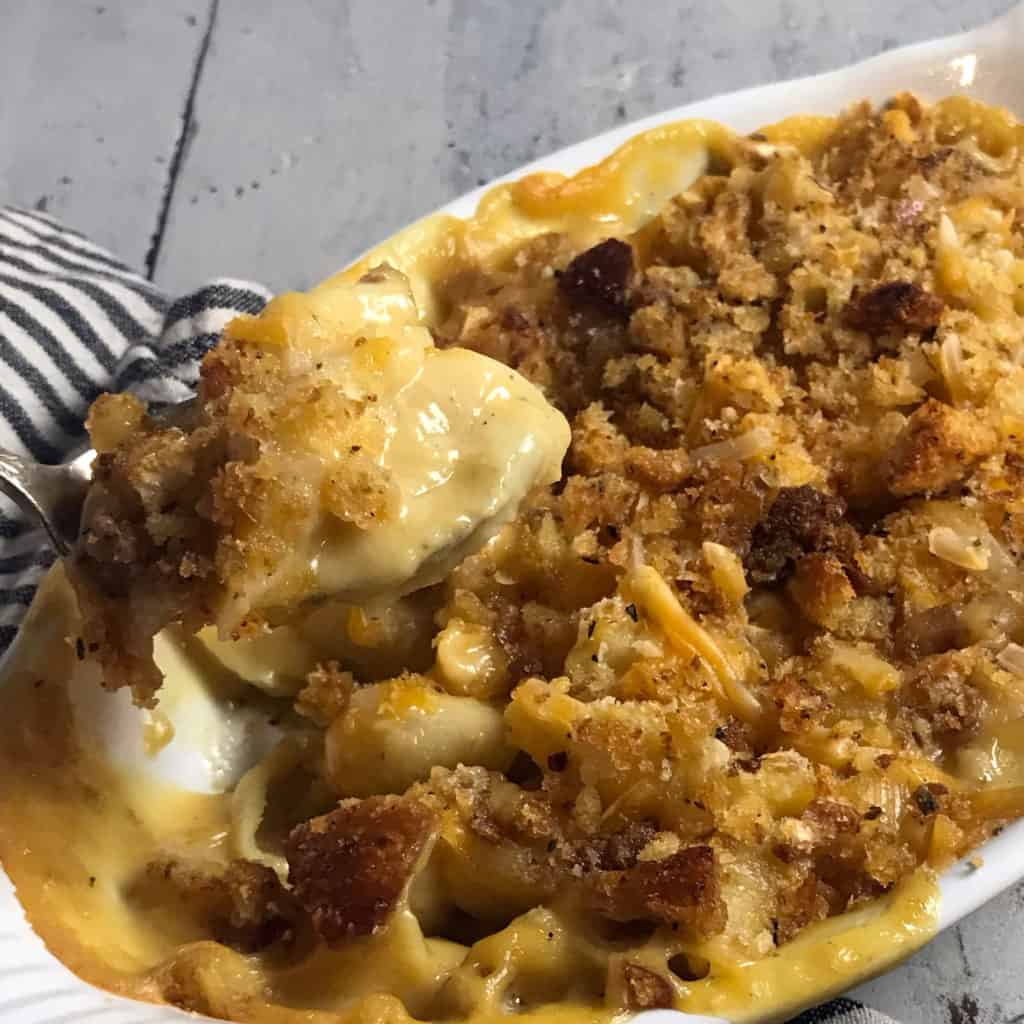 What you need to make this vegan mac and cheese
Pasta - I like to use small shells (catches more sauce) or elbows
Vegan Cheese - I used Violife Colby Jack Shreds (not an affiliate, just wanted to try out their cheese)
Soy Milk - Plain, unsweetened
Nutritional Yeast
Vegan Butter - I love Miyoko's (not an affiliate - just love)
All Purpose Flour
Breadcrumbs - I used homemade for extra crunch, but you can use store bought or crush up some croutons.
Mustard Powder
Nutmeg - Fresh grated is best
White Pepper - I find it's just better for cream sauces
Salt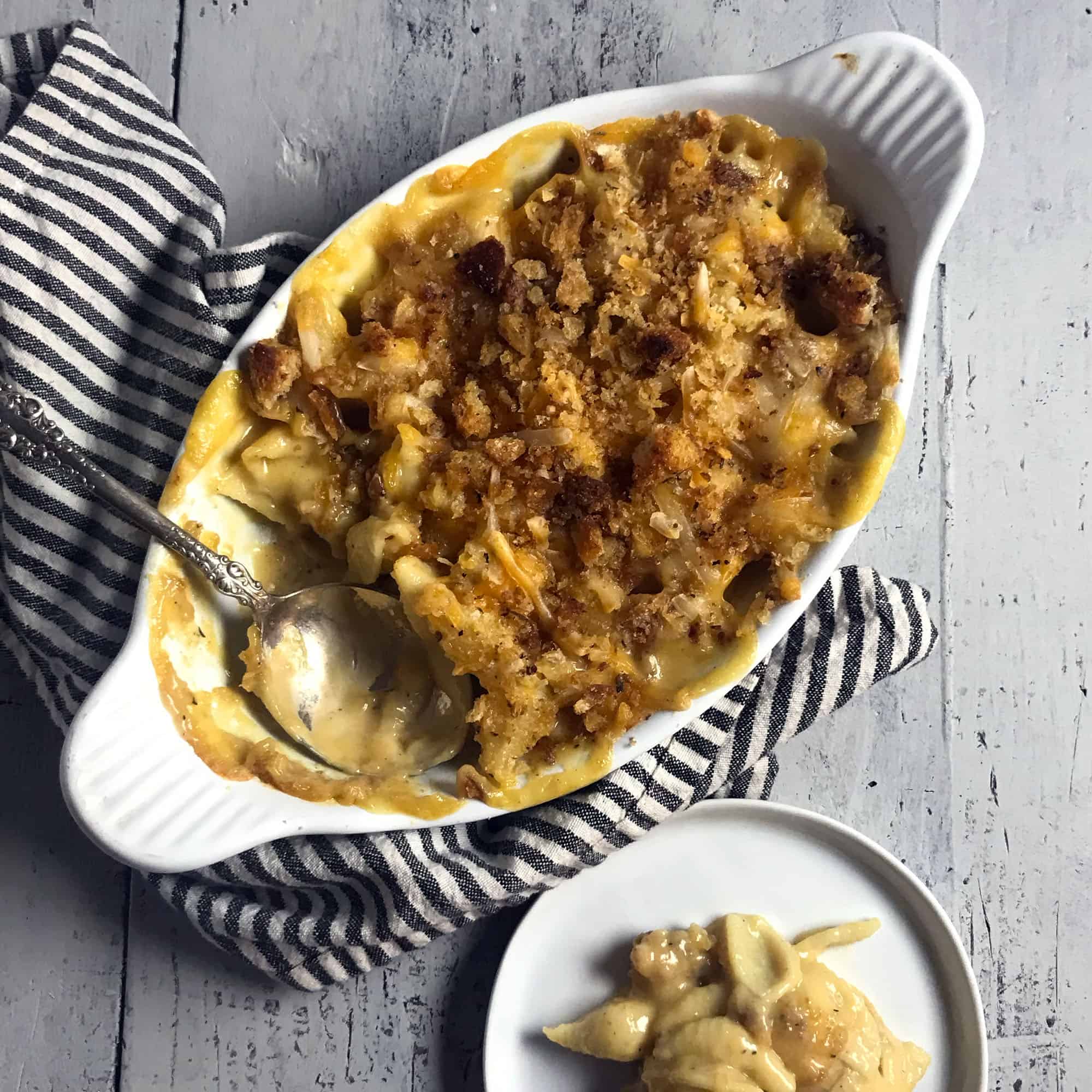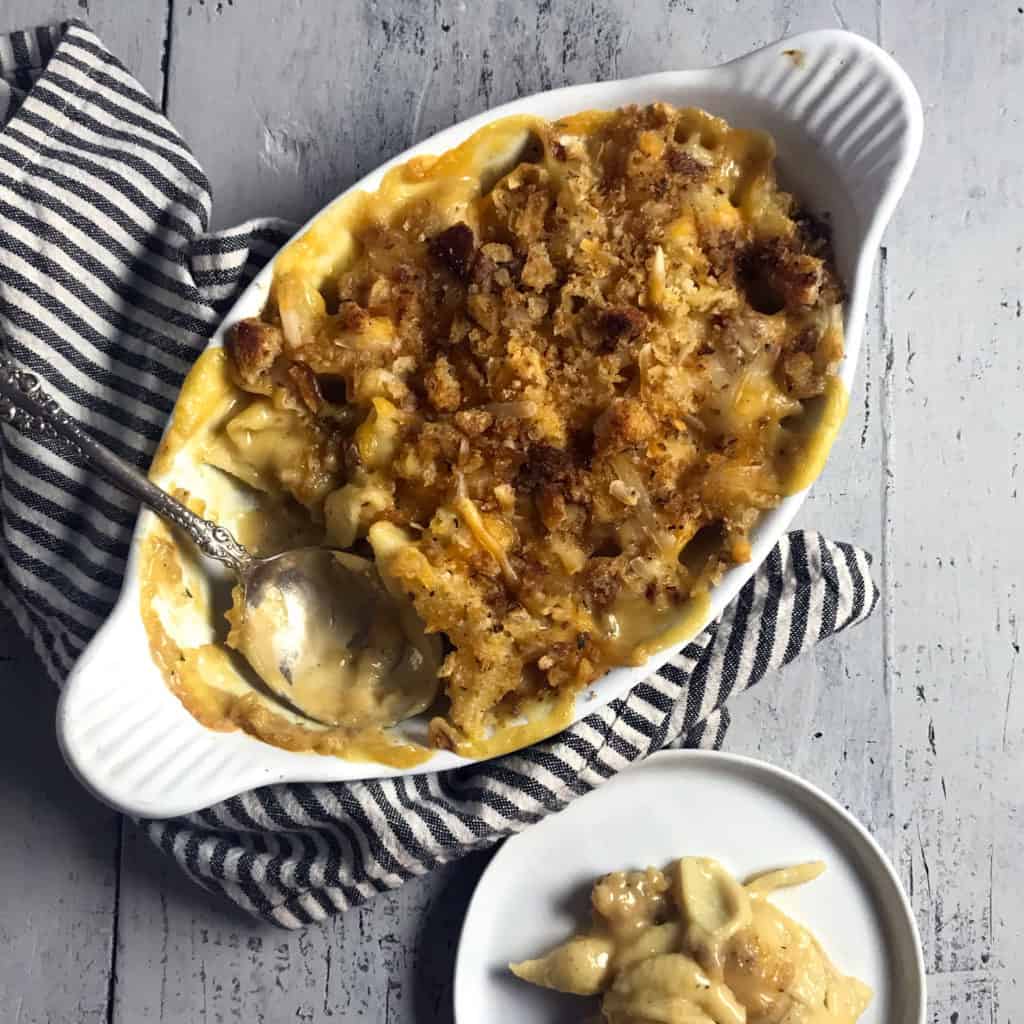 Tips for Preparing the Mac and Cheese
Pasta
Cook the pasta in salted water to just under al dente. The pasta will continue to cook while it bakes in the oven. If you over cook the pasta on the stove, it will get mushy in the oven, so keep an eye on it.
Drain the pasta and put it back in the pot you cooked it in to dry your pasta out. You want to get the pasta as dry as possible so that it can absorb as much of the cream, butter and cheese as possible. Allow the pasta to cool.
Cheese
Most mac and cheese recipes have the cheese go into the sauce. Not this recipe. This is more a gratin-style mac and cheese. I find that you get more control over the consistency of the sauce when you don't mix in the cheese. The cheese and sauce will meld together while it bakes - trust me.
Mix the cheese with the pasta (and any additional add-ins), then put the mixture into an oven-proof casserole dish.
Sauce
When making your sauce keep an eye on the thickness. Test the sauce by coating the back of a spoon with the sauce. Drag your finger across the sauced spoon. If the sauce stays in place and doesn't run, the thickness is perfect. If your sauce starts to get a little thick, add some more soy milk. If it needs to thicken, mix together equal parts flour and butter (1 tbps at a time) and add to the sauce.
The sauce won't reach the maximum thickness until it has come to a boil. So don't adjust your sauce too early.
Make the sauce extra salty. Not so salty where you don't want to eat it. Just to the point where you think, "Hey, there's a bit too much salt in this." The pasta will absorb the salt during the baking process, if you don't add enough salt to the sauce, your mac and cheese will lack flavor.
Once the sauce has the desired taste and consistency, pour it directly into the casserole dish over the pasta and cheese mixture.
A few add-in ideas:
Change up your flavors. Add one of these to the cooked pasta and cheese before covering in the cream sauce to change things up!
Truffle paste or truffle oil - for a fancy and savory mac and cheese
Chili Oil or chili paste - for a spicy vegan mac and cheese
Roasted Mushrooms
Roasted Tomatoes
Cooked Spinach
Vegan Sausage
Pesto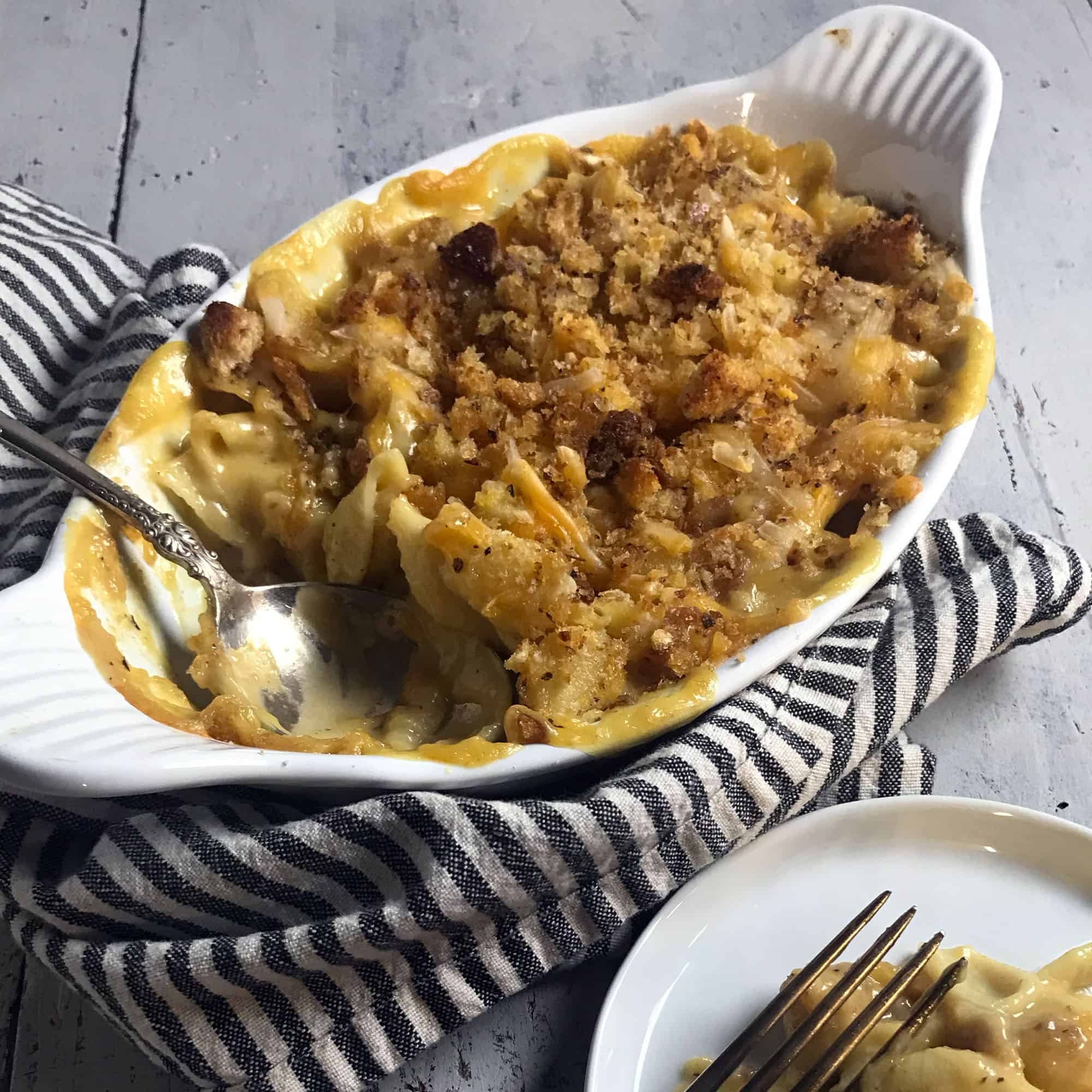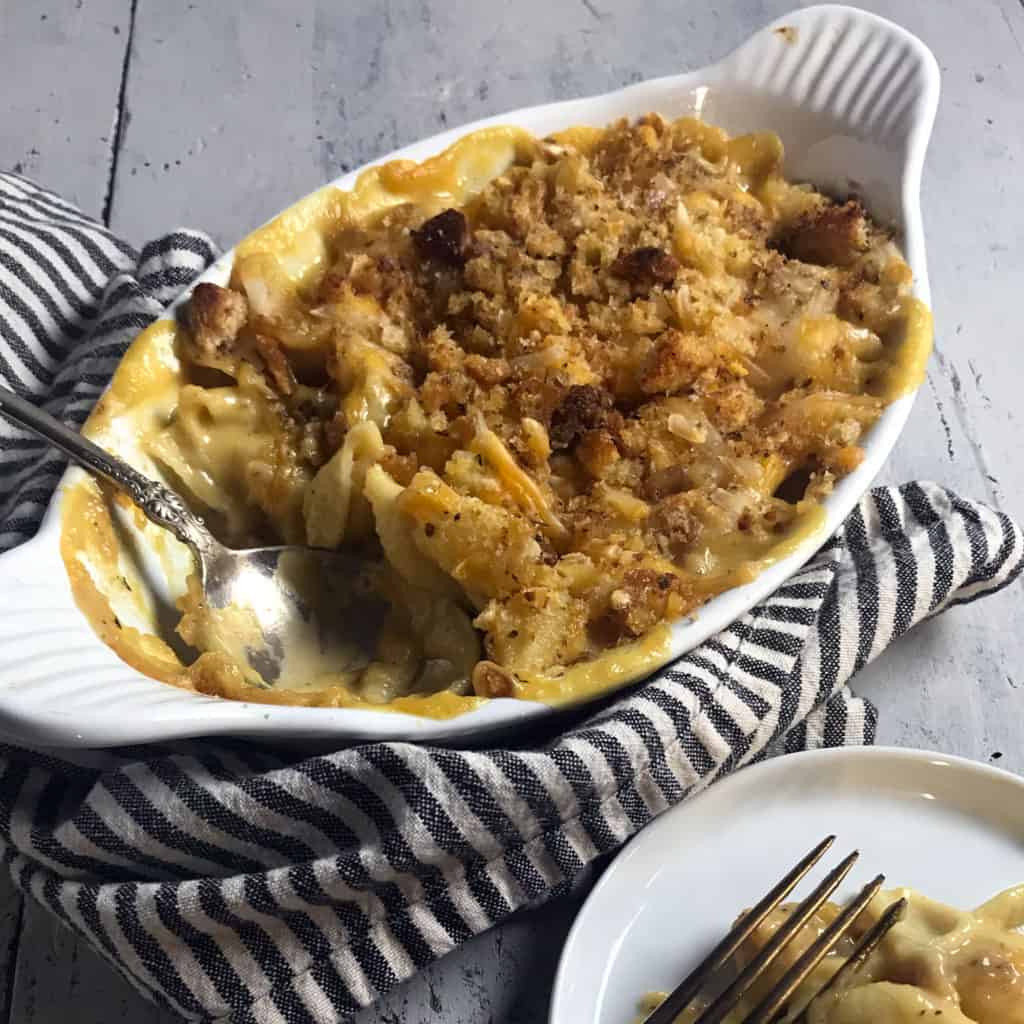 This mac and cheese is good for up to 4 days, covered and stored in the refrigerator.
Easy to reheat in the microwave or oven.
Freezing is not recommended.
Side dishes to serve with this mac and cheese
Easy, Maple Roasted Carrots with Olives + Almonds + Mint
Easy, Vegan Buttermilk Biscuits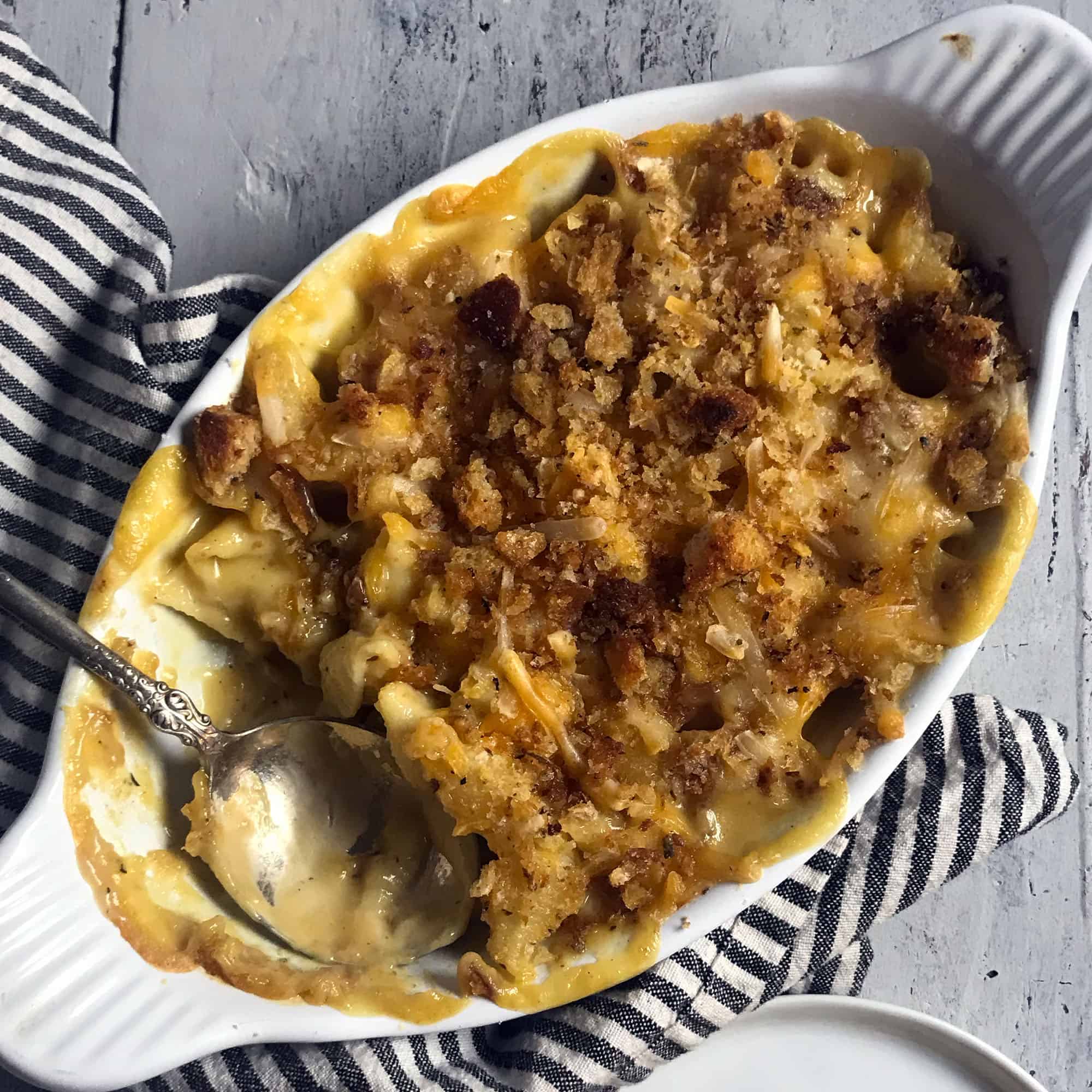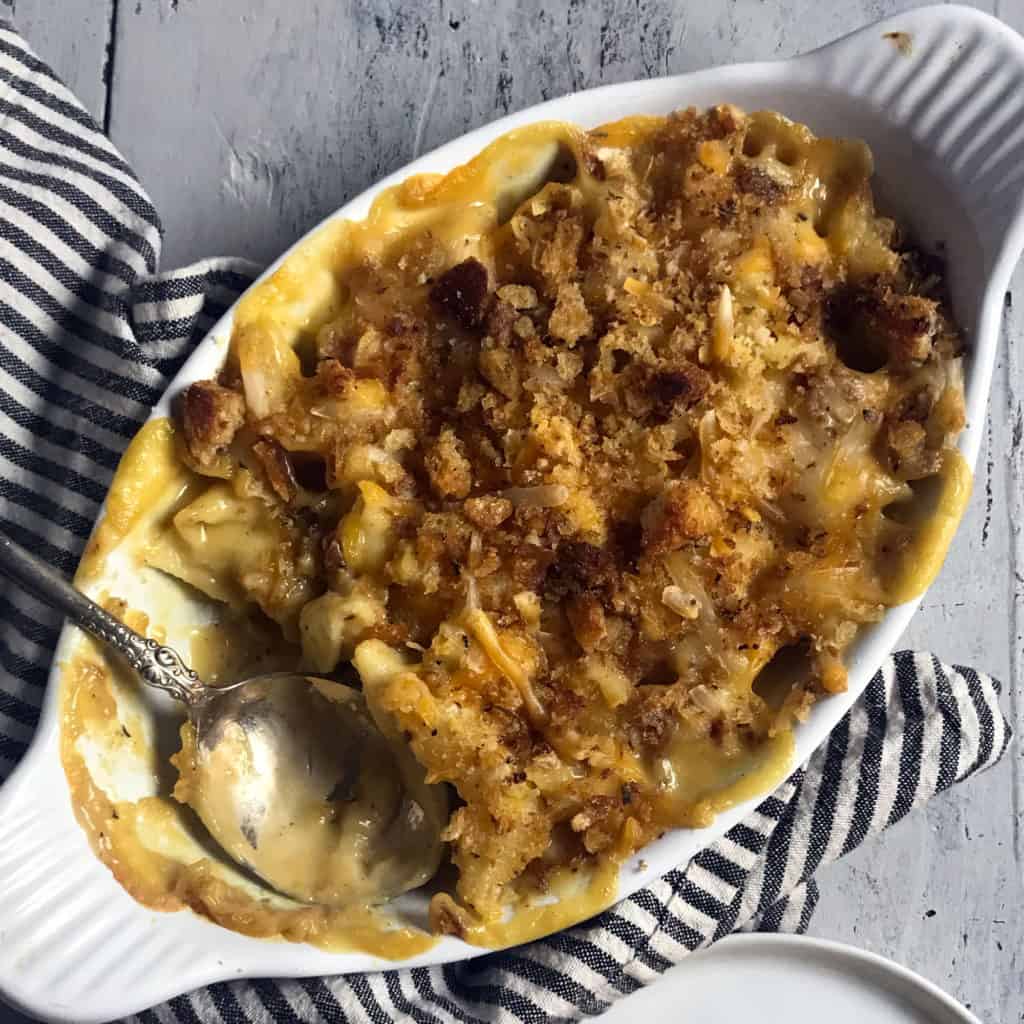 📖 Recipe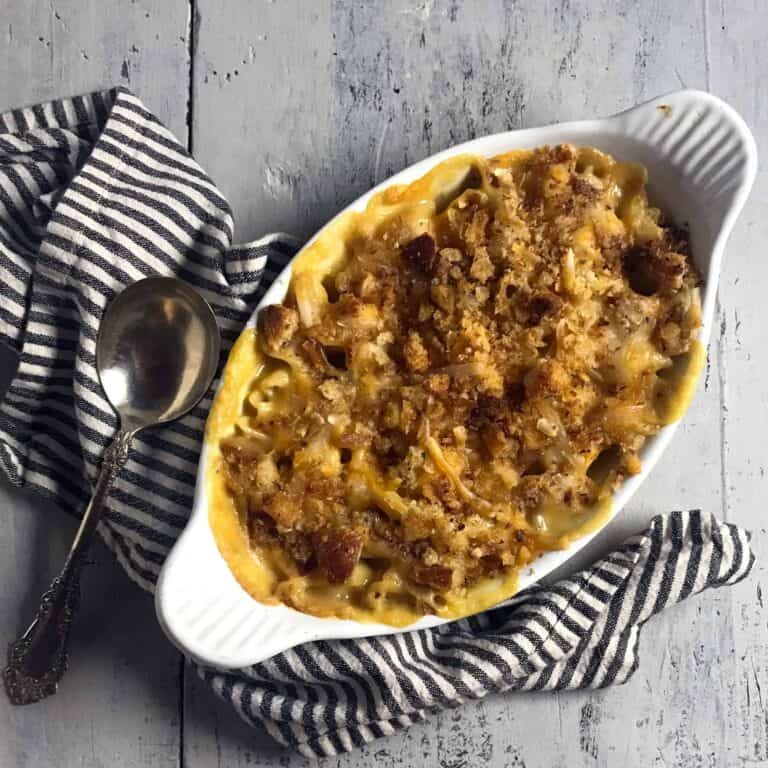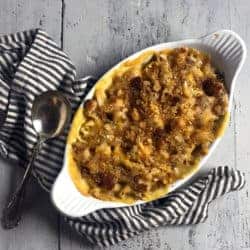 Easy and Creamy Vegan Mac and Cheese
A tasty and creamy version of the traditional baked mac and cheese.
Print
Pin
Rate
Servings:
4
as a side dish
Ingredients
2

Cups

Dried Pasta

small shells or elbows

3

Tbsp

Vegan Butter

divided

2

Tbsp

All Purpose Flour

2-3

Cups

Soy Milk

plain, unsweetened

¼

Cup

Nutritional Yeast

½

teaspoon

White Pepper

or to taste

½

teaspoon

Ground Mustard

½

teaspoon

Nutmeg

fresh grated, or to taste

2

teaspoon

salt

or to taste

8

Ounces

Vegan Cheese Shreds

divided, mixed into pasta + topping

1

Cup

Breadcrumbs

or chopped croutons
Instructions
Preheat the oven to 375°F.
To Make the Pasta
In a pot over medium high heat, bring 8 cups of water to a boil, add salt. Add pasta and cook according to package instructions. Stop cooking when the pasta is just shy of al dente. Drain pasta and return to pot to allow cooked pasta to dry.

Water2 Cups - Pasta ShellsSalt to taste (make the water taste like the ocean)
To Make the Sauce
In a sauce pan melt over medium heat, melt butter. Using a whisk, whisk in flour until completely combined and cook for 1 -2 minutes. Continue to whisk occasionally.

2 tablespoon - Vegan Butter2 tablespoon - Flour

Slowly, one ¼ cup at a time, whisking the entire time, add the soy milk. The mixture will start to thicken right away. Keep whisking and adding soy milk in small amounts until the the butter/flour mixture is completely absorbed by the milk. Cook on medium to medium-low heat, whisking occasionally until desired thickness, 10 -15 minutes.

2 Cups - Soy Milk

Add the nutritional yeast, mustard powder, salt, nutmeg and white pepper. Whisk to combine well. Allow to cook another 5 minutes. Adjust seasoning and thickness of sauce as need. (see notes)

¼ Cup - Nutritional Yeast½ teaspoon - Mustard Powder½ teaspoon - Fresh Grated Nutmeg½ teaspoon - White Pepper2 teaspoon - Salt or to taste
To Assemble the Mac And Cheese
After the pasta has drained, dried and cooled. Mix the pasta with 6 oz of the cheese shreds and add to an oven-proof baking dish.

Cooked Pasta6 Ounces - Vegan Cheese Shreds

Pour the cream sauce over the pasta, be sure to cover all the pasta. Top with the remaining cheese shreds, breadcrumbs and butter (break the butter into bits and place all over the top). Bake in the oven for 20 - 30 minutes or until golden and bubbly. Cool for 5 - 10 minutes before serving.

Cream Sauce2 Ounces - Vegan Cheese Shreds1 Cup Breadcrumbs1-2 tablespoon - Vegan Butter

Serve with love and enjoy! 🙂
Do you have a recipe request? Contact me! I'd love to make something just for you! I hope to see you at the next post.
Suzie