Jump to Recipe
Alright, I think this is the PERFECT time of year to drop this Easy, Maple Roasted Carrots with Olives + Almonds + Mint recipe on you! This is one of my all time favorite AND most requested side dishes. This is a perfect side dish for your Thanksgiving meal! Vegan or not, you are going to love this naturally healthy, and tasty, plant-based dish.
These carrots are drizzled with maple syrup, then roasted in the oven to create a crispy, candy-like glaze on the outside while staying tender on the inside. The creamy olives add a salty balance to the sweet carrots. The almonds add a nutty crunch. The mint adds a hint of freshness and the balsamic glaze adds a tang that make this dish sing!
Have I sold you yet? 😉
This Roasted Maple Carrots is my version of a side dish from one of my favorite restaurants back home in Sonoma County. The flavor combination is unreal and, the best part, it's super quick and easy to make at home.
These Maple Roasted Carrots are:
Sweet
Salty
Nutty
Fresh
Tangy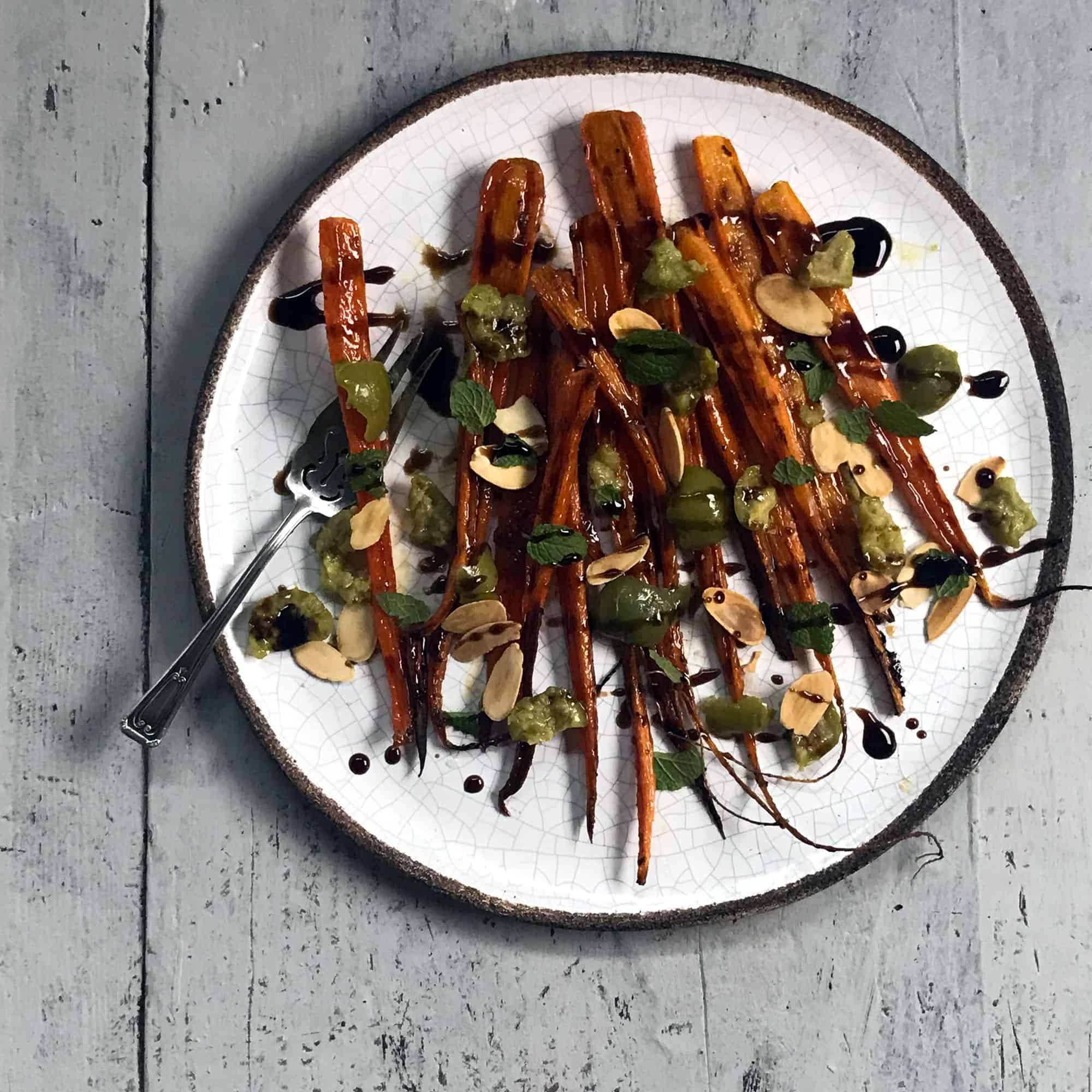 7 Ingredients and 20 minutes is all you need to make this divine dish!
Here's what you'll need to make these Maple Roasted Carrots
Carrots
Maple Syrup -You can easily sub with honey (if not vegan)
Olives - I LOVE Castelvetrano olives
Lemon Zest
Sliced or Slivered Almonds
Fresh Mint
Balsamic Glaze - (recipe below or store bought)
Scroll down to the recipe card for exact amounts and instructions.
Let's talk details....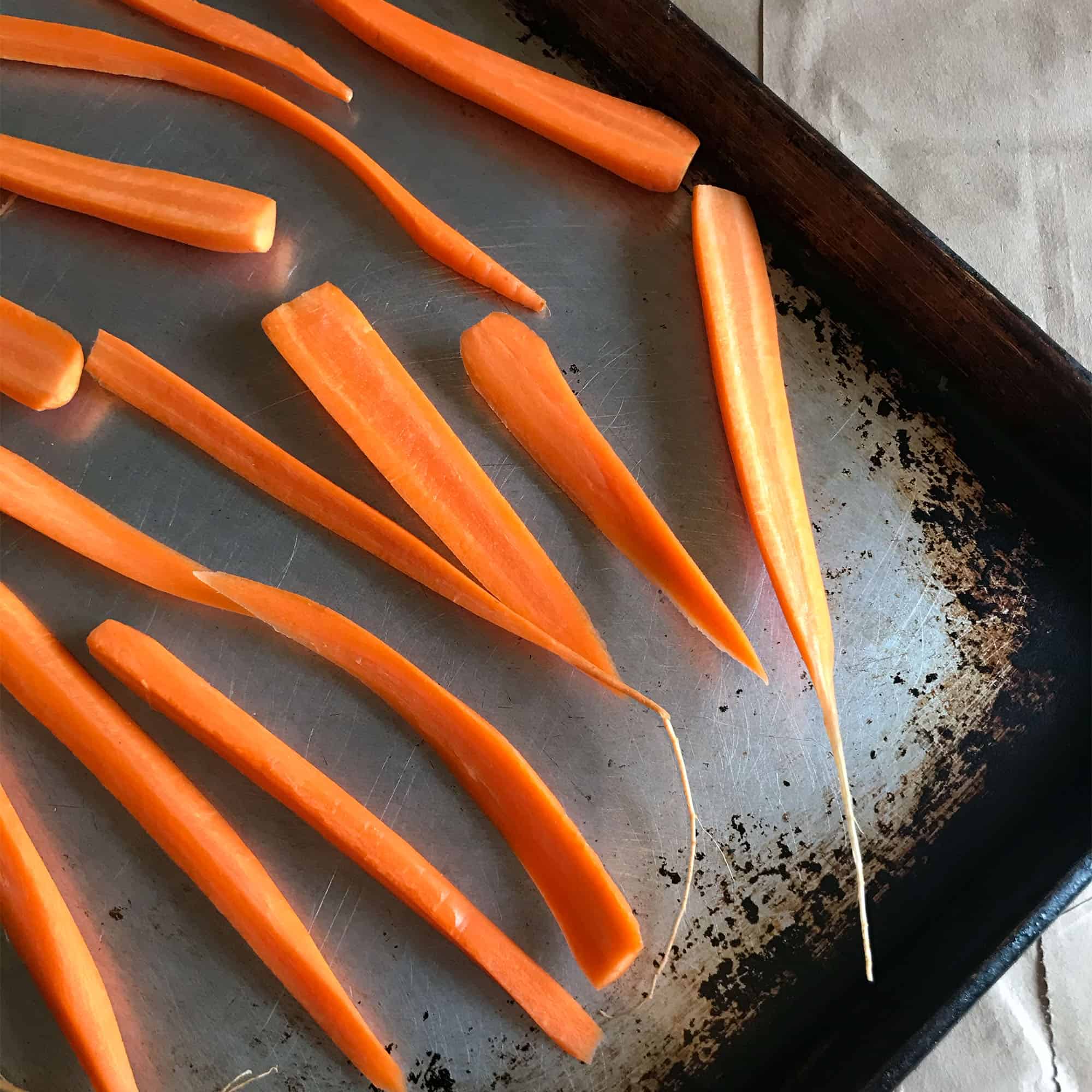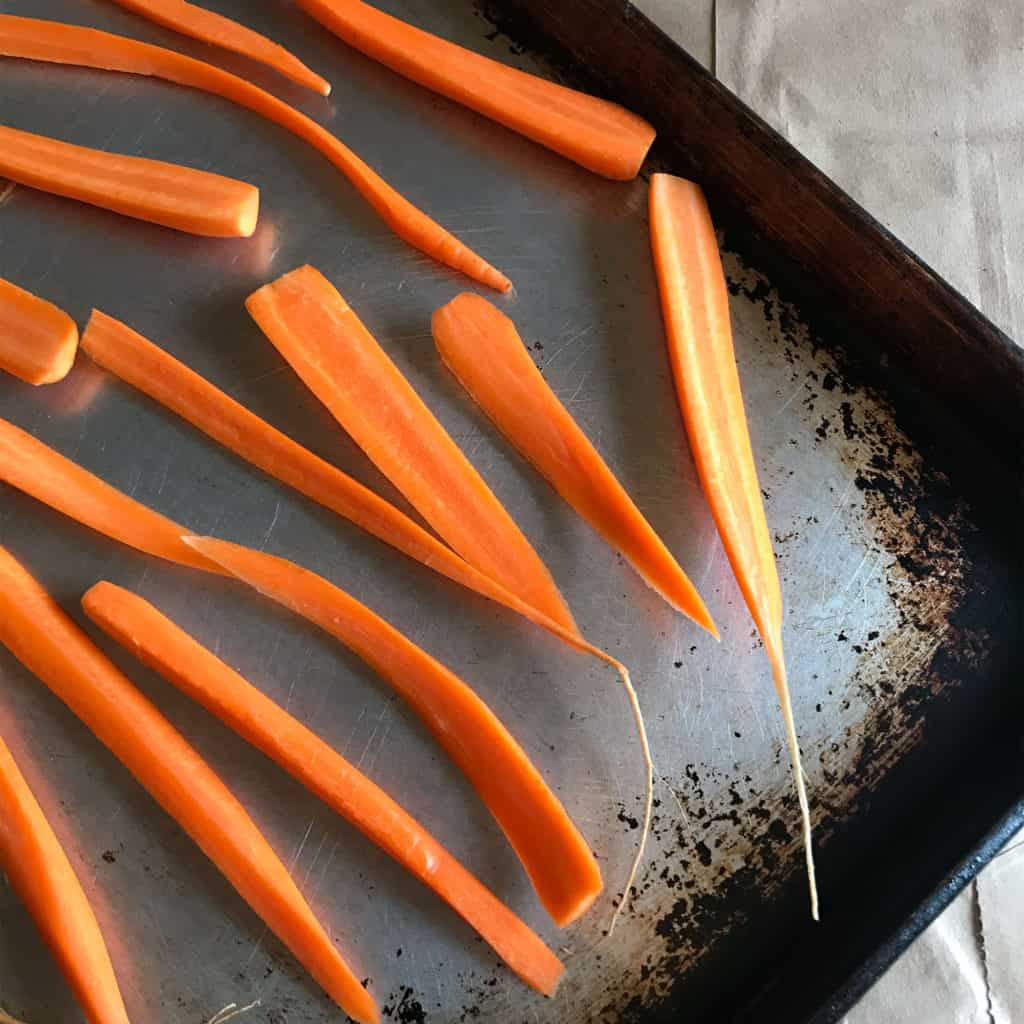 Tips for Prepping the Carrots
To get the best flavor out of your carrots make sure to prep them well.
You'll want to rinse them under running cold water being sure to remove any excess dirt. (Carrots do grow under ground!)
Be sure to dry them well. Dry carrots = crispy exteriors and soft interiors.
You can choose to peel the carrots..or maybe not! It's up to you. I've cooked carrots with the skins on and they are just as tasty! If you are using rainbow carrots (which I highly suggest) don't peel them at all, the rainbow color is mostly in the skin, and they will lose their beautiful color.
Slice the carrots lengthwise to create a stunning presentation. No biggie if you want to cut the carrots into chunks, they will be just as good! Just make sure to adjust the cooking time, so keep reading.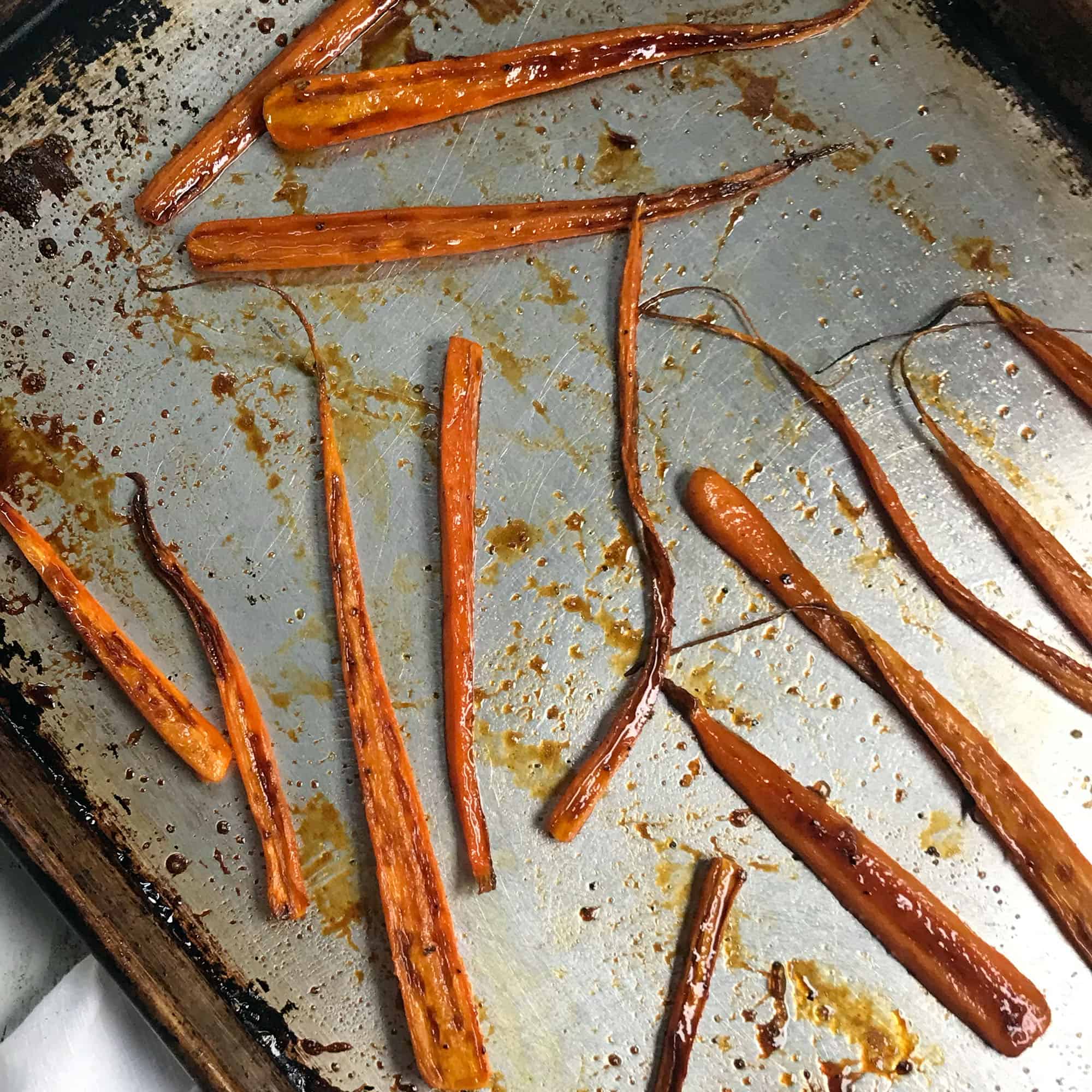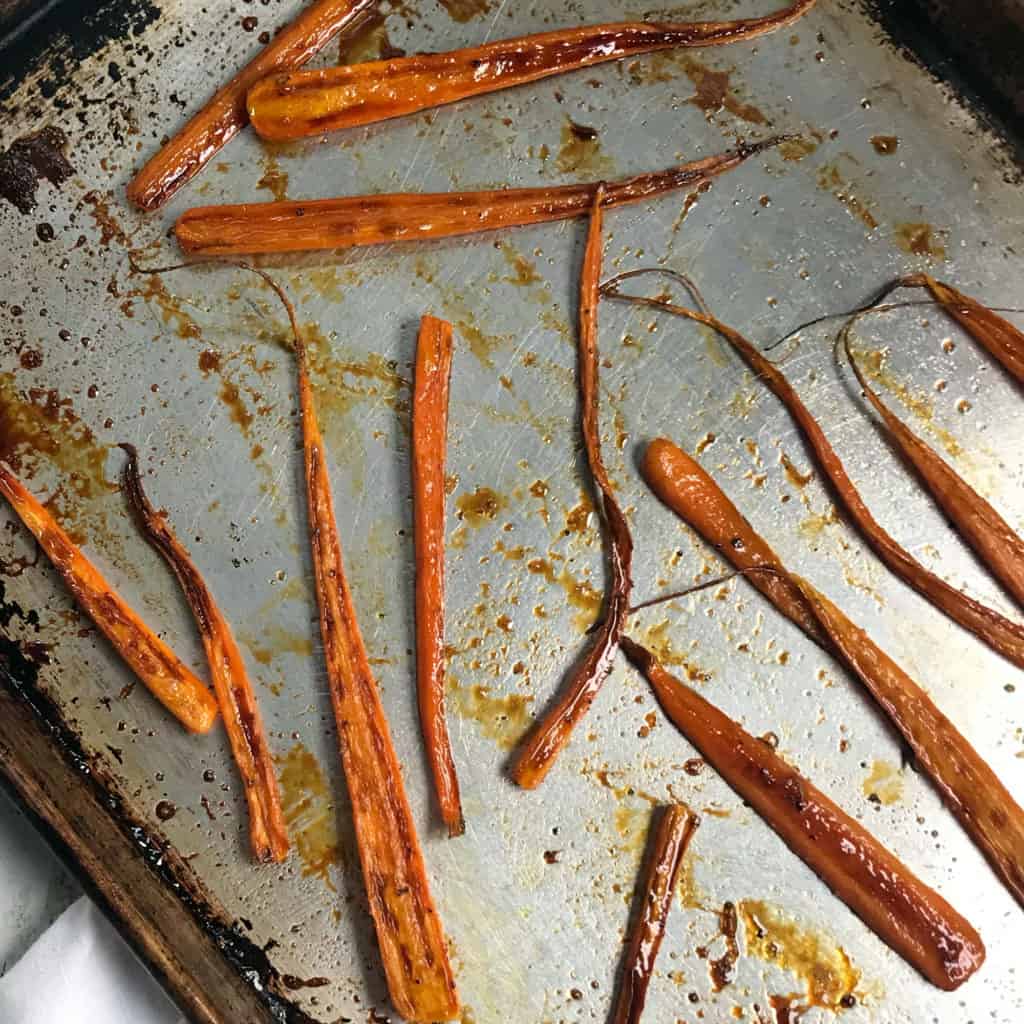 Tips for Cooking the Carrots
Before roasting, toss the carrots in olive oil, salt and pepper. Drizzle maple syrup over the carrots before putting them in the oven. I find drizzling the maple syrup (instead of tossing the maple with the oil) over the carrots gives them a more caramelized exterior.
To get perfectly caramelized Maple Roasted Carrots be sure to spread the carrots out in an even layer on a baking sheet. Make sure there is plenty of space between the carrots so they can get good and roasted. If you put the carrots too close together, they will steam instead of roast, which will make them mushy.
Cooking Times
Oven temperatures can vary slightly...or maybe a lot. It's important to keep an eye on your carrots while they are cooking to prevent burning. If over cooked, the maple syrup could burn, and leave an unpleasant taste in the dish.
Here are some basic guidelines:
Thinner carrots = shorter cooking time. (15 minutes)
Bigger, thicker carrots = longer cooking time. (maybe 20. Check after 15 minutes to see if the carrots are tender)
10 minutes is a good place to start, then, flip the carrots and keep checking every 5 minutes to make sure they aren't burning.
The carrots I used for this recipe were pretty skinny, and the cooking time was only 15 minutes.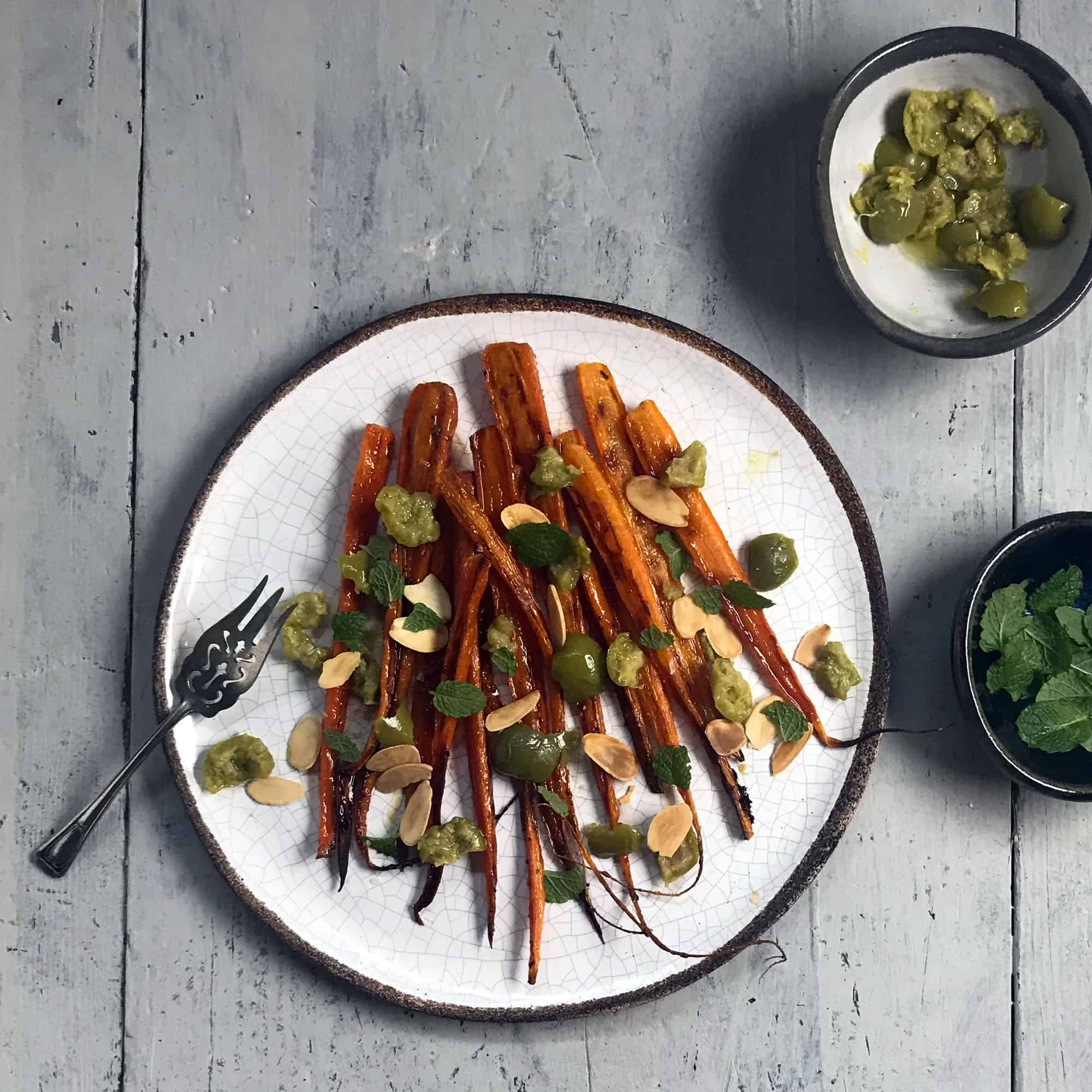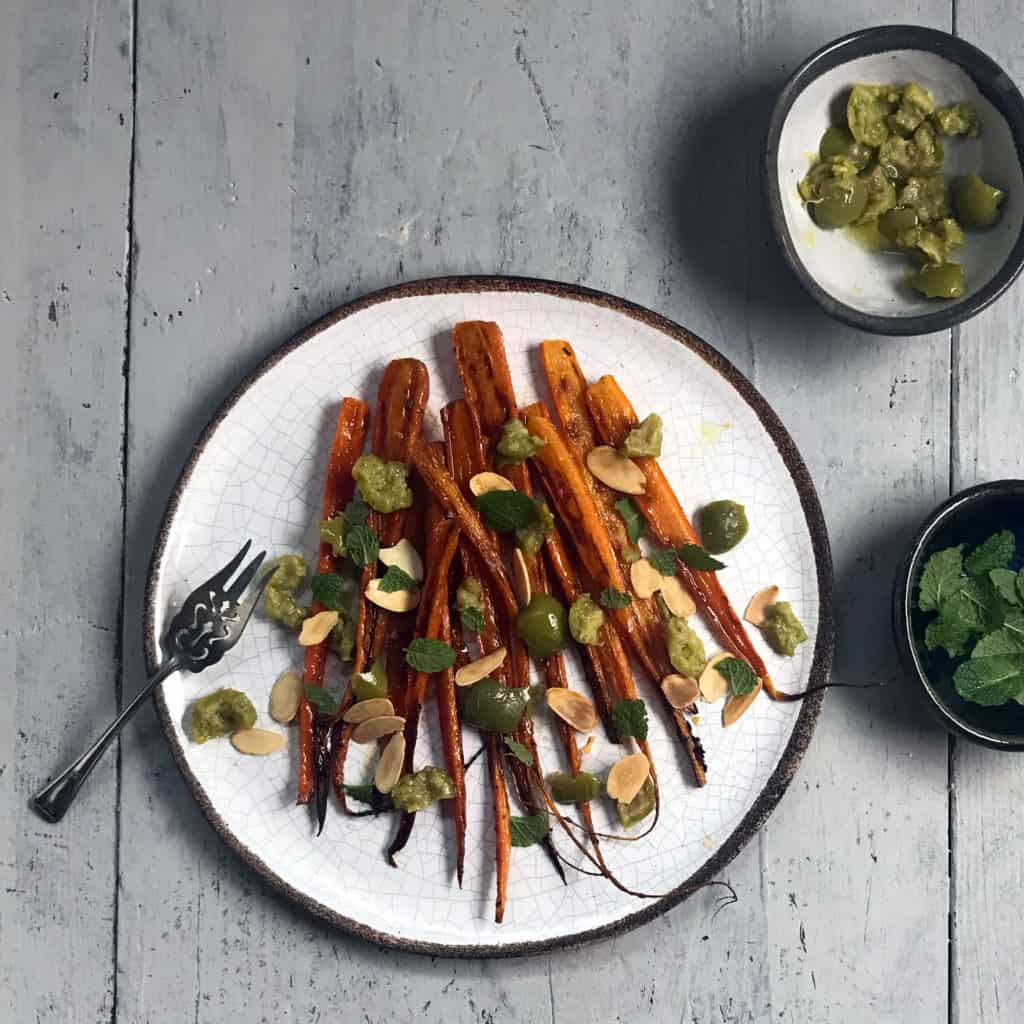 Toppings:
Say hello to these carrots little topping friends!
Castelvetrano Olives - These olives have a bright green color and meaty texture, they are buttery, rich and not too briny which makes them perfect for this recipe. I like to buy these olives with pits and remove them myself. To me they taste less salty and creamier, you can easily buy these olives without pits. You can replace them with any mild green olive..maybe even black. If you try it, let me know how it goes!
Fresh Mint - For the photos, I tore the mint leaves so it would look pretty (still tasted delish). You can tear or chop the mint leaves but be sure to use mint. It takes these carrots to the next level!
Balsamic Glaze adds zippy tang to these carrots!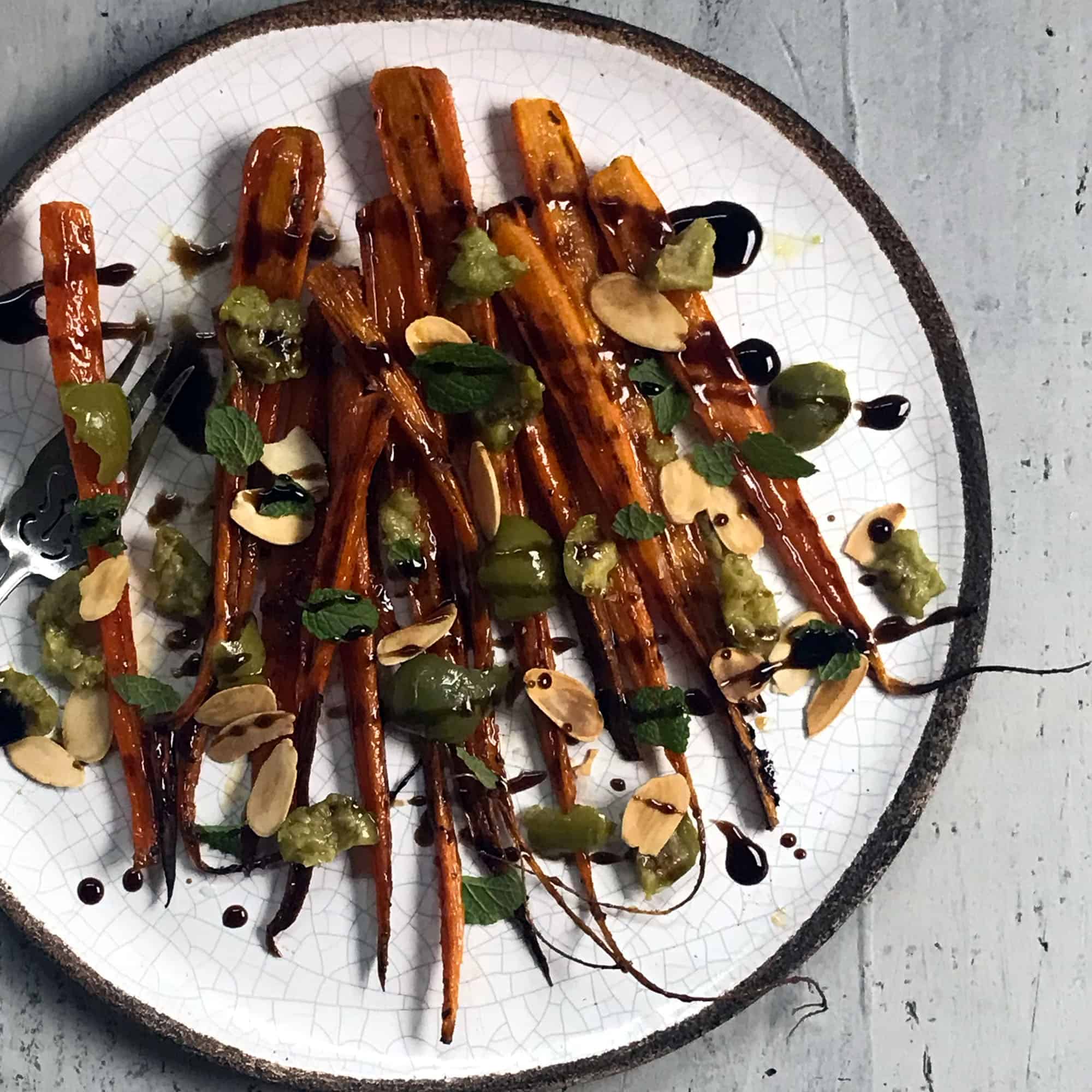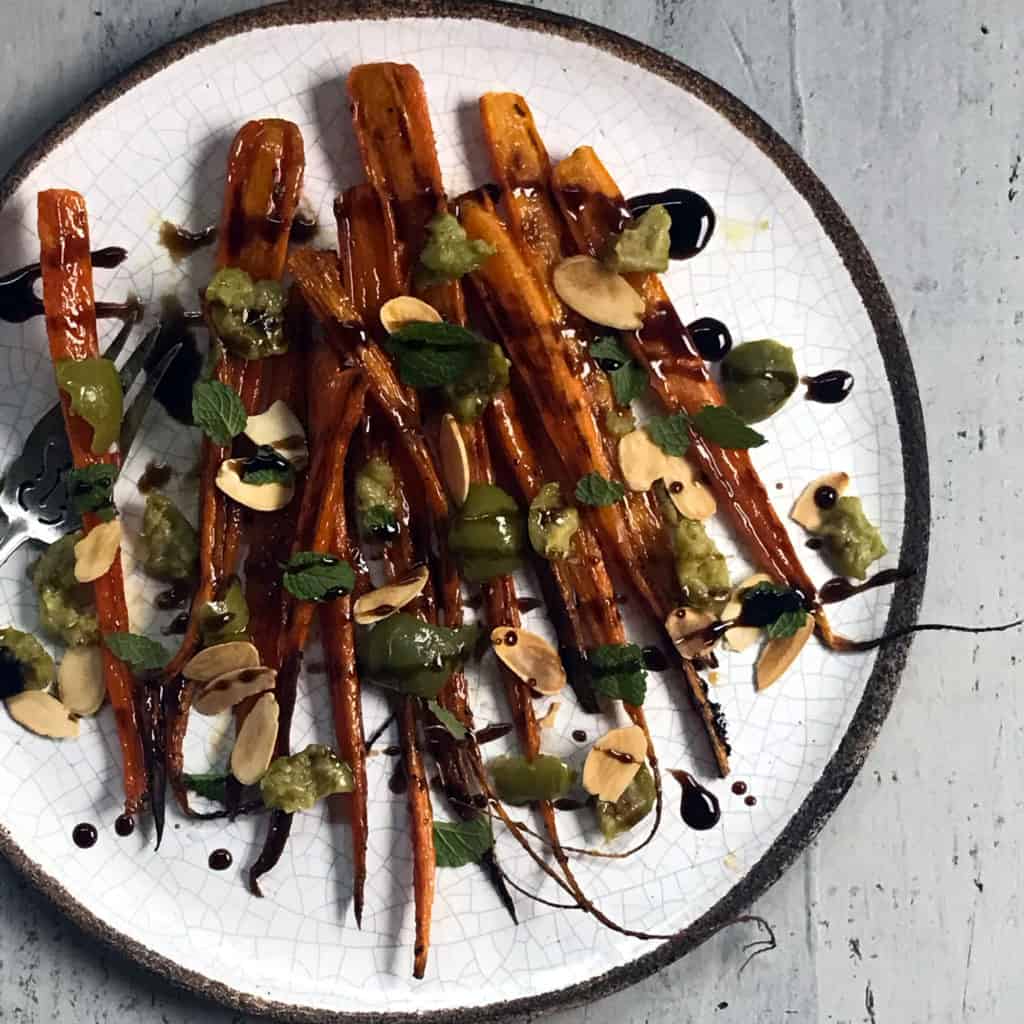 If you try this recipe, please let me know how it went in the comments! I love creating new recipes and look forward to seeing you at the next post!
Suzie
📖 Recipe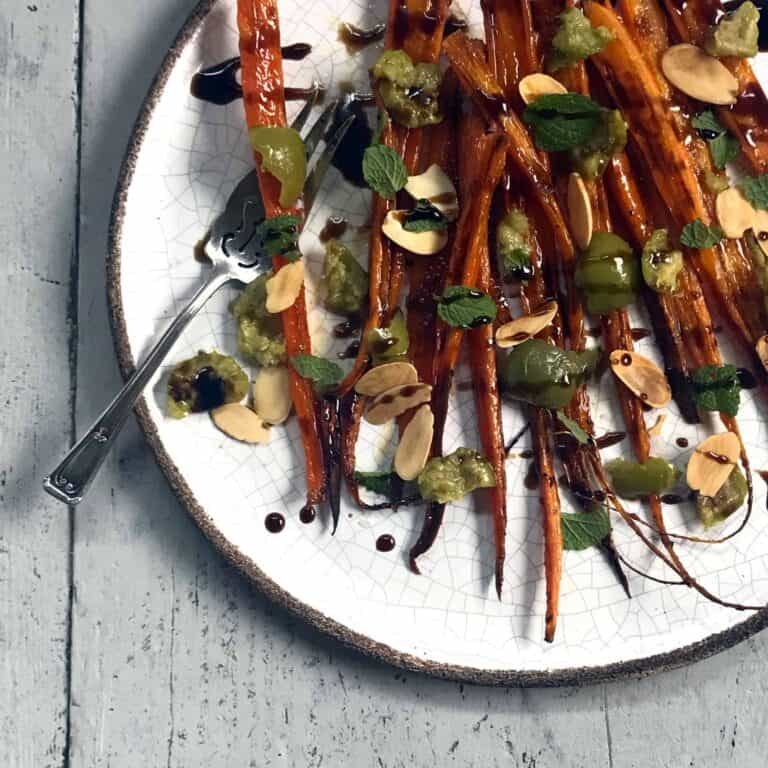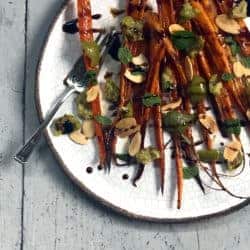 Ingredients
1

Pound

Carrots

Regular or Rainbow

1 Tbsp

+ 1 Tsp

Olive Oil

divided

2

tablespoon

Maple Syrup

drizzled

¼

Cup

Castelvetrano Olives

Chopped or crushed

1

teaspoon

Lemon Zest

2

tablespoon

Sliced Almonds

toasted

1

tablespoon

Fresh Mint

Chopped or torn

Salt

to taste

Pepper

to taste
Instructions
Start the Glaze:
Cook the balsamic vinegar in a small saucepan over medium heat for 10 - 15 minutes or until reduced by half and slightly thick.

½ Cup - Balsamic Vinegar
For the Carrots
Preheat the oven to 400°F

Wash, dry and peel carrots(if not using rainbow carrots). Cut carrots in half lengthwise so that the carrots are about ½ inch thick across. If using larger carrots, you may need to cut cut carrots in half again (to make quarters). Toss them in olive oil, salt and pepper and arrange in a single layer on a baking sheet.

1 Pound - Carrots1 tablespoon - Olive oilPinch - SaltPinch - Black Pepper

Drizzle carrots with maple syrup and cook in oven. After 10 minutes, flip carrots and cook another 5 minutes or until a deep golden brown.

2 tablespoon - Maple Syrup
For the Toppings
In a small oven proof dish, bake almonds in the oven alongside the carrots for 5-10 minutes. Checking every 3 minutes until golden brown. Once light brown, remove from oven and set aside.

2- 3 tablespoon - Sliced Almonds

Pit and chop olives, place in a small bowl. Stir in lemon zest and olive oil. Set aside.

¼ Cup - Castelvetrano Olives1 teaspoon - Lemon Zest1 teaspoon - Olive Oil

Chop mint and set aside.

1 - tablespoon Fresh Mint
To Assemble the Dish
Arrange carrots on a serving dish, top with chopped olives, almonds, mint and finish with a drizzle of balsamic glaze.

Serve with love and enjoy! 🙂
Questions, thoughts or comments? I would love to hear from you!
This website is reader-supported and may contain some affiliate links. Should you end up buying something as a result of one of those links, I may earn a little commission.