Jump to Recipe
It's that time of year again. Thanksgiving is right around the corner--I don't know about you but I LOVE THANKSGIVING! When I'm creating my Thanksgiving menu, I like to prepare traditional sides with a unique spin. This Sourdough, Cranberry and Pecan Dressing hits just that note. This recipe has all of the traditional components of a dressing but with a nutty, sweet and vegan twist!
Last year, my boyfriend, Gregrey and I hosted Thanksgiving dinner for his family. Gregrey's brother is vegan, so, of course, I decided to cook a full traditional Thanksgiving meal AND a full Vegan Thanksgiving meal. It was a ton of food!! BUT here's the thing, the complete shocker for me--some of the Vegan dishes were better than the traditional! I never thought in a million years vegan food would taste better than meaty, buttery deliciousness, BUT it can!
Sooo anyhoo, I made a vegan dressing and it was amazing! I know, it has sourdough, a little oil (oh, but so little) and some vegan butter..but IT IS THANKSGIVING! It's time to indulge a little...maybe not go overboard though.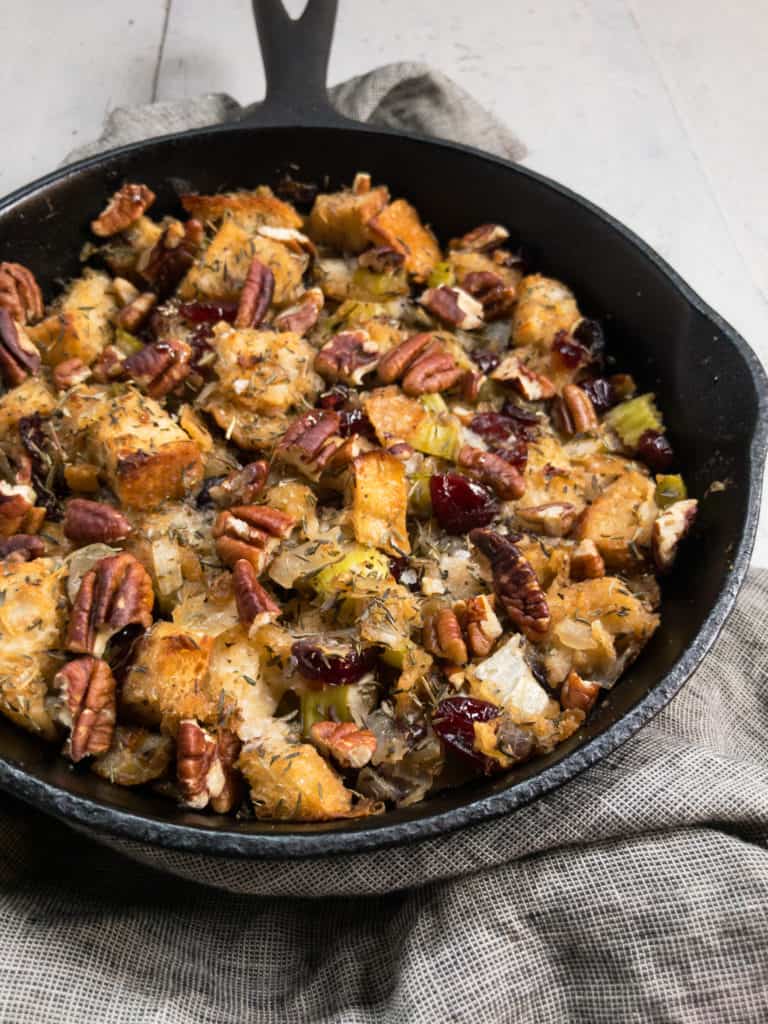 What Makes this Cranberry and Pecan Dressing Special?
Alright, alright, so what make this dressing special? Well, one, it's vegan and it tasted pretty dang good to me. Two, I use some Herbs De Provence to add a unique savory and herbaceous background flavor. Three, I only used pecans as a topping so they wouldn't get mushy or soggy. I'm not much of a soggy nut fan. How about you? Four, I drizzled maple syrup on the top for a sweet maple surprise. Lastly, I topped this dressing with some pats of vegan butter and sprinkled it with Maldon finishing salt. This dressing is:
Sweet
Salty
Soft
Crunchy....yummmmmm.
Alright, enough of the BS, let's get to the cooking part.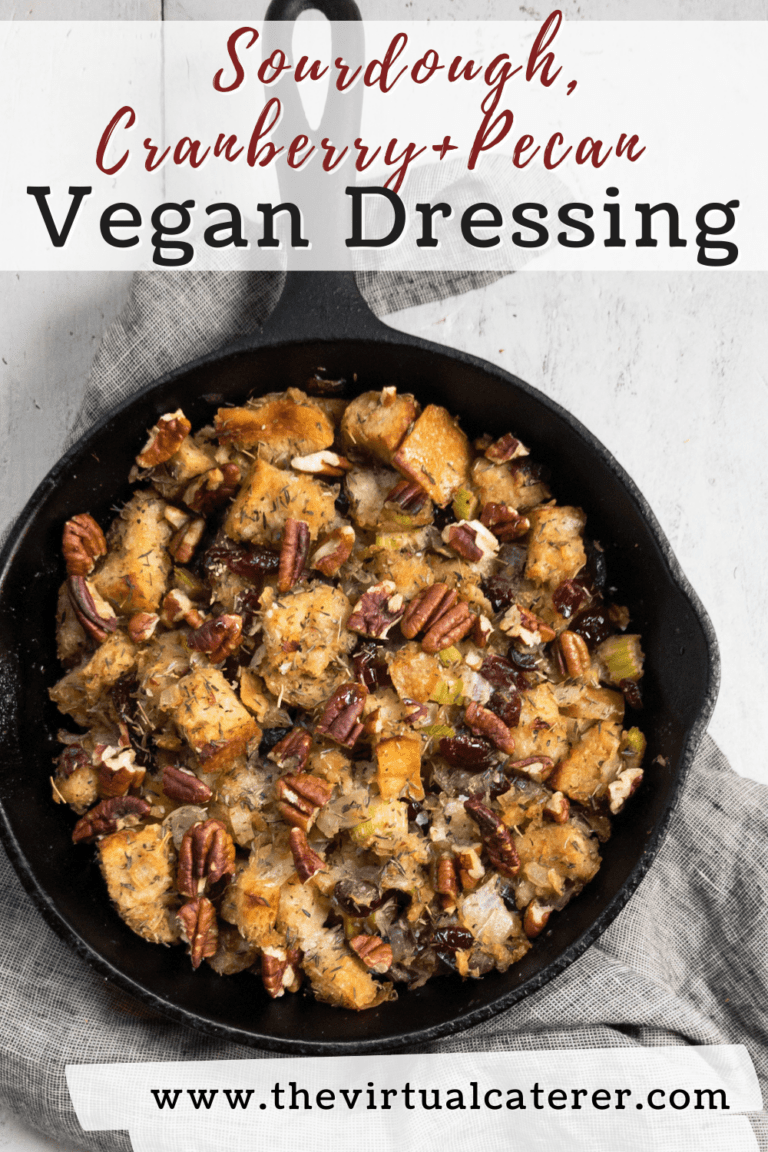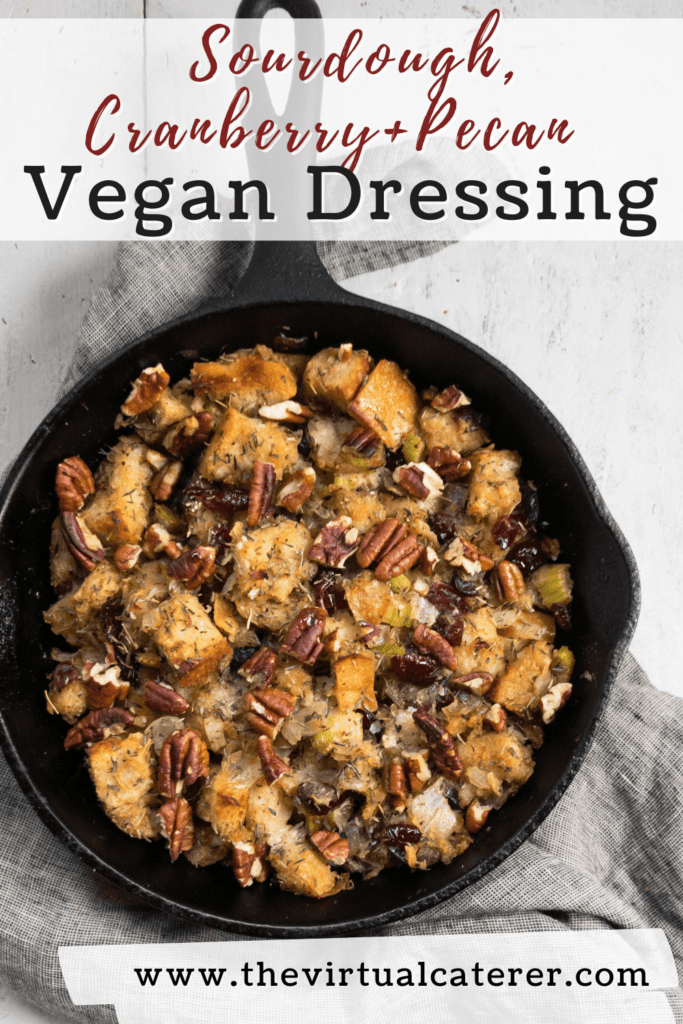 What you will need to make this Dressing:
Sourdough bread - I recommend sliced sourdough with a softer crust.
Yellow Onion
Celery
Vegetable Stock/Broth
Dried Herbs: Bay Leaves, Thyme, Herbs De Provence
Dried Cranberries
Pecans
Vegan butter - I used Miyokos.
Olive oil
Maple Syrup
Salt and Pepper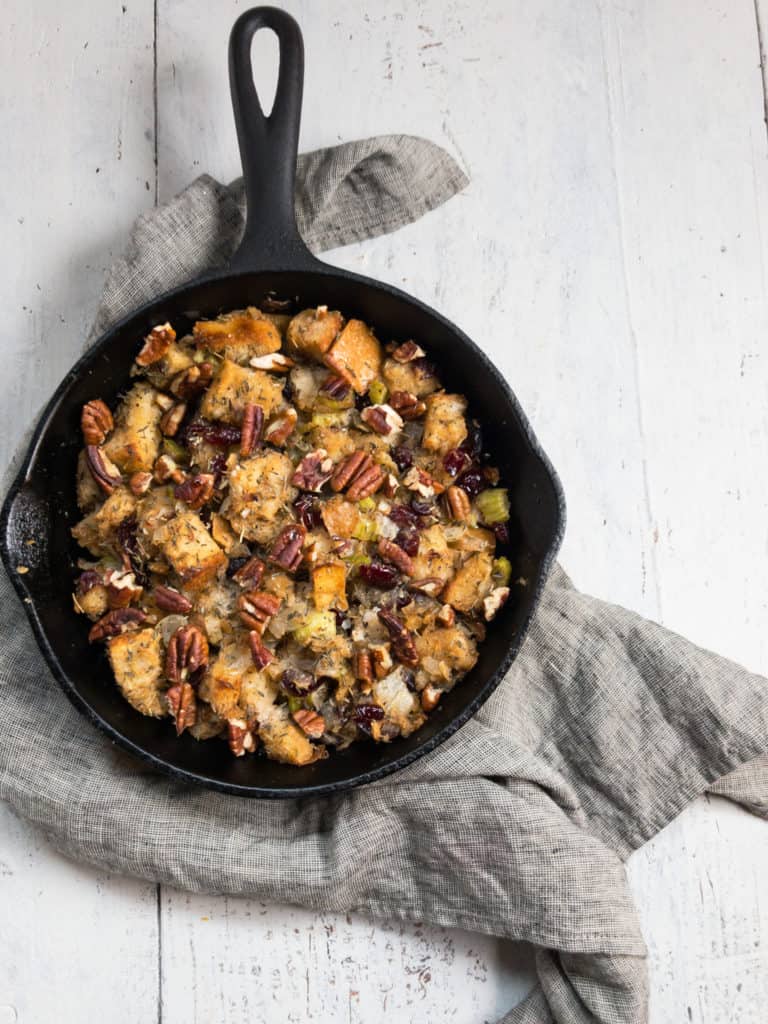 If you're looking for some more Thanksgiving ideas you may want to check out these recipes:
Fig & Goat Cheese Crostini with Truffle Honey
Curried Carrot and Ginger Soup
Apple Crumbles with Vanilla Bean + Thyme
If you try this dressing recipe, I would love to know how it went for you in the comments! Have a safe and delicious Thanksgiving! Hope to see you at the next post!
Cheers, Suzie
📖 Recipe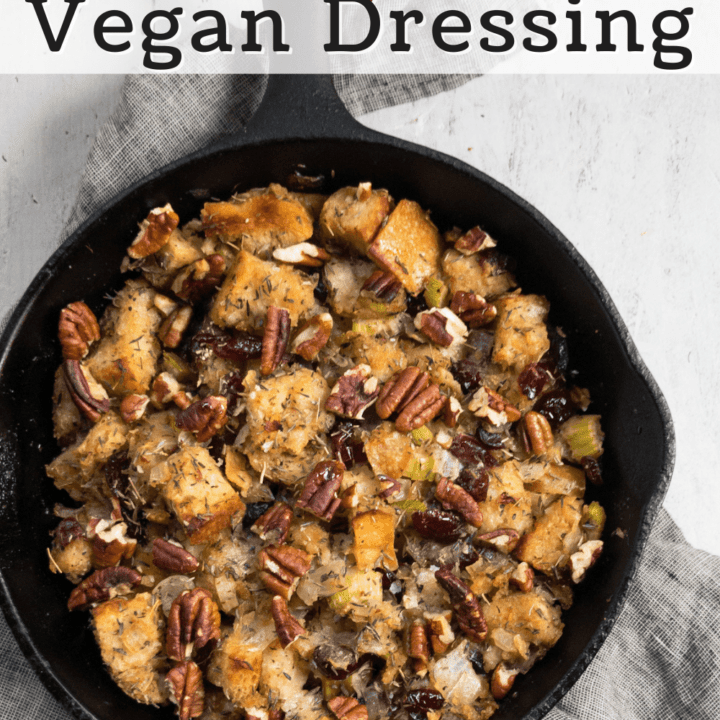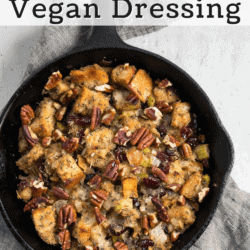 Sourdough, Cranberry and Pecan Dressing (Vegan)
A vegan twist on traditional Thanksgiving dressing.
Ingredients
Toasting the Bread
4

cups

Sourdough Bread

with a soft crust - Cubed
Cooking the Veggies
1

small

Yellow Onion

Chopped

2

stalks

Celery

Chopped

2

Bay Leaves

½

Cup

Dried Cranberries

1

teaspoon

Herbs De Provence

1

teaspoon

Thyme

+ some for topping

2

Cups

Vegetable Stock/Broth

More as needed

1

tablespoon

Olive Oil or Vegan Butter

Salt

to taste

Pepper

to taste
Topping the Dressing
1-2

tablespoon

Vegan Butter

Break into small chunks

⅓

Cup

Raw Pecans

Chopped

Thyme

Sprinkle

1

tablespoon

Maple Syrup

Drizzle

Finishing Salt

Sprinkle - I like Maldon
Instructions
Toast the Sourdough
Preheat the oven to 400°F. Cube sourdough into chunks about ½ inch thick. Arrange in a single layer on a baking sheet and toast for 10 minutes.

4 Cups - Sourdough Bread
To Cook the Veggies:
While the bread is toasting, heat one tablespoon of olive oil in a heavy bottom skillet over medium heat. Chop the onion. Add the onion and bay leaves to the oil with ½ teaspoon of salt. Cook 10 minutes, stirring occasionally, until translucent.

1 tablespoon - olive oil 1 - onion2 - bay leaves½ teaspoon - salt

Chop celery, add to the onions, cook 5 minutes, stirring occasionally.

2 stalks - celery

Add dried cranberries, herbs de provence, thyme, salt and pepper. Cook 1-2 minutes.

½ cup- dried cranberries1 teaspoon - herbs de provence1 teaspoon - thymesalt and pepper to taste

Stir in the toasted bread cubes to the veggies, cook 2 minutes, stirring occasionally.

4 cups - toasted sourdough

Slowly add the vegetable stock to the bread mixture, stir in a little at a time. Make sure to get all of the bread moist. Add more or less stock depending on how dry or wet you like your dressing. Cook for 2-4 minutes.

2 cups - vegetable stock

Transfer your dressing mixture to a 8x8 baking dish (a cast iron skillet works well too!)

Gently pat the dressing to fit snugly into the dish.

Top with pecans, thyme, vegan butter, maple syrup and finishing salt.

Reduce oven temp to 375° F. Bake in the oven for 25 minutes or until golden brown on top.

⅓ cup - pecanssprinkle thymesprinkle finishing salt1 tbsp- butter - broken into little pieces1 tablespoon - maple syrup

Cool for 10 minutes. Serve with some love and enjoy! 🙂
Nutrition
Calories:
173
kcal
Carbohydrates:
35
g
Protein:
4
g
Fat:
12
g
Saturated Fat:
3
g
Sodium:
300
mg
Potassium:
124
mg
Fiber:
9
g
Sugar:
59
g
Vitamin A:
247
IU
Vitamin C:
11
mg
Calcium:
34
mg
Iron:
6
mg
Email me! If you have questions or comments, I would love to hear from you!