Look no further for some amazing Air Fryer Super Bowl Recipes that are sure to impress your guests! These air fryer recipes are a fantastic alternative to greasy game-day foods. Keep your tummy happy while eating just a little bit healthier!
Chicken Wings Recipes
Lemon Pepper Chicken Wings (w/Lemon Pepper Sauce)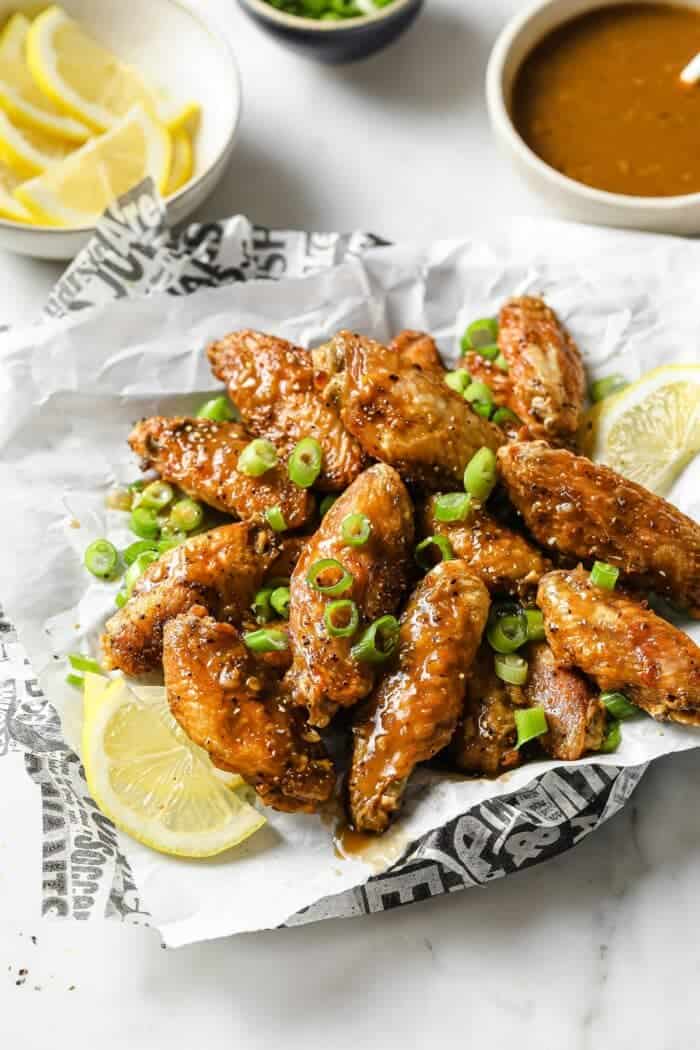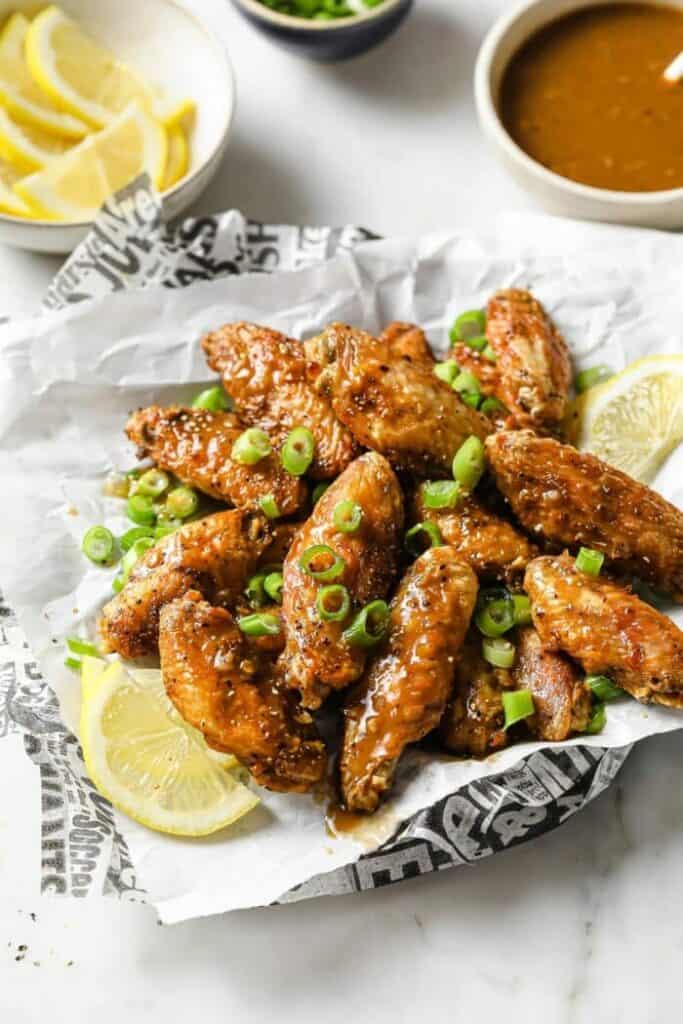 Add some pizzaz to game day with these Lemon Pepper Chicken Wings by I Heart Umami. These unique lemon pepper wings are finished with a light lemon pepper sauce for a sweet, tangy, and spicy appetizer.
Tandoor Chicken Wings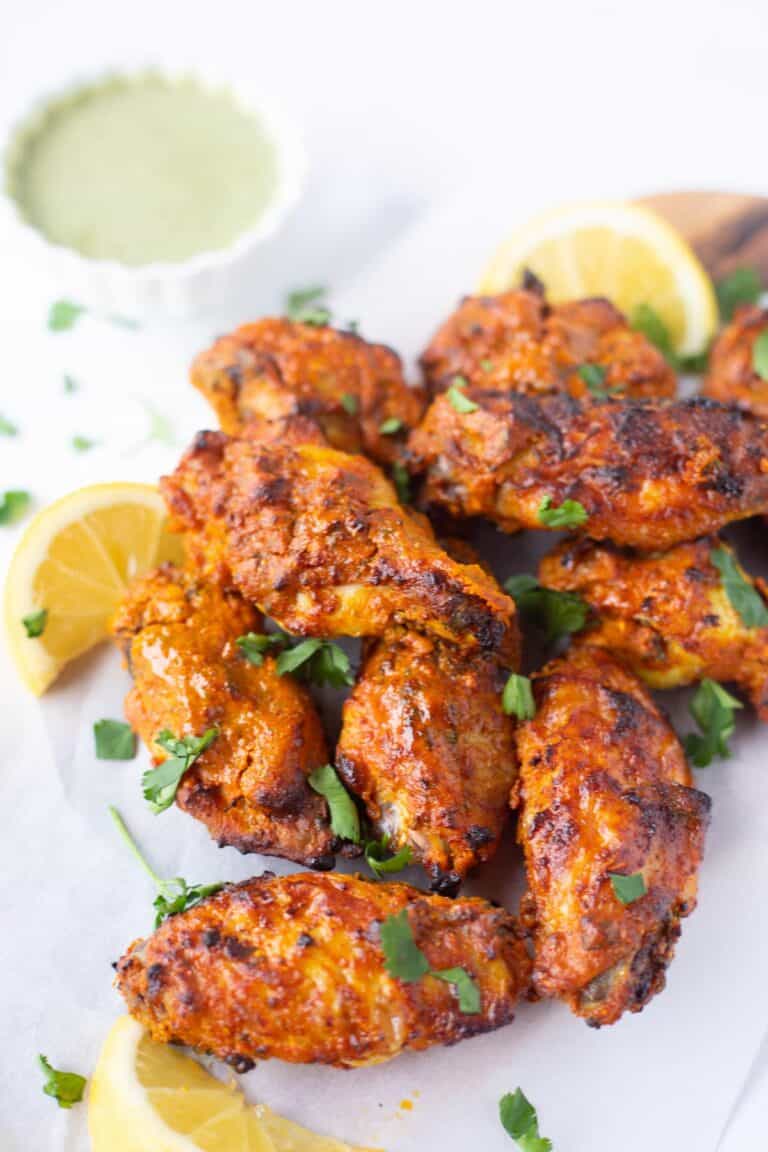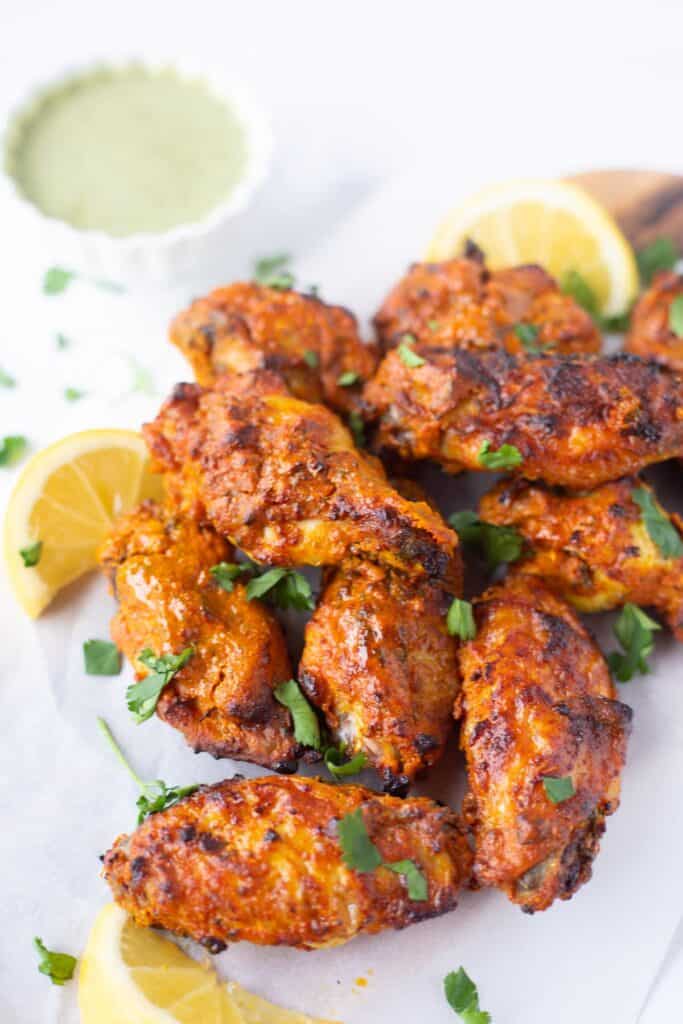 These smoky-flavored Tandoori Chicken Wings by Piping Pot Curry are marinated in Indian spices and yogurt and grilled to perfection. These mind-blowing wings are succulent and juicy on the interior and crispy on the outside.
Air Fryer Garlic Parmesan Wings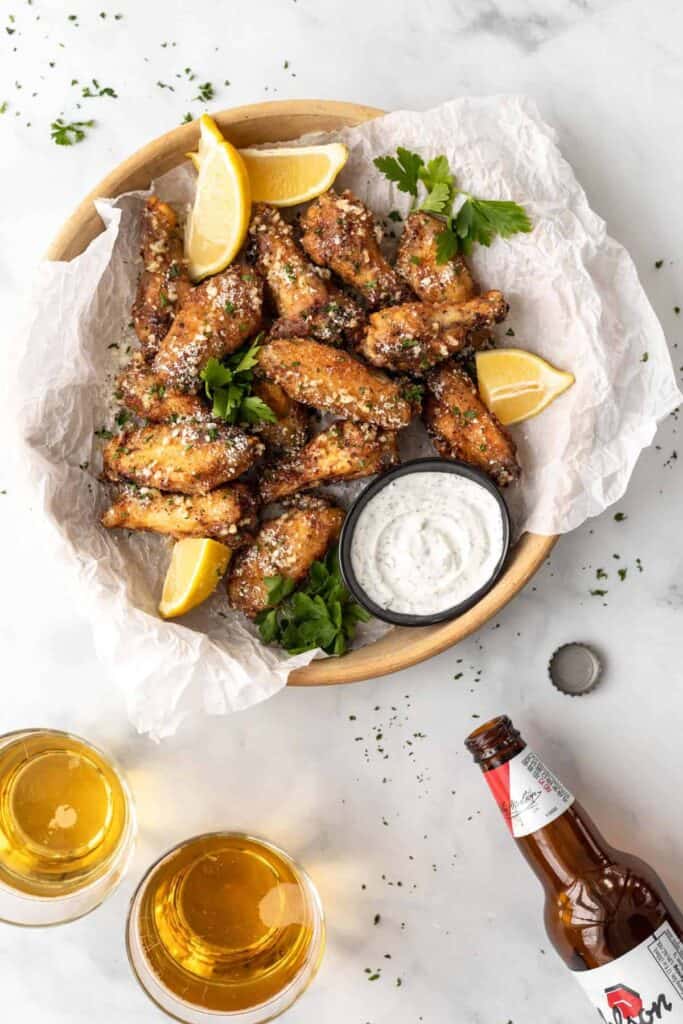 Air fryer garlic parmesan wings by Your Home Made Healthy are not just for game day! With this delicious and easy recipe, you'll want to make these for dinner every night of the week. They're crispy, comforting, packed full of flavor, and sure to be your next recipe on constant rotation!
Air Fryer Old Bay Chicken Wings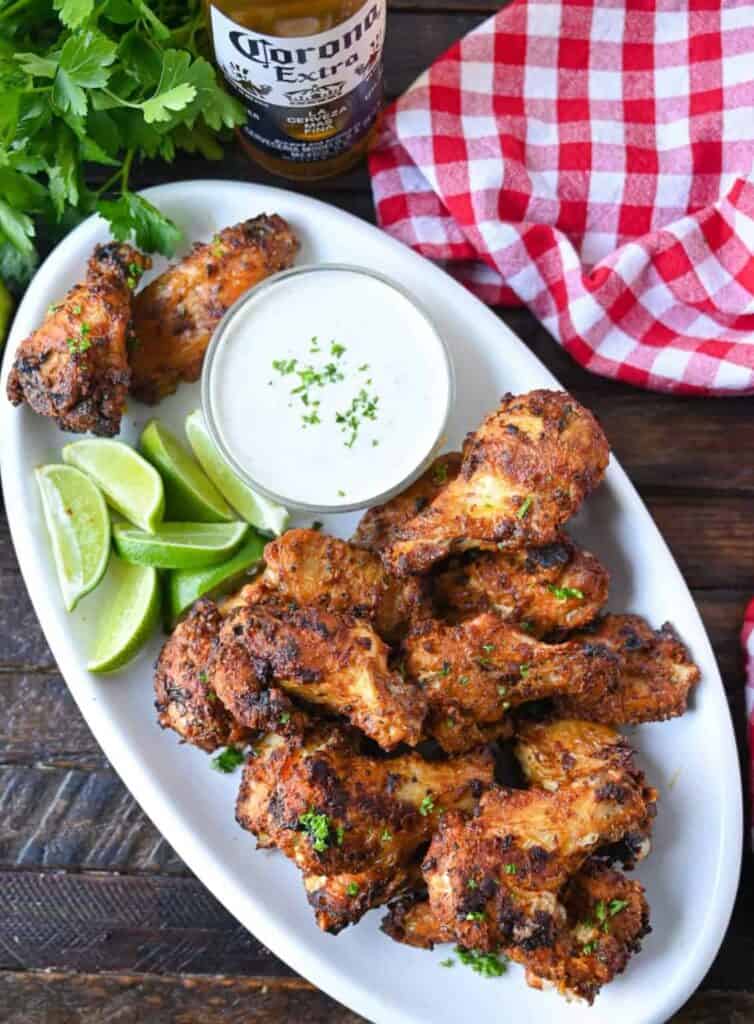 These air fryer old bay chicken wings by Butter Your Biscuit are so addicting. Seasoned to perfection, an easy quick lunch or dinner, and a huge hit for the Super Bowl or game day appetizer.
Air Fryer Bang Bang Chicken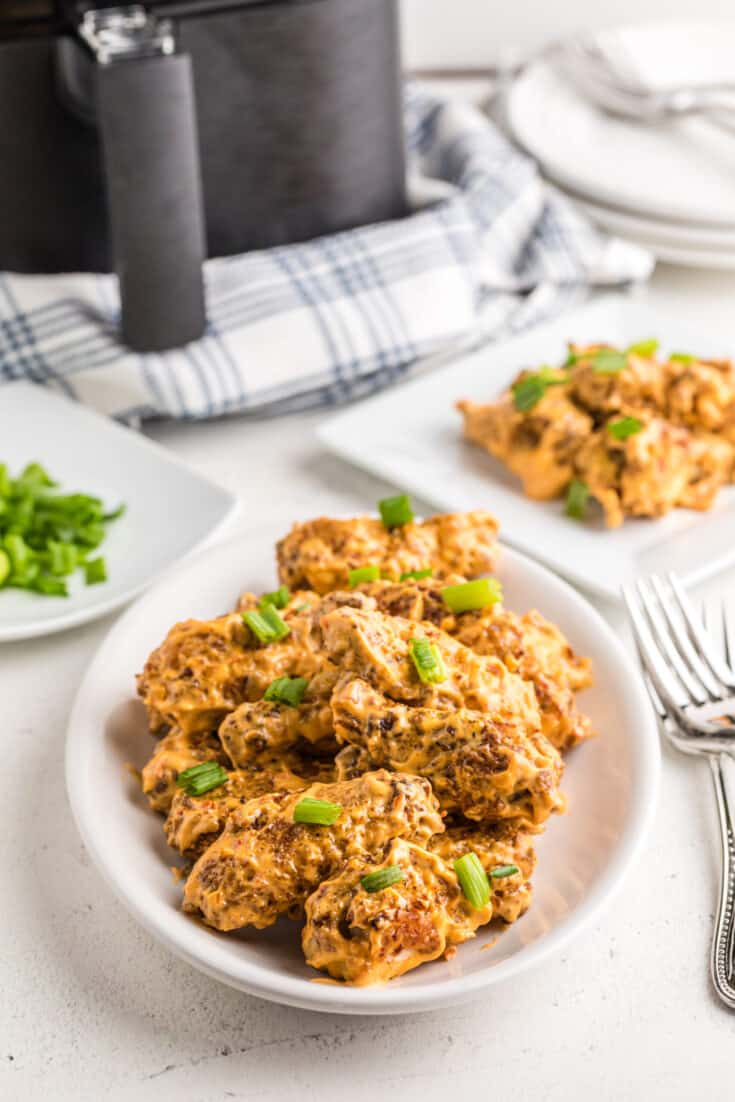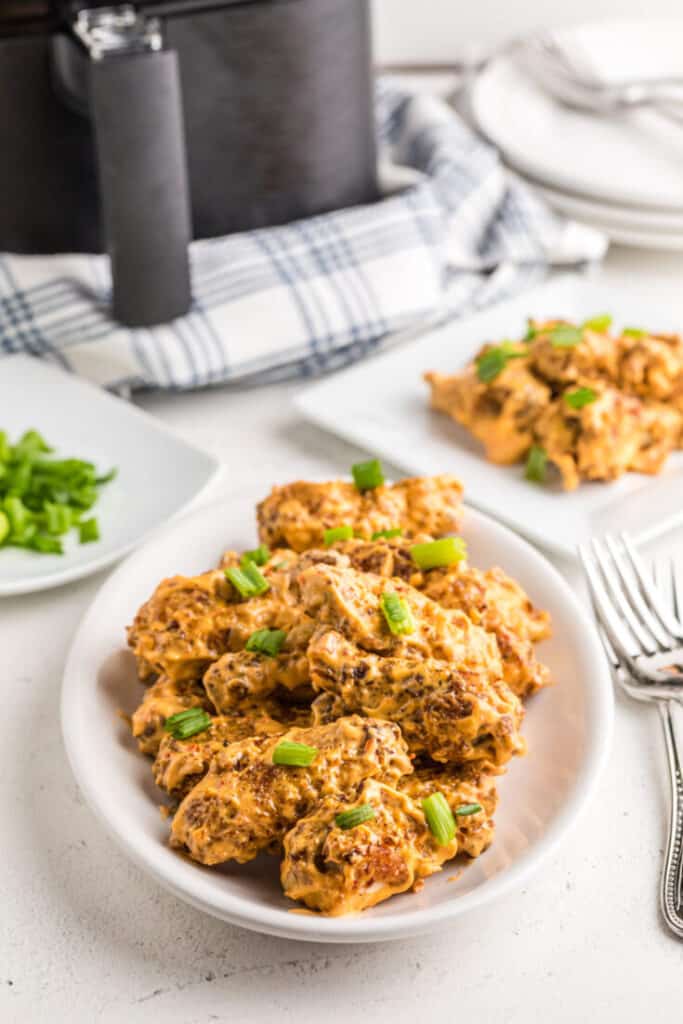 This Air Fryer Bang Bang Chicken by When is Dinner is based on the classic Bang Bang Shrimp. It's deliciously seasoned, cooked in the air fryer, and coated with a creamy, spicy sauce. This is the perfect game day snack or easy dinner.
Chicken Recipes
Air Fryer Korean Fried Chicken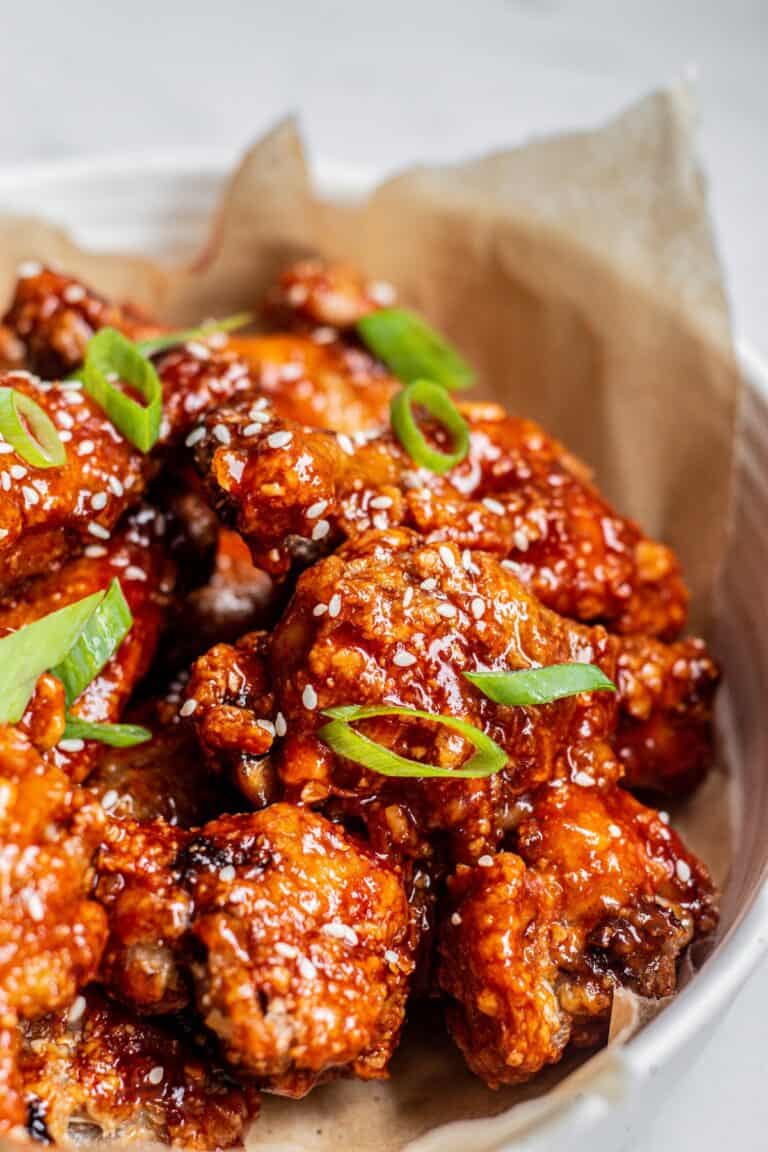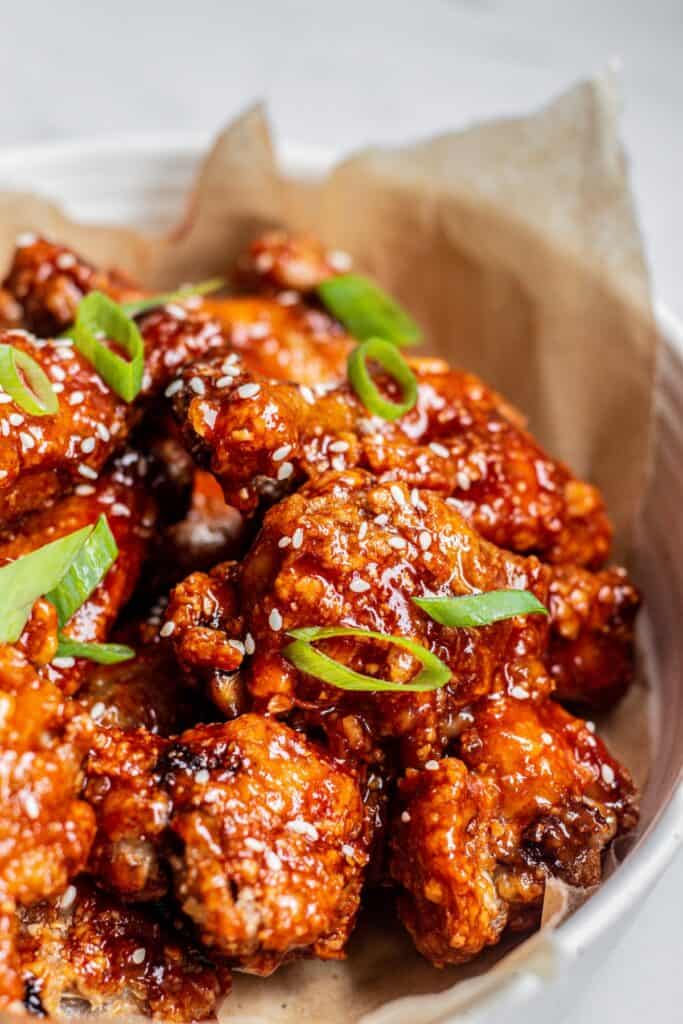 This air fryer Korean fried chicken by Air Fry Cook is super delicious! The chicken is perfectly crispy and coated in a spicy, sticky gochujang sauce. Serve this up for dinner or as a snack for your Super Bowl party.
Everything Bagel Seasoning Chicken Fingers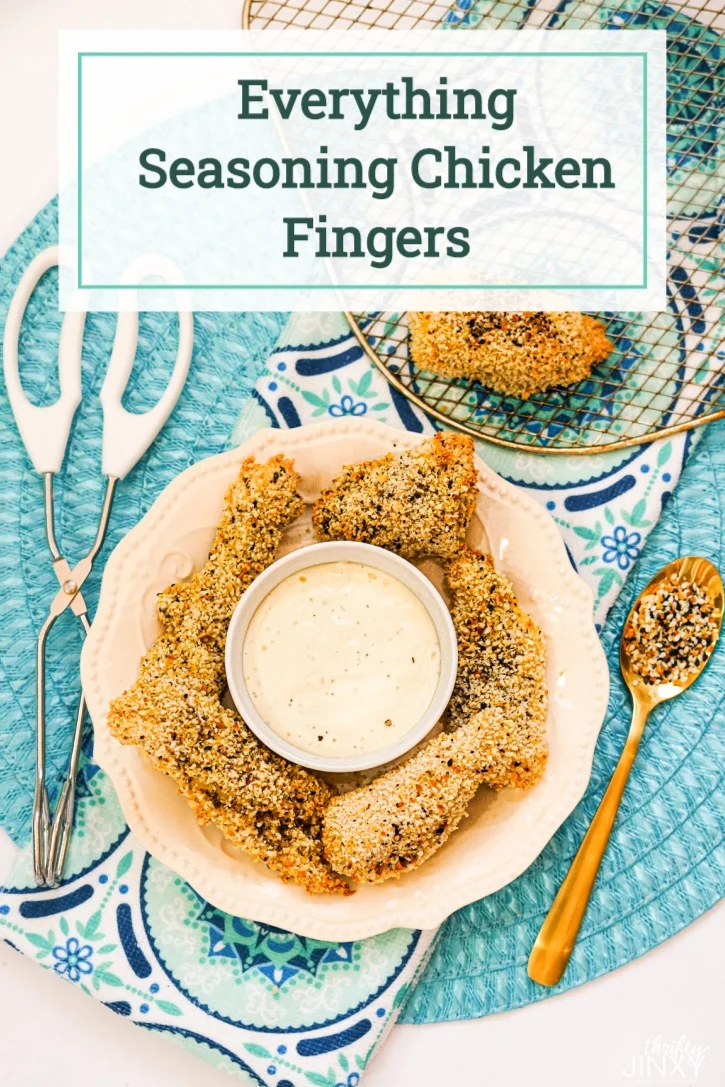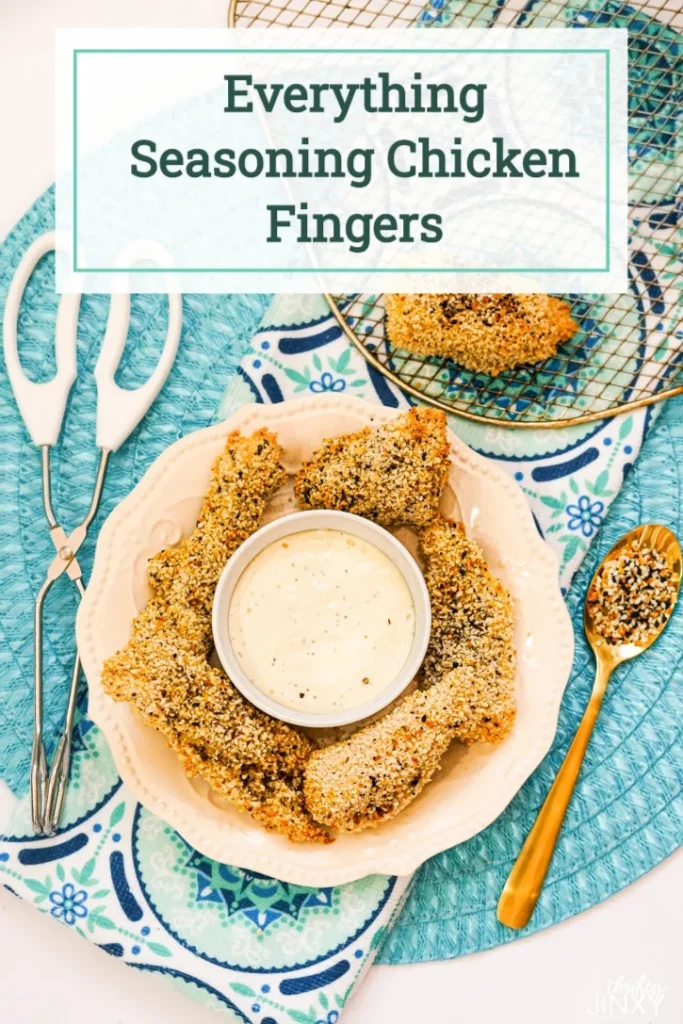 These Everything Bagel Seasoning Chicken Fingers by Thrifty Jinxy are super easy and quick to make using your air fryer. Everything Bagel Seasoning kicks up the flavor to make the zippiest, crispiest, and totally delicious chicken fingers around!
Air Fryer Chicken Nuggets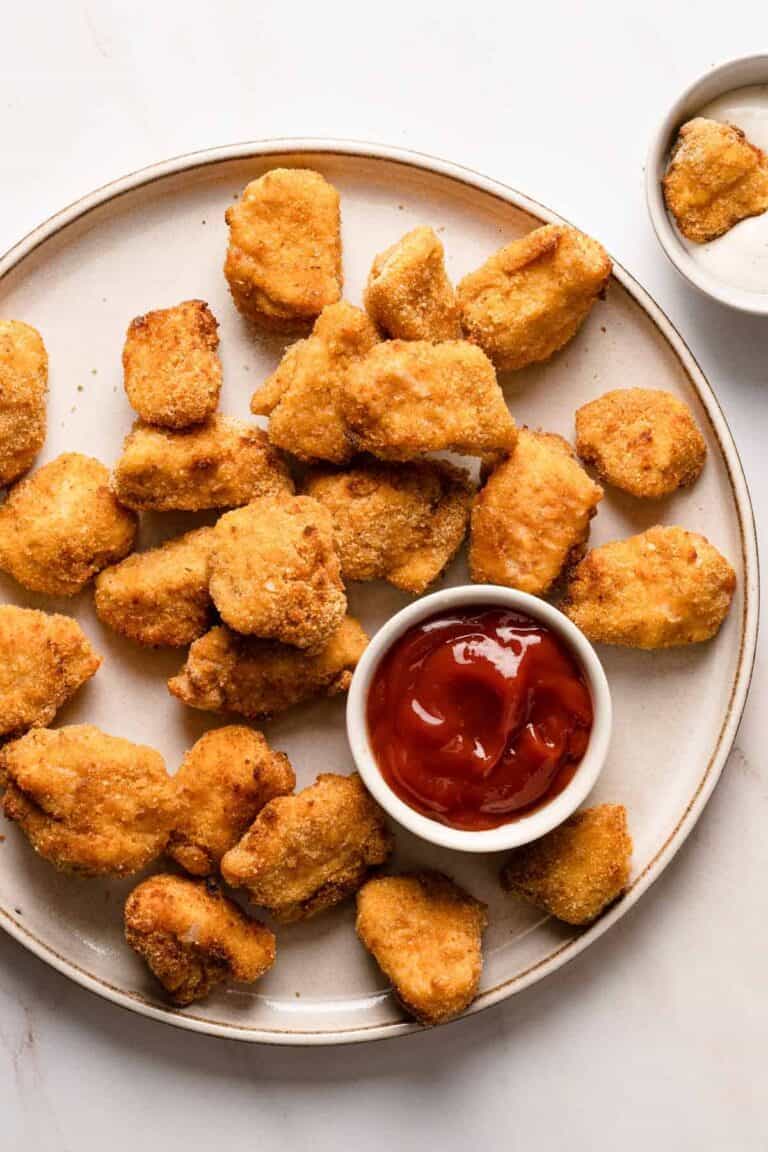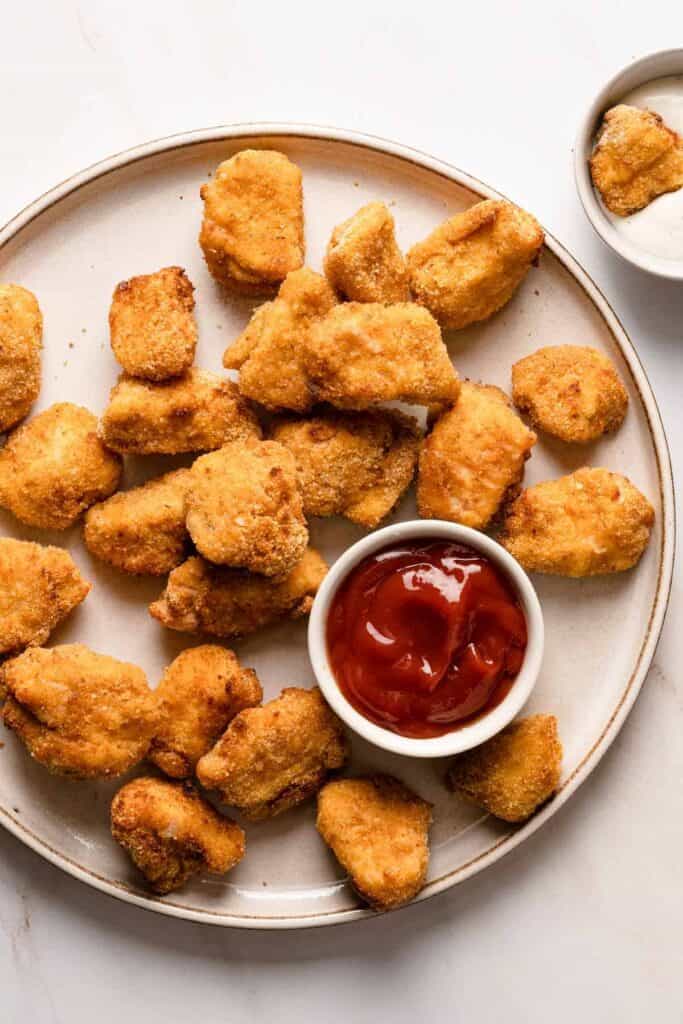 You will never go back to buying store-bought chicken nuggets after making these delicious air fryer chicken nuggets by Nibble and Dine! You only need about 25 minutes to make them, and they freeze well for later! They are the ultimate game day snack for kids young and old!
Air Fryer Buffalo Chicken Egg Rolls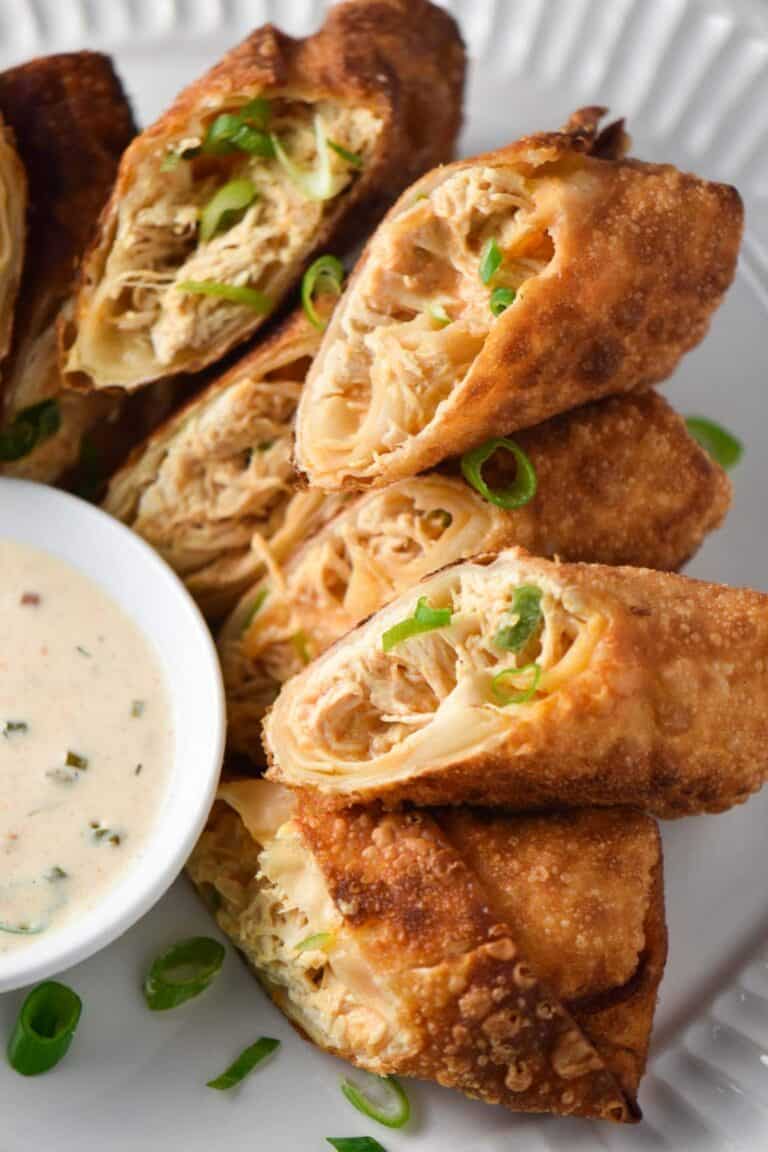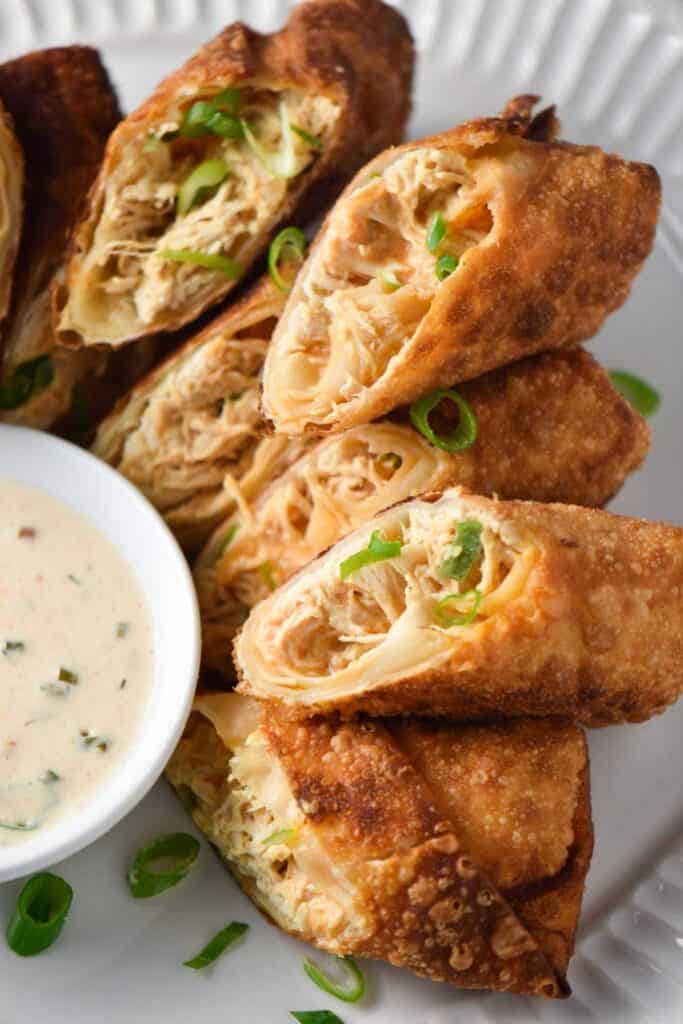 These Air Fryer Buffalo Chicken Egg Rolls by the Dizzy Cook are the perfect game-day food! Creamy buffalo shredded chicken is stuffed into egg roll wrappers and air fried to crispy perfection. They're a crowd pleaser that will leave the family fighting over the last piece.
Seafood Recipes
Air Fryer Bang Bang Shrimp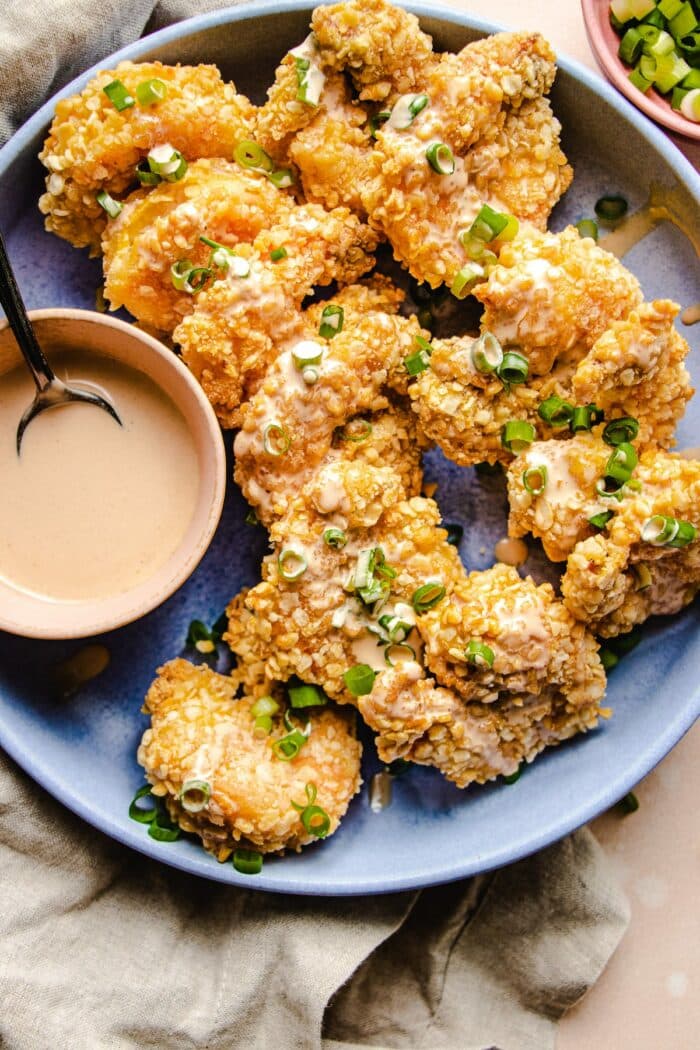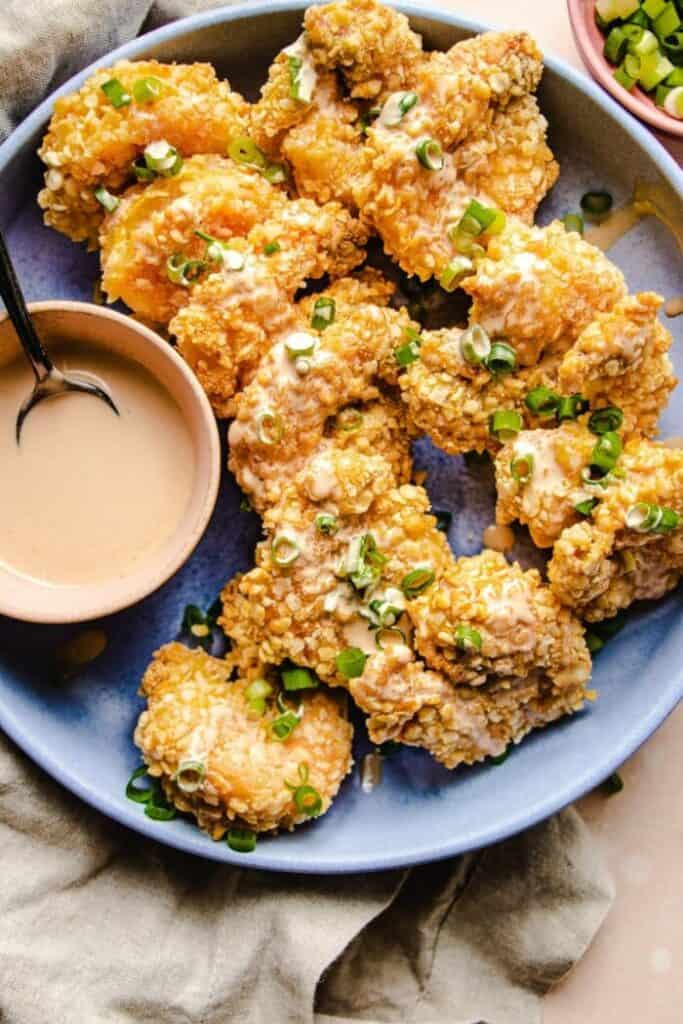 These crispy Air Fryer Bang Bang Shrimp by I Heart Umami will rival any restaurant takeaway! In just 6 minutes, you will have incredibly delicious jumbo air fryer shrimp balls that are crisped to perfection.
Bacon Wrapped Shrimp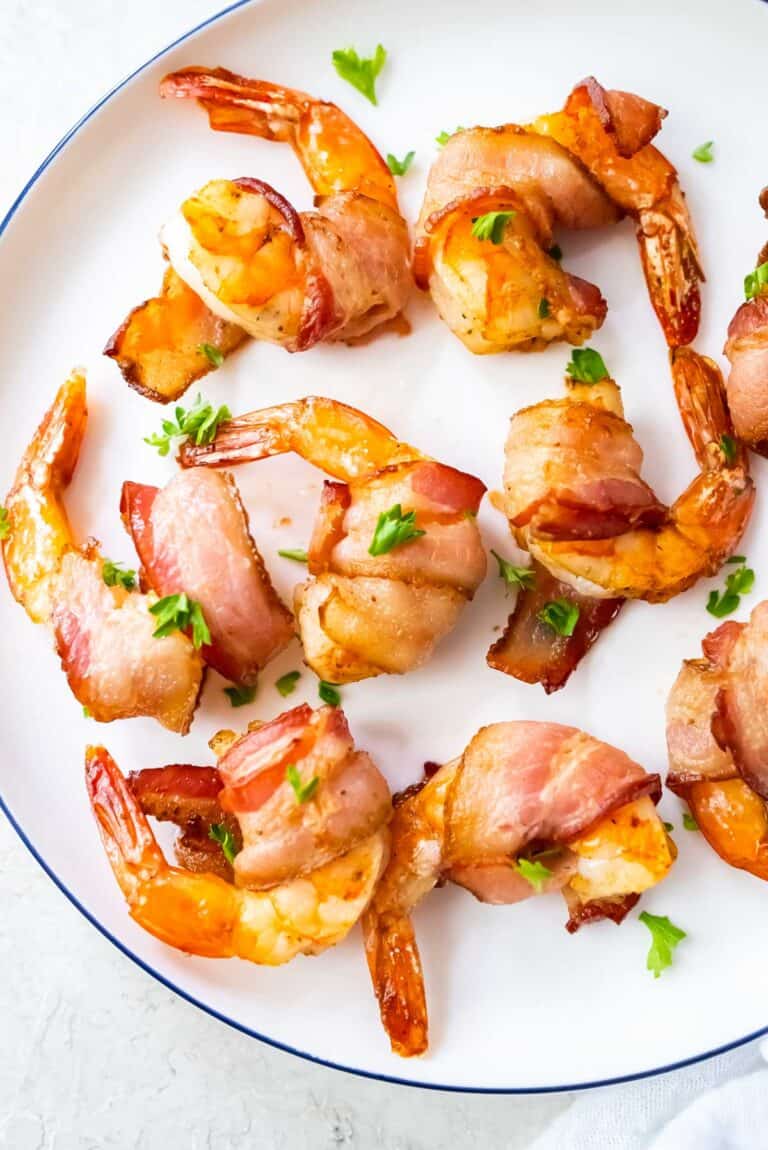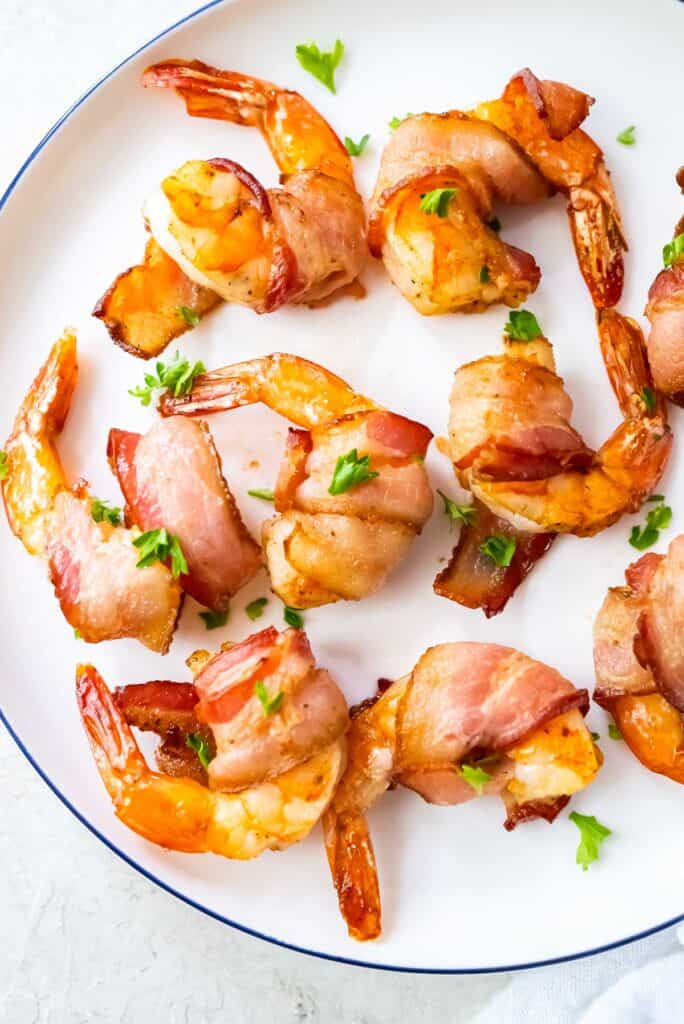 Air Fryer Bacon Wrapped Shrimp by Recipes from a Pantry is an easy and simple 4 ingredient appetizer that's perfect for the Super Bowl or any game day!
Air Fryer Coconut Shrimp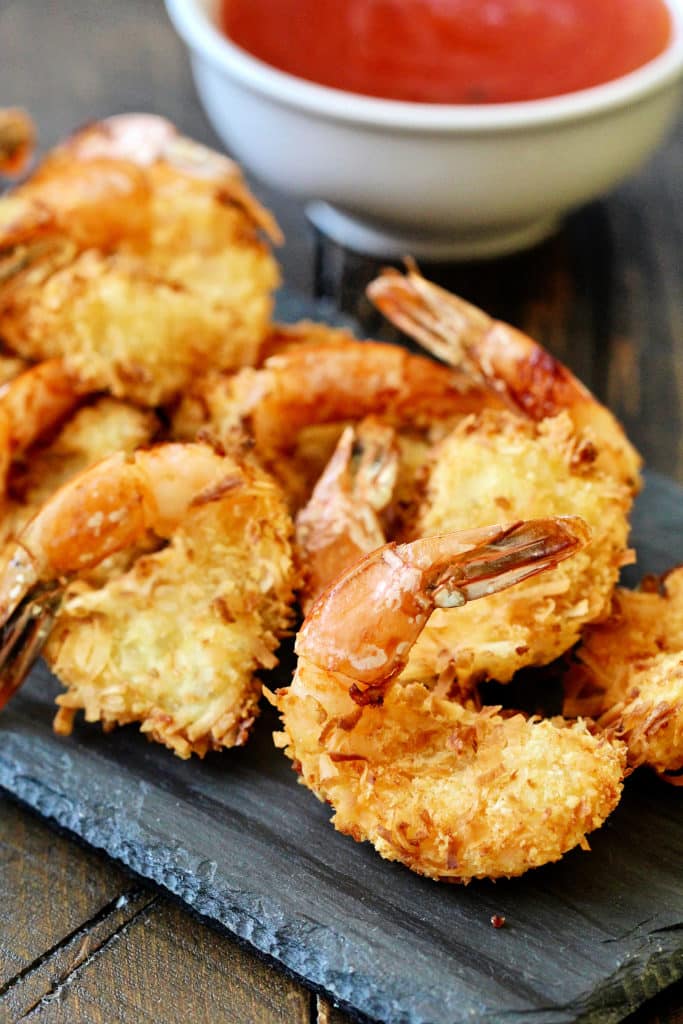 Air Fryer Coconut Shrimp by The Foodie Physician is a restaurant-quality appetizer that you can make at home! It's so easy to make and healthier than the traditional deep-fried version, thanks to the air fryer. It's the perfect party appetizer and can be made gluten-free too!
Popcorn Shrimp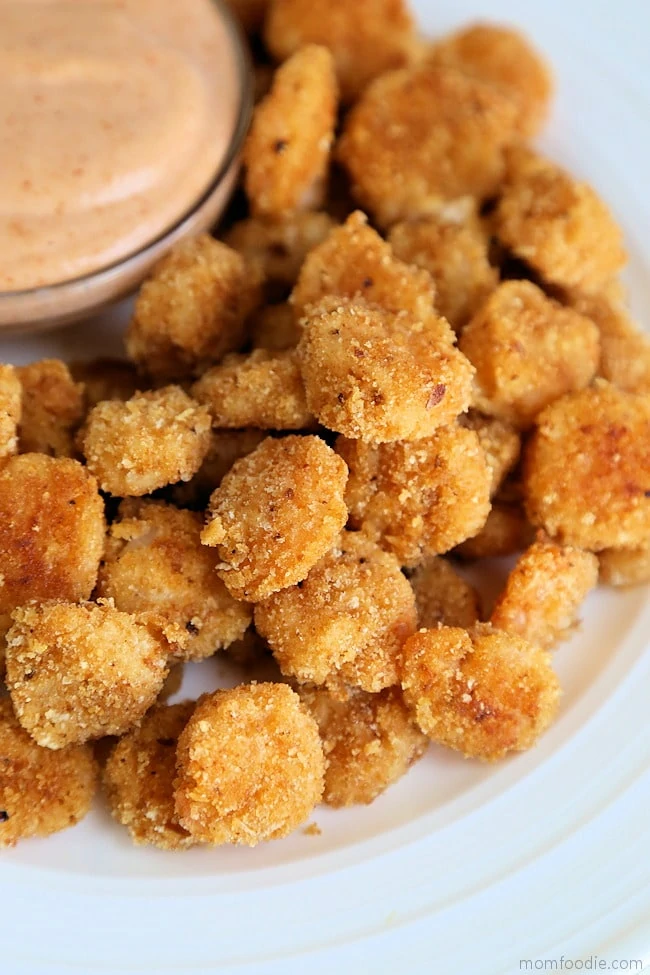 These Popcorn Shrimp by Mom Foodie are delicious and easy to make with the help of your air fryer. These are mayo and crumb coated for simple prep with fantastic flavor for game day!
Air Fryer Crab Rangoon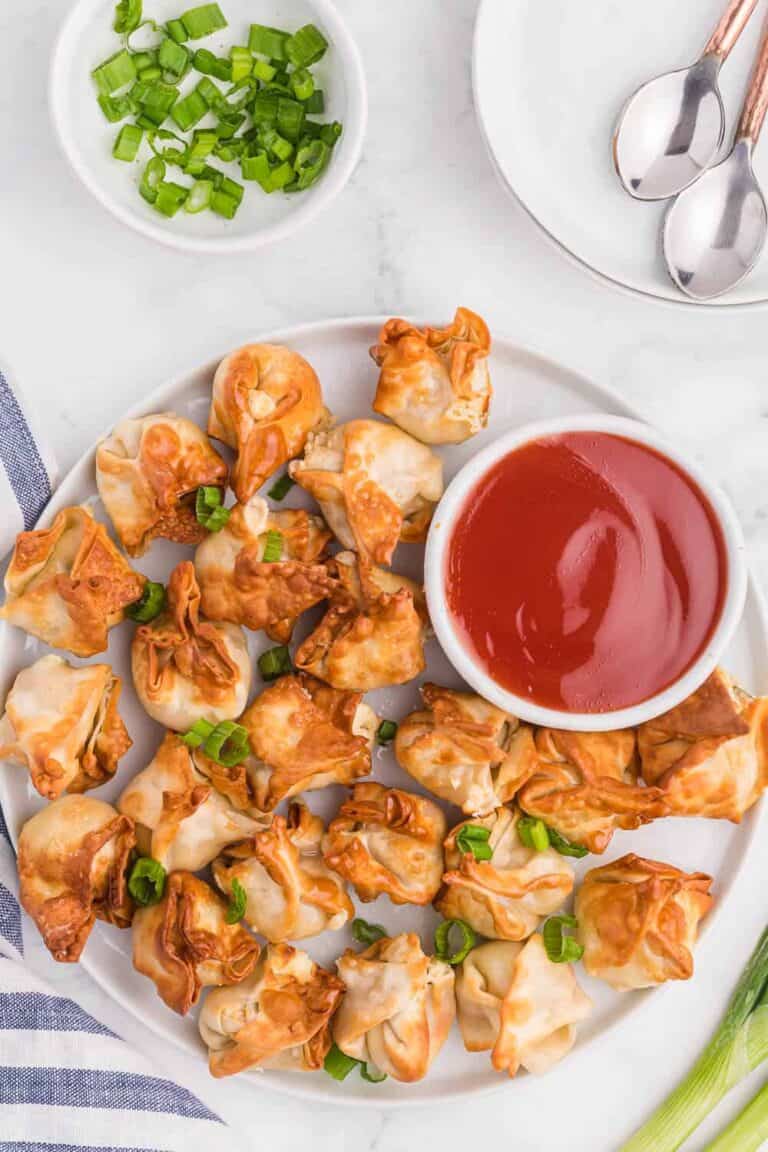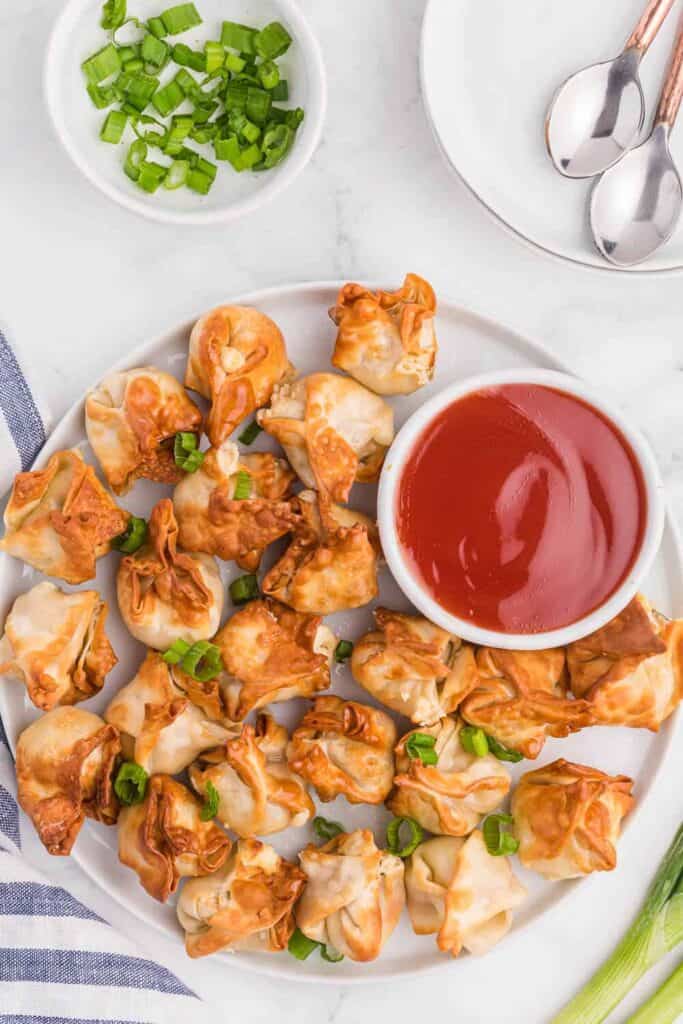 Air Fryer Crab Rangoon by Simply Stacie is a quick and easy appetizer that is ready to eat in less than 20 minutes. The wonton is crispy on the outside and creamy crab filling on the inside. Perfect for parties or game-day gatherings.
Bacon Wrapped Scallops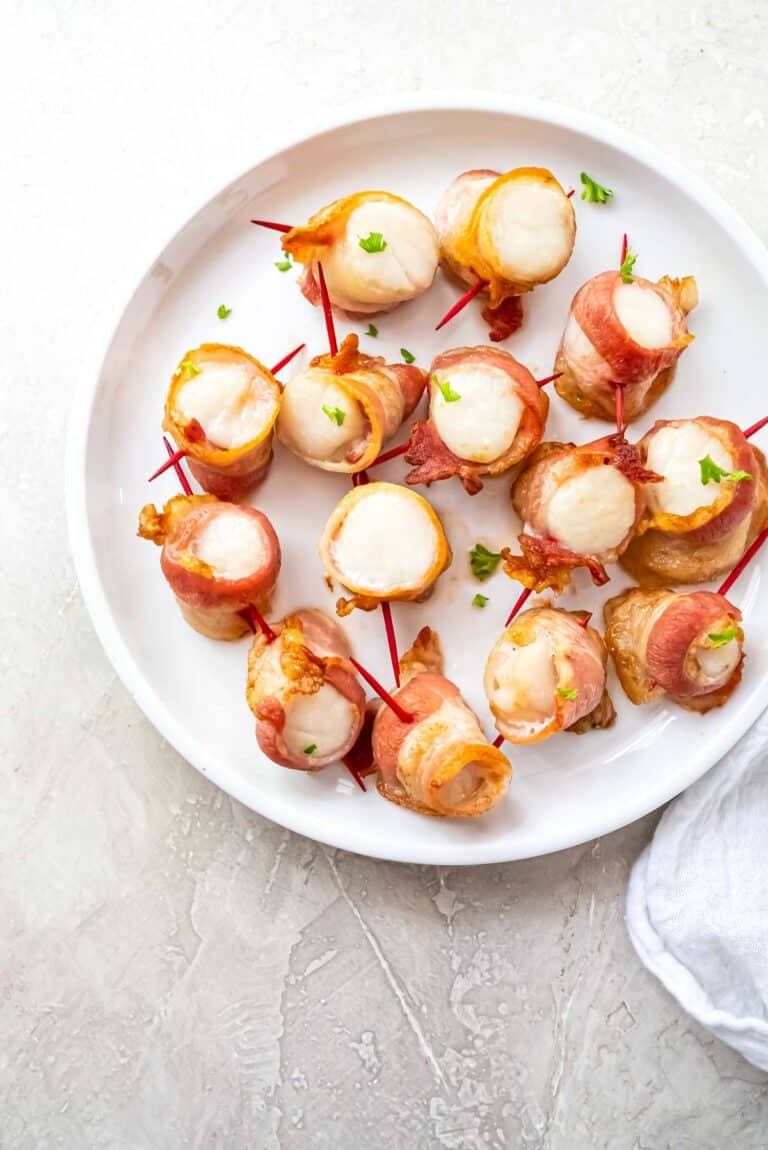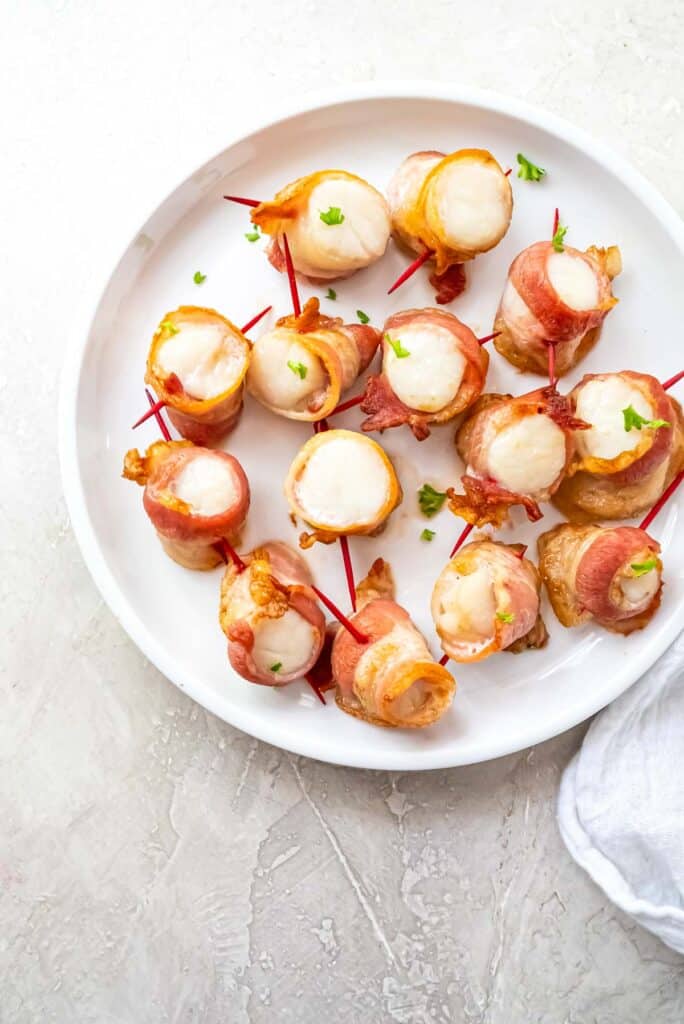 Air Fryer Bacon Wrapped Scallops from Recipes from a Pantry are an easy-to-make yet impressive and elegant appetizer. The perfect finger food for serving for your game-day party if you want something quick and classy!
Air Fryer Meat Recipes
Air Fryer Bacon Wrapped Cheeseburger Bites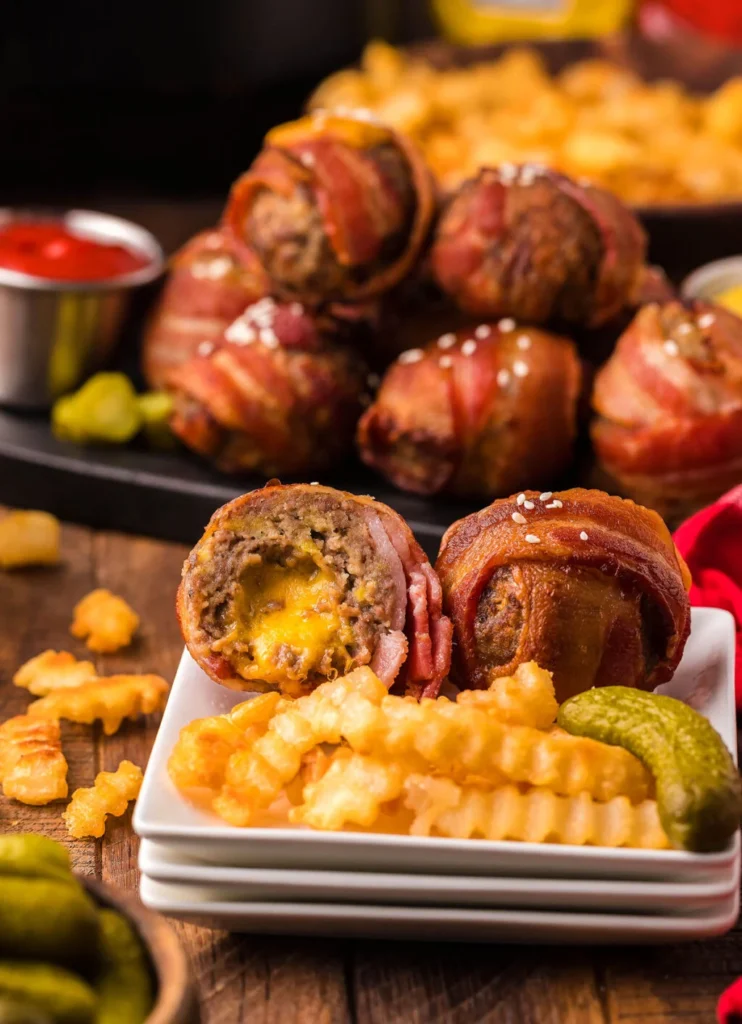 Air fryer bacon-wrapped cheeseburger bites by XOXO Bella are one of those recipes your air fryer was made for! Whether you call the bacon-wrapped meatballs or meatloaf balls, you will agree that they taste AMAZING! Watch them disappear at your next Super Bowl party!
Air Fryer Kielbasa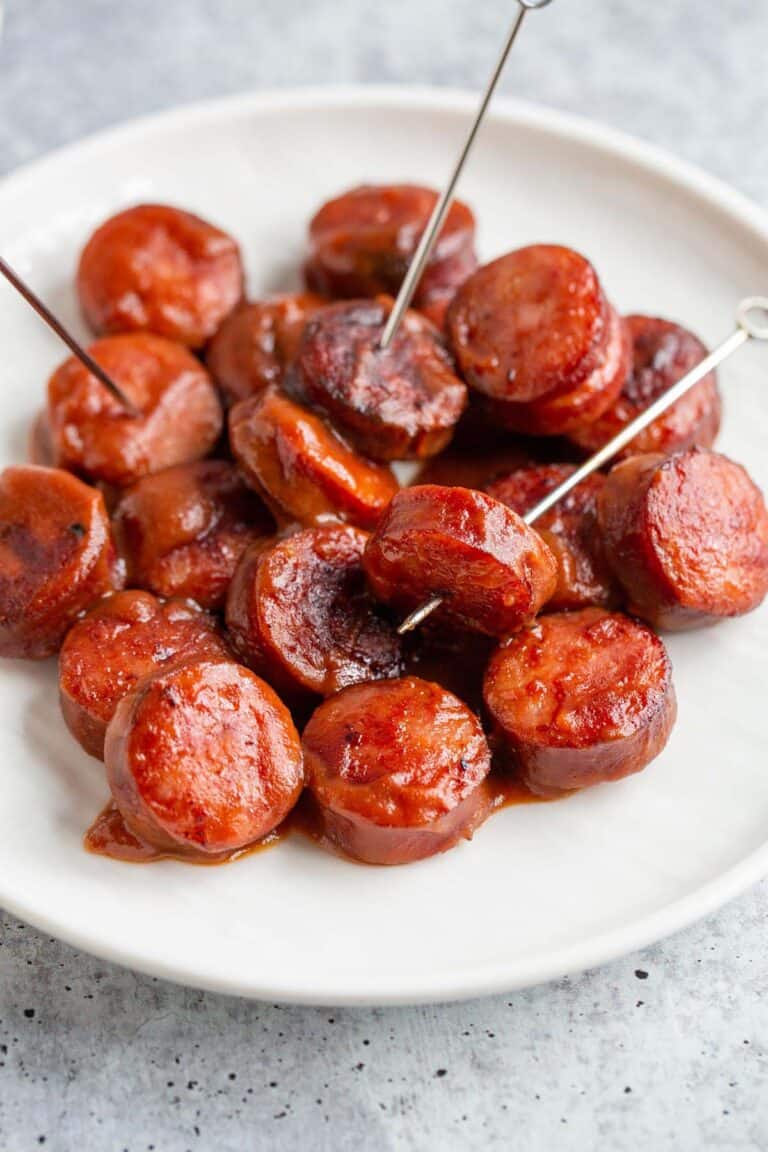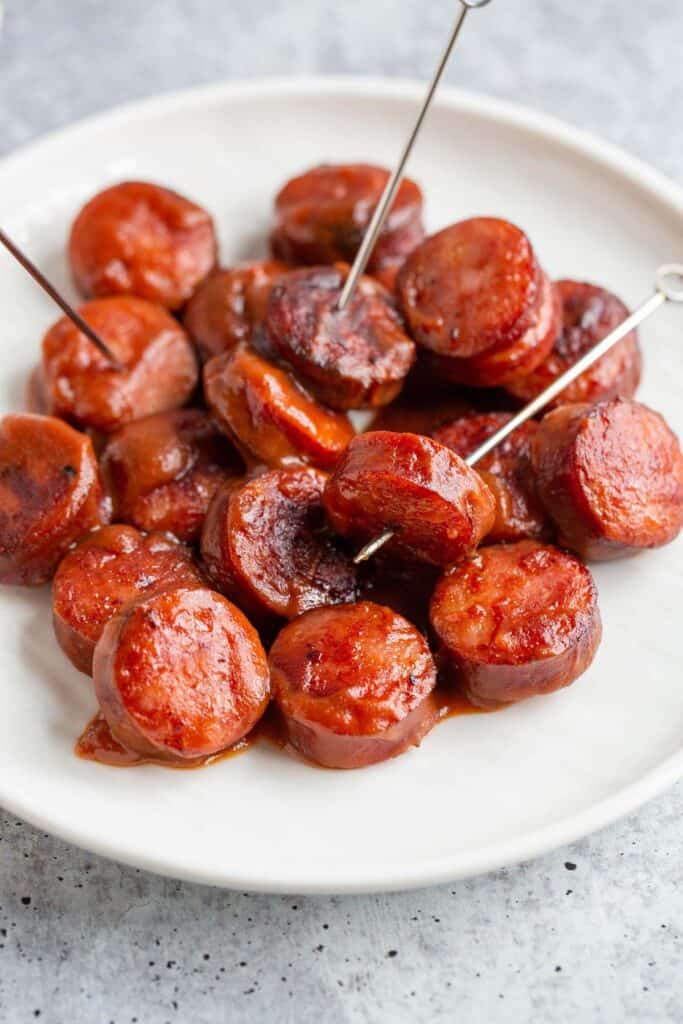 Air Fryer Kielbasa by Food Banjo is so easy to make! Slice it up and toss in a homemade sauce. No need to stress while watching the big game, this Polish sausage gets perfectly cooked in the air fryer every time.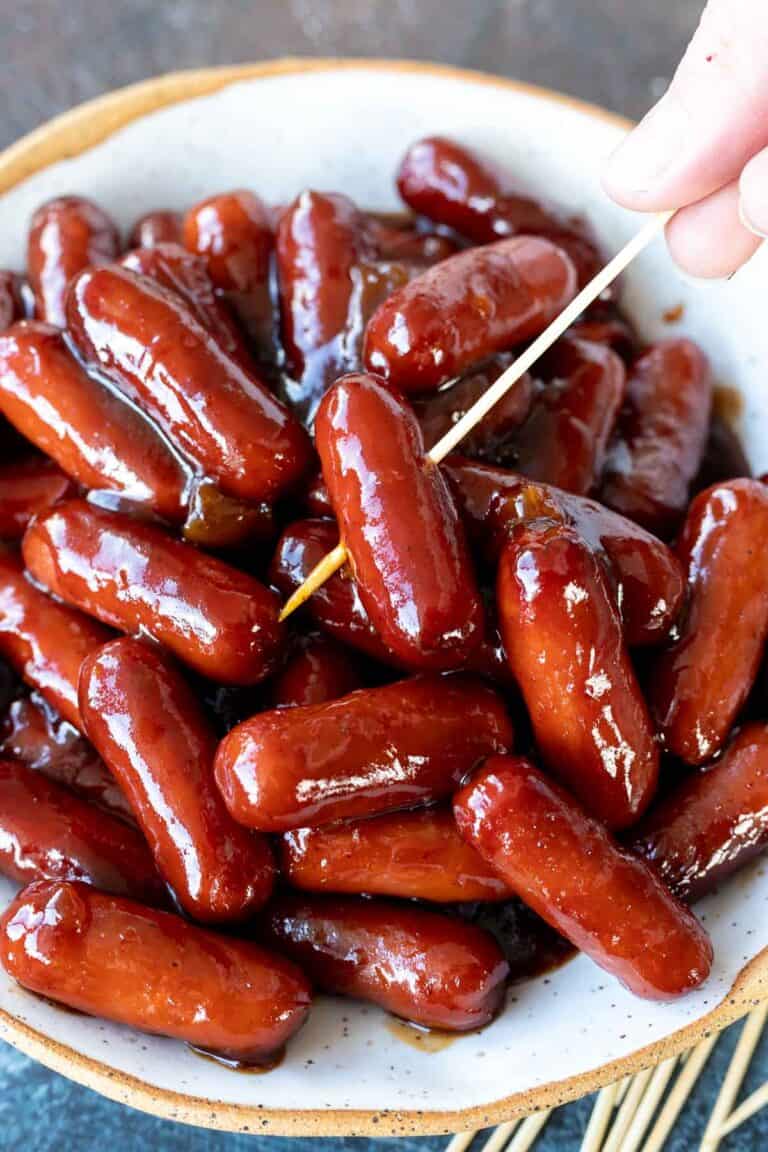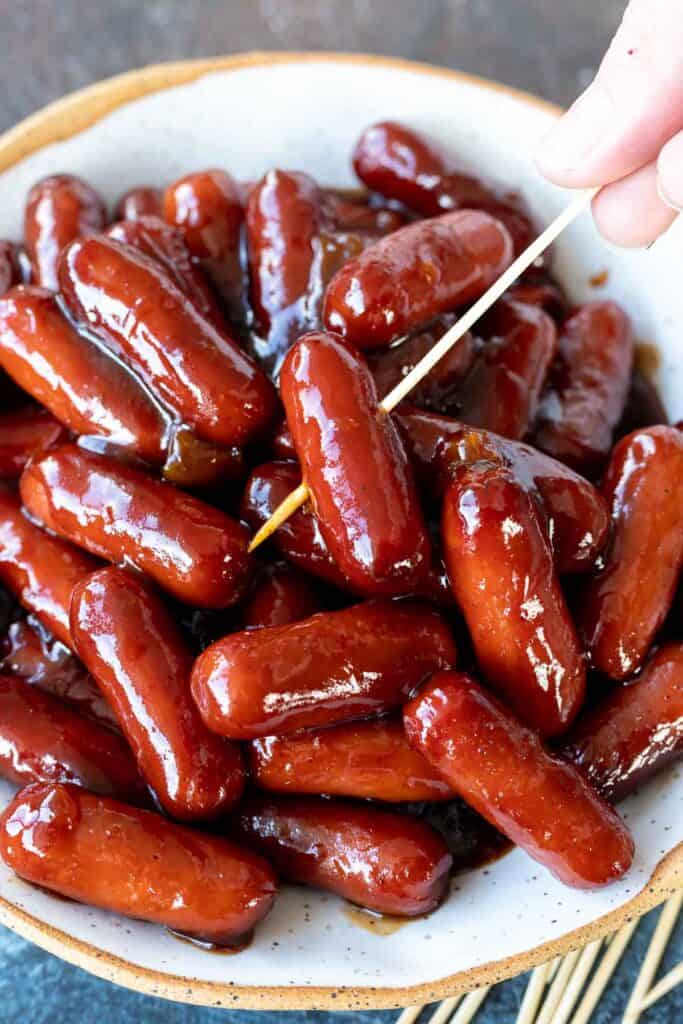 This Air Fryer Bbq Little Smokies Recipe from Tasty Air Fryer Recipes is a super easy party or holiday appetizer. Air Fried Lil Smokies get nice and firm on the outside, juicy on the inside then smothered in an apricot barbecue sauce.
Bacon Jalapeno Cheese Pigs in a Blanket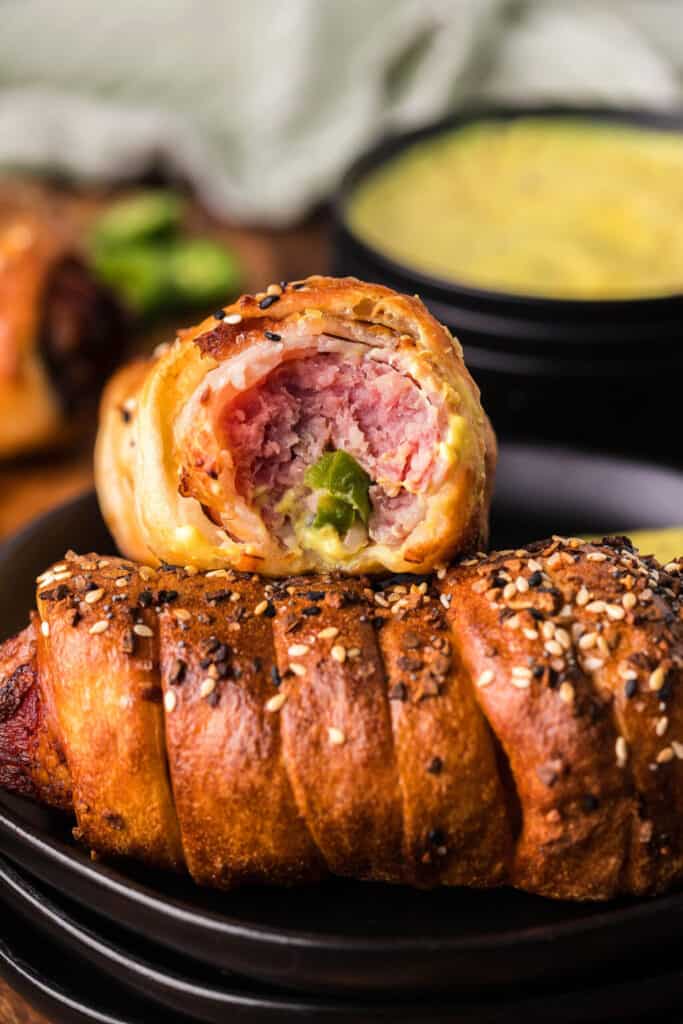 Air fryer bacon jalapeño cheese pigs in a blanket from XOXO Bella are perfect if you want an easy app or finger food. This air fryer appetizer uses Pillsbury pizza dough, brats, cheese, jalapeños, and more. Pigs in a blanket with bratwurst are the perfect treat on game day.
Ham and Cheese Sliders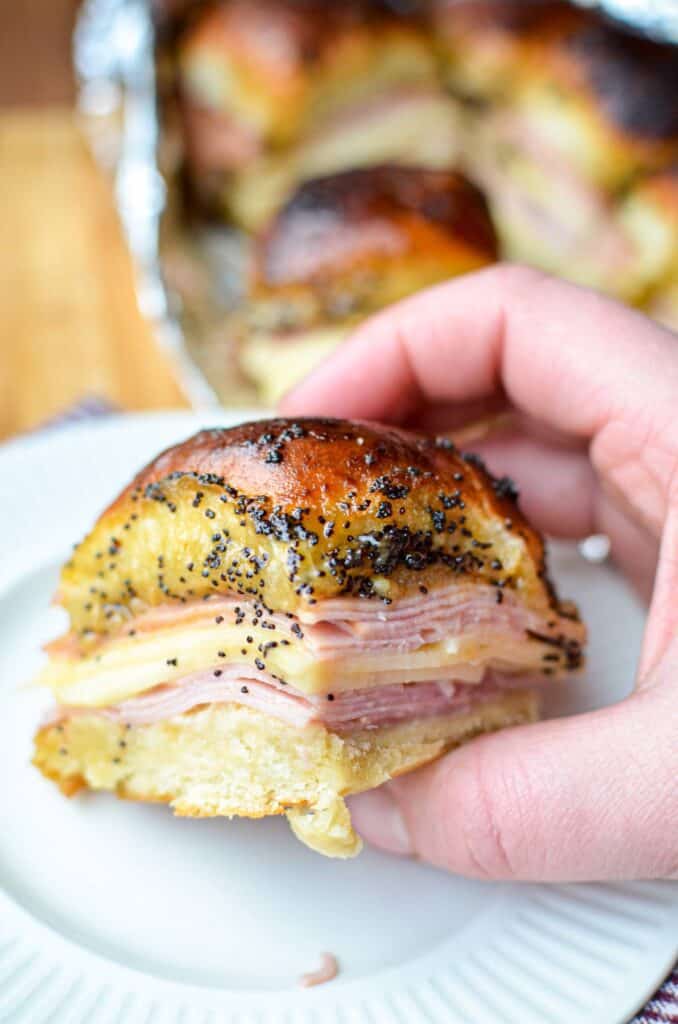 If you're looking for easy game day dinners that can be made in the air fryer, look no further than these Air Fryer Ham and Cheese Sliders by Dash for Dinner! Savory, slightly salty, and subtly sweet, they are perfect for a last-minute game night dinner.
Air Fryer Brats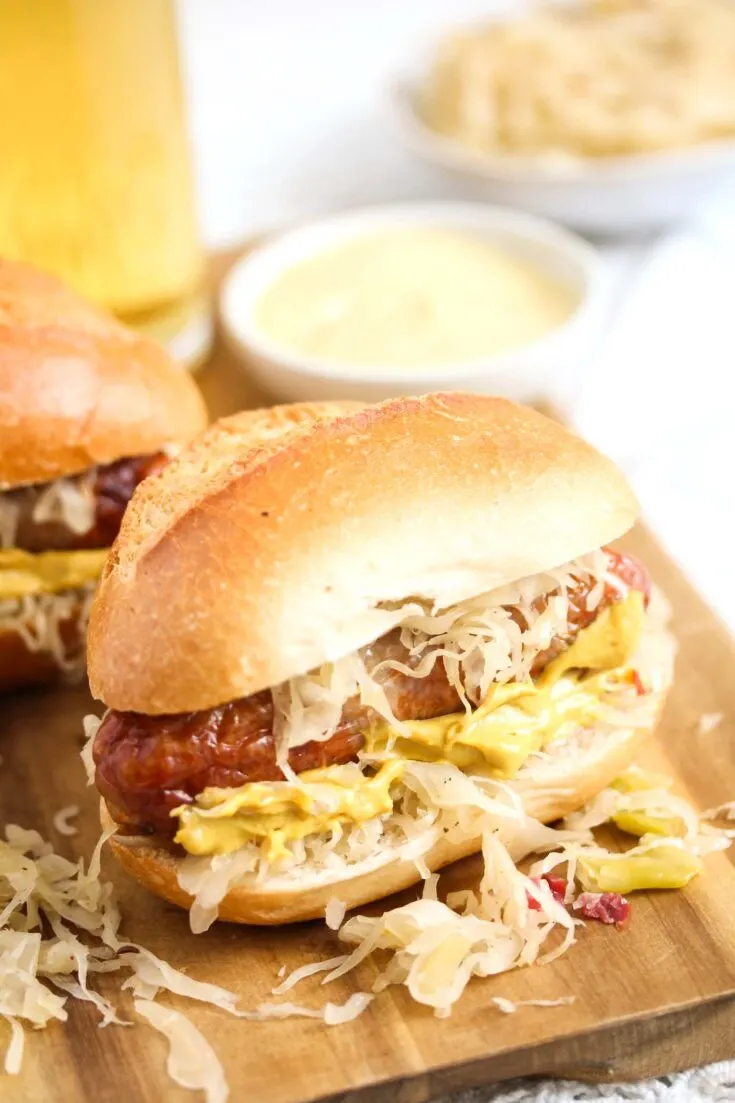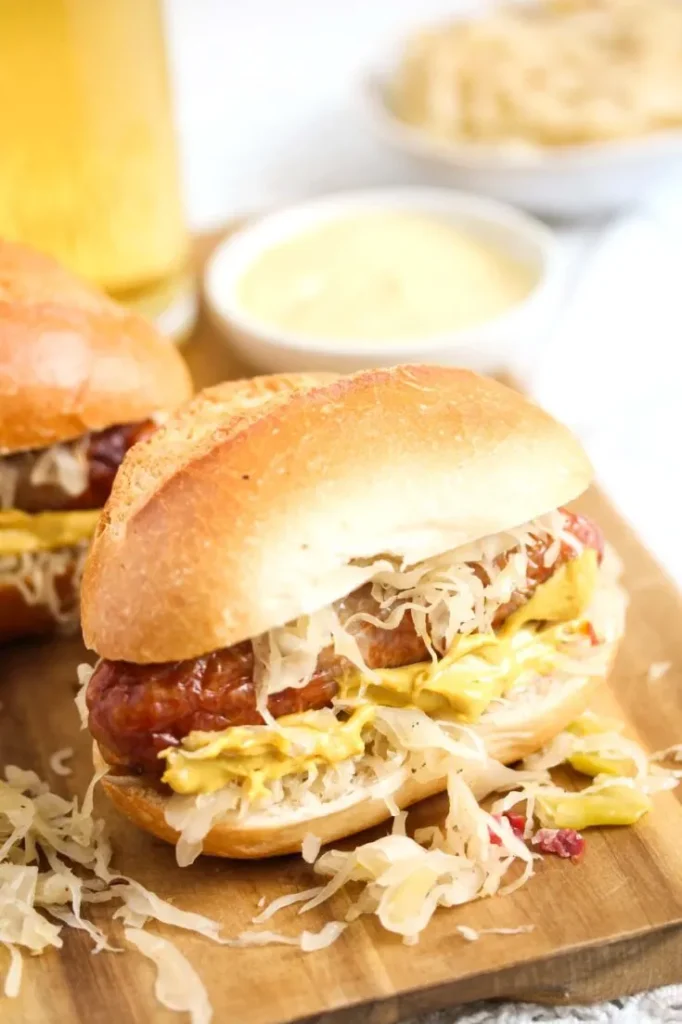 Brats in the air fryer by Where is my Spoon is probably the easiest, fastest method of preparing bratwurst. Either fresh or frozen, they will be ready in less than 15 minutes so you won't go hungry while cheering on your team!
Super Cheesy Air Fryer Recipes
Air Fryer Smoked Queso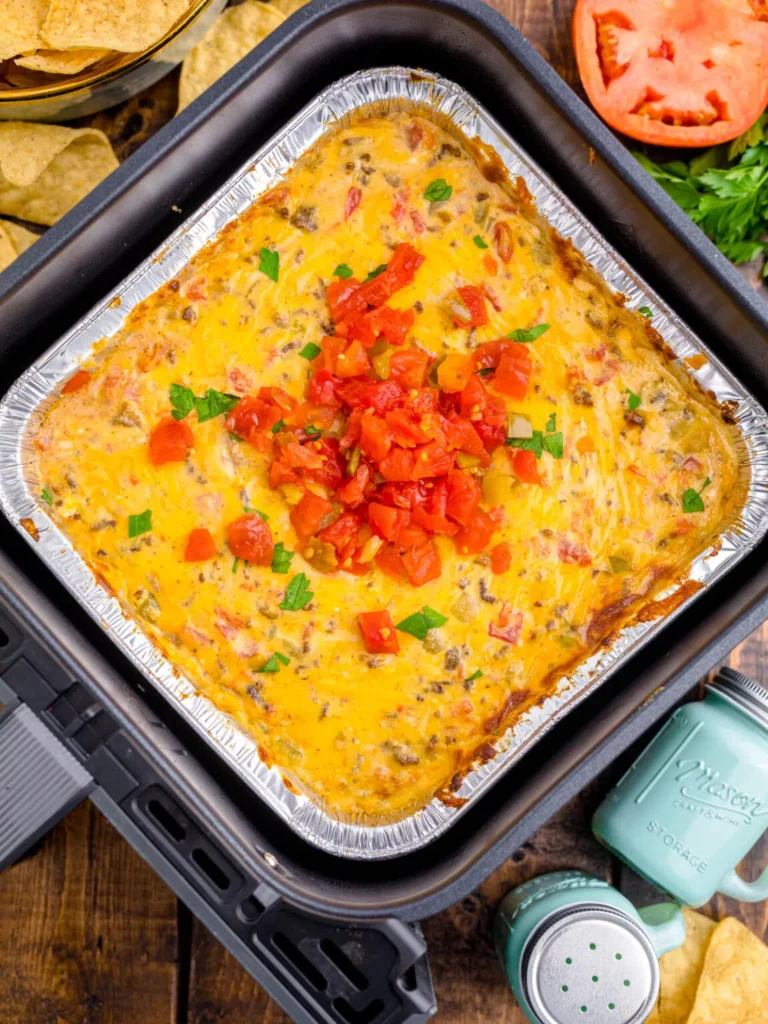 Meaty, cheesy and packed full of flavor and deliciousness- this Air Fryer Smoked Queso by My Air Fryer Kitchen is one recipe you'll keep coming back to. It is incredibly easy to put together, and can be prepped in advance so you can watch the game without spending all your time in the kitchen.
Air Fryer Nachos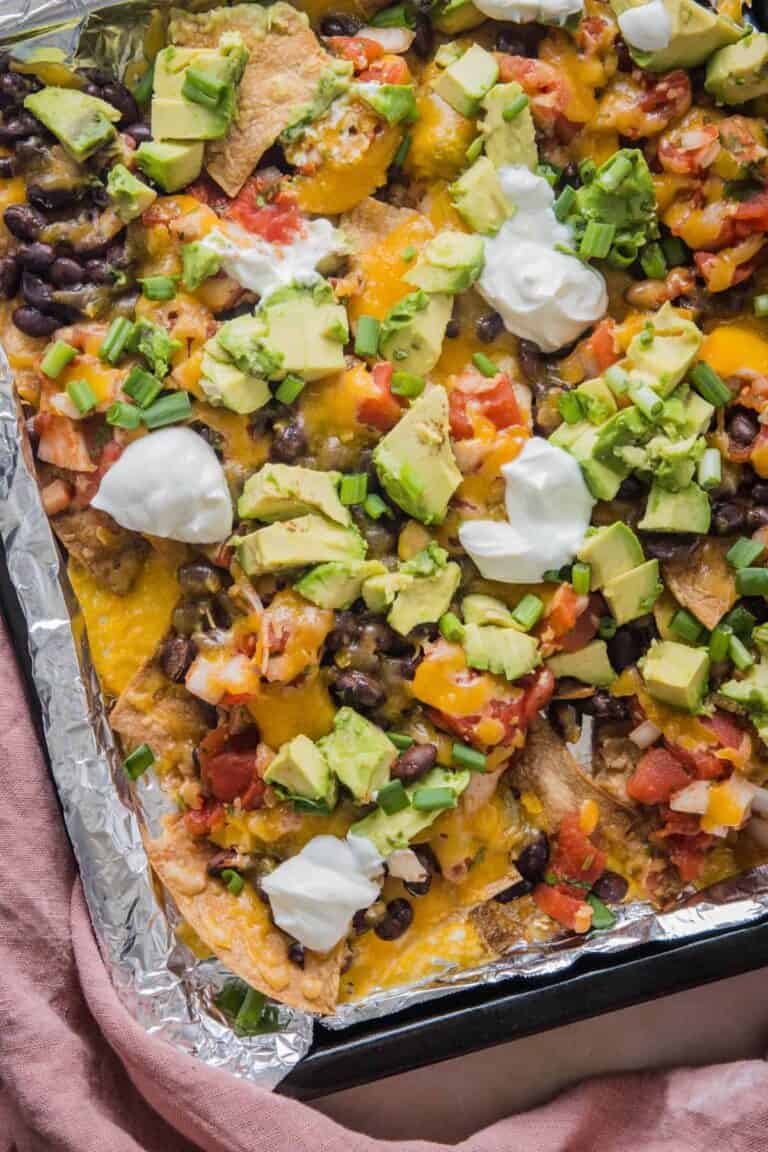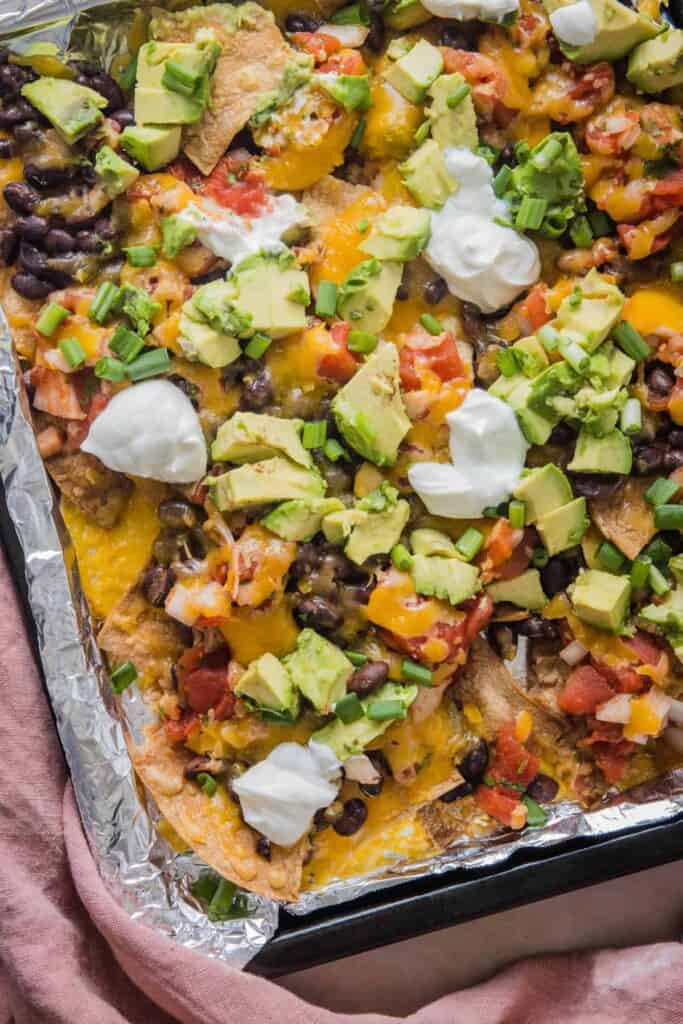 These air fryer nachos by Urban Farmie are a quick and easy, and classic game day appetizer that takes less than 10 minutes! Comfort food with minimal prep and a definite crowd-pleaser.
Air Fryer Mozzarella Sticks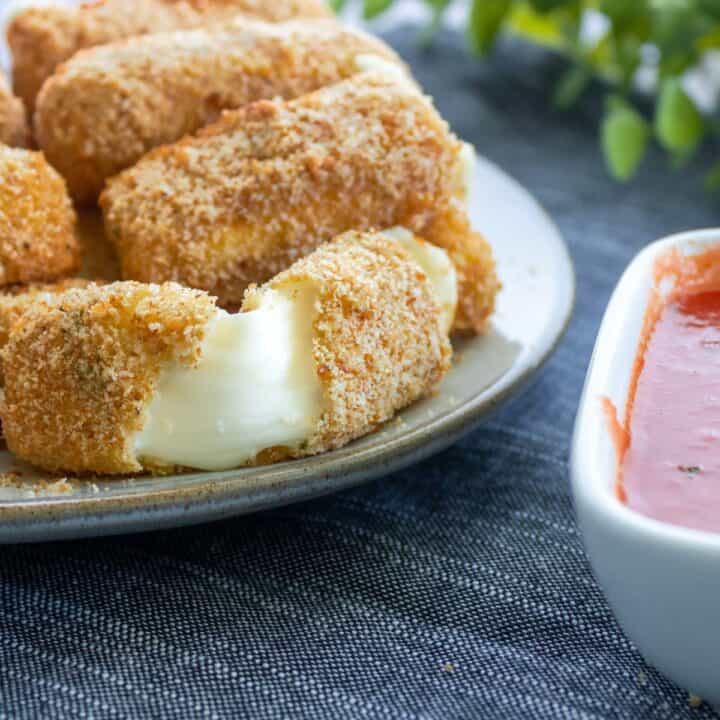 These homemade Air Fryer Mozzarella sticks by Simply Scrumptious Eats are absolute heaven. Hot, ooey gooey cheese encased in a crisp and flavorful crumb layer. Dipped in marinara or eaten plain, you will be eating well on game day!
Air Fryer Ravioli
Air fryer ravioli by Monday is Meatloaf that is wonderfully crispy on the outside and filled with cheese or beef on the inside. This recipe only takes 20 minutes from frozen ravioli to the table, which makes it a super easy appetizer for watching the big game!
Air Fryer Bread Recipes
Air Fryer Garlic Knots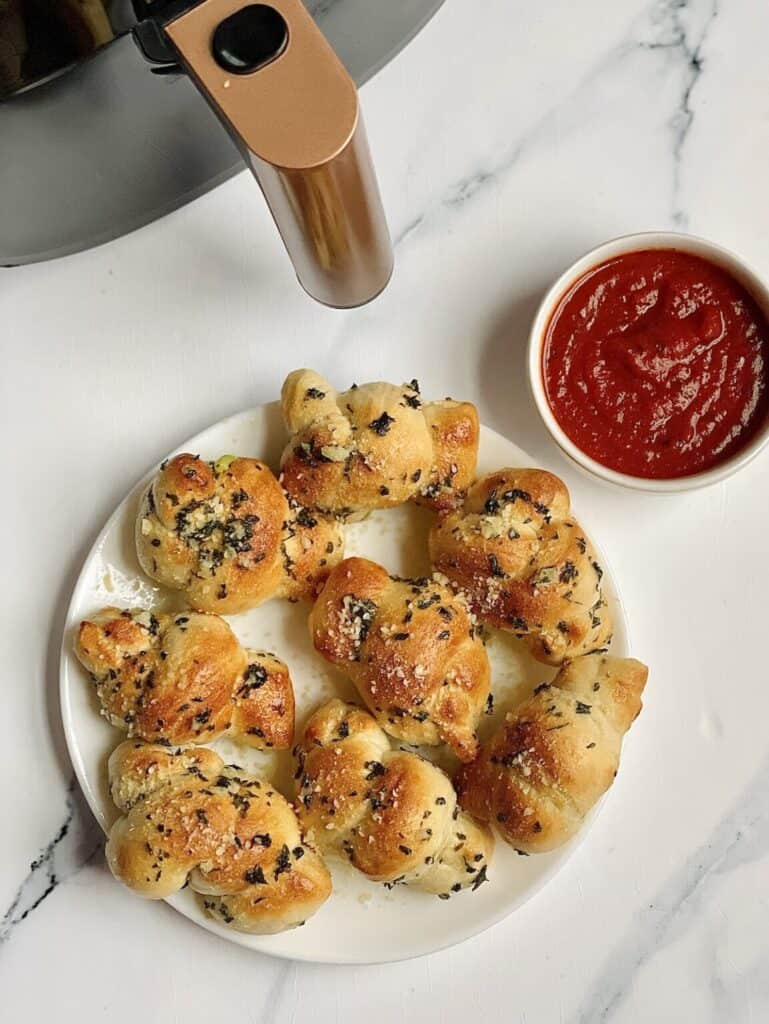 Air Fryer Garlic Knots by Tasty Oven are cooked until golden brown, then brushed with a delicious garlic butter sauce. They are an addicting, easy and quick finger food for parties!
Pepperoni Pizza Sticks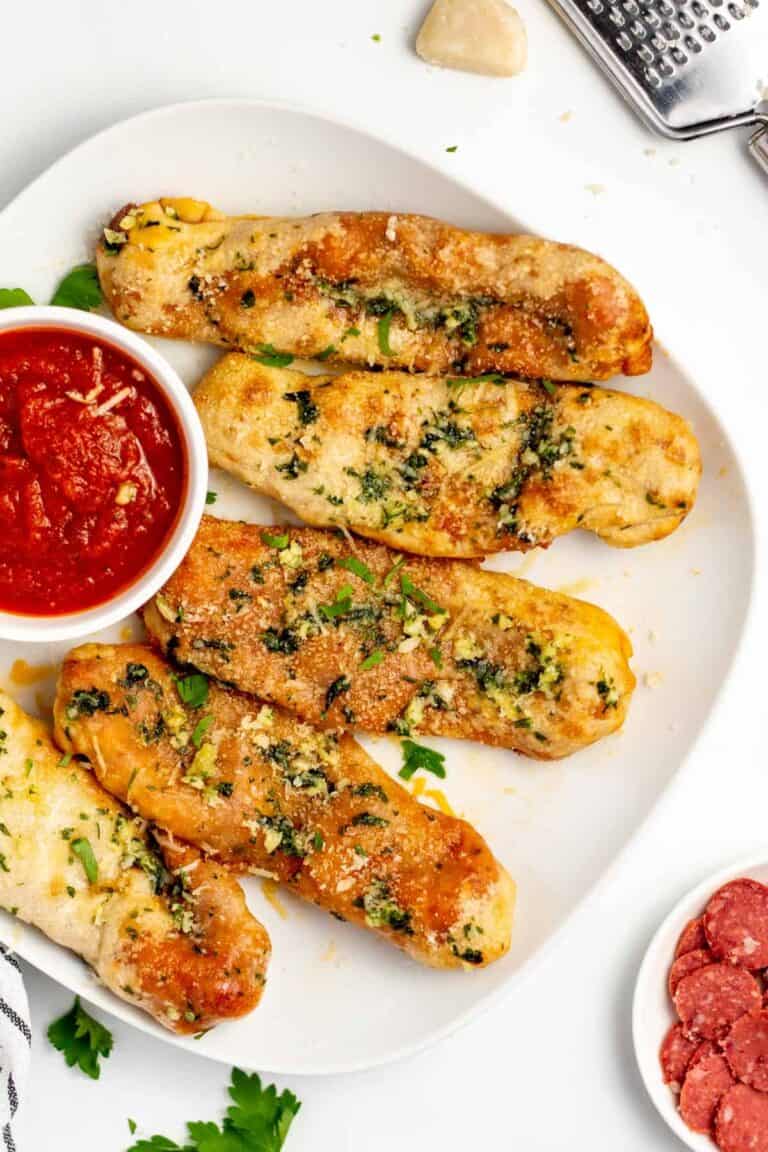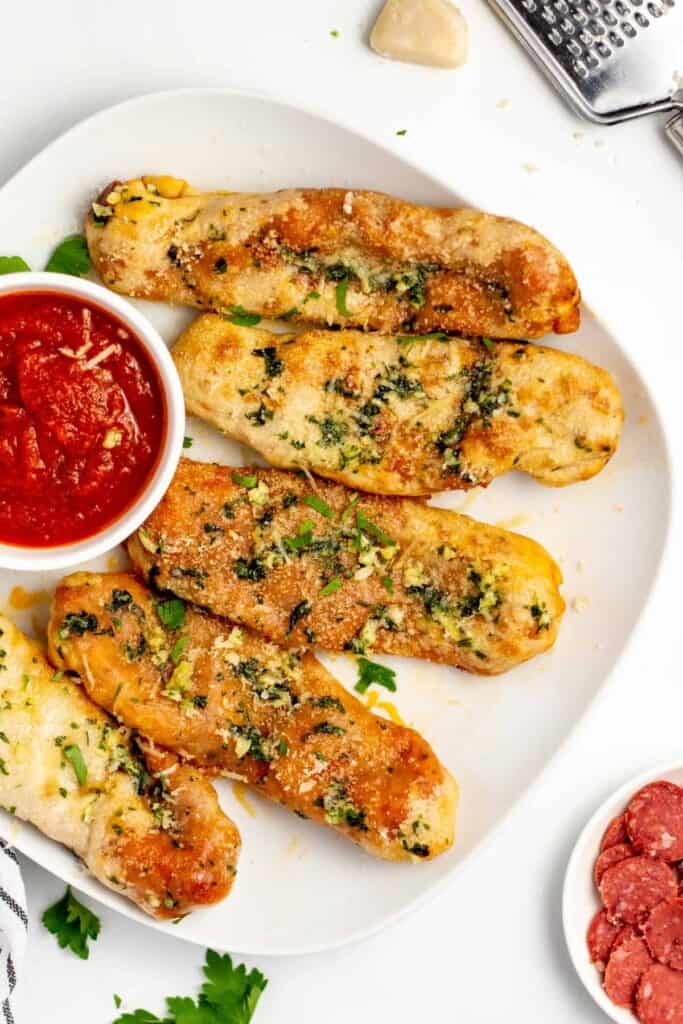 Cheesy Pepperoni Pizza Sticks by Tasty Oven are a fun, cheesy alternative to regular pizza for a party, especially Super Bowl! They are easy and quick to make and can be made in the air fryer or the oven.
Soft Pretzels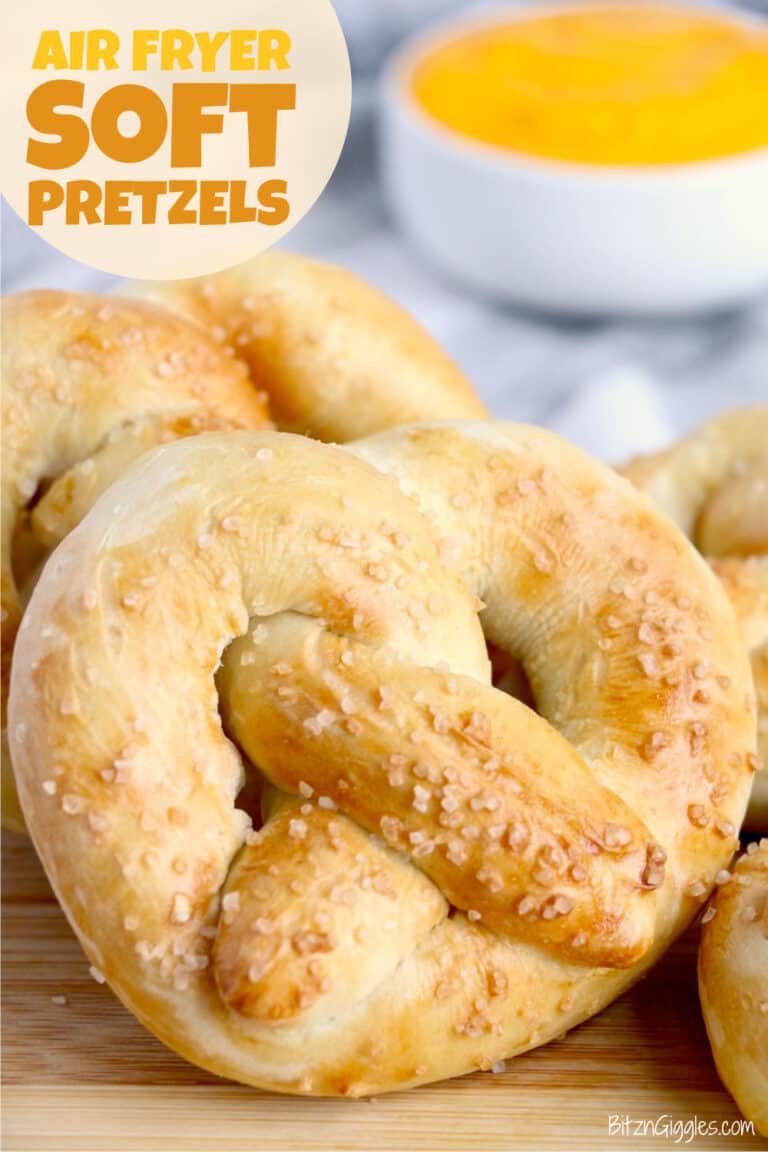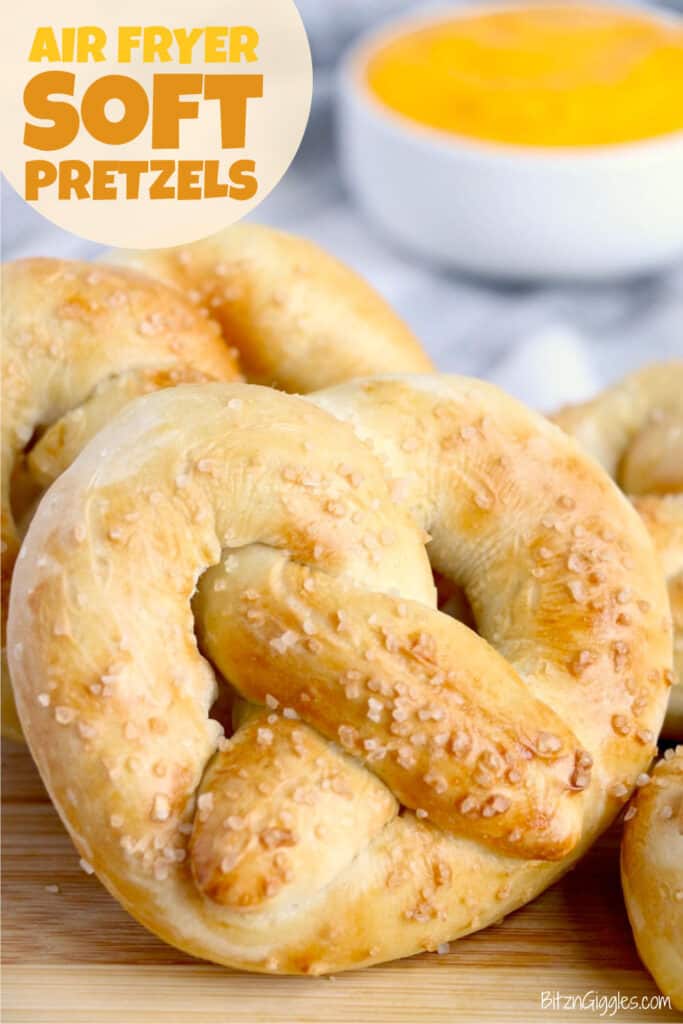 Air Fryer Soft Pretzels by Bitz N Giggles. Warm and salty soft pretzels made right in the air fryer! So amazing when dunked in your favorite cheese sauce!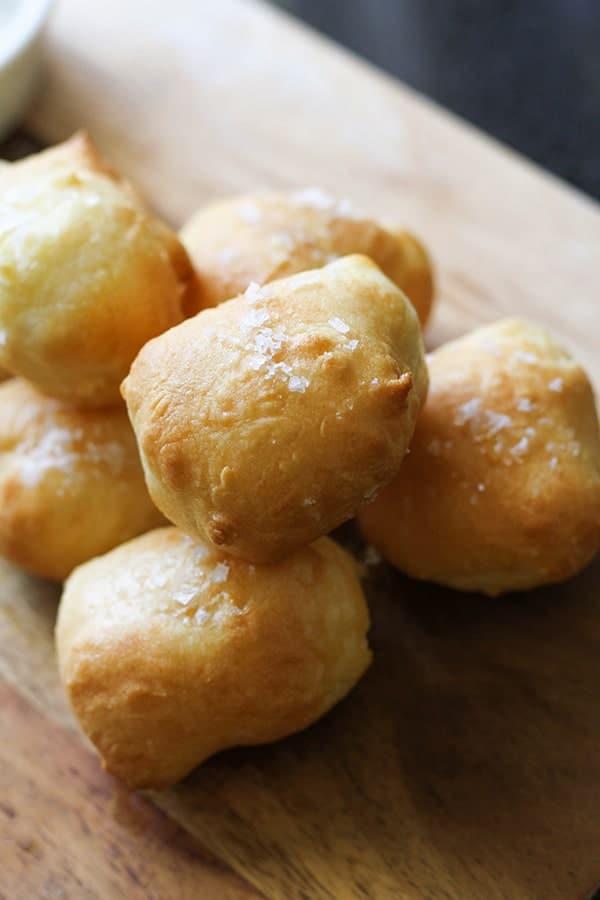 These Two Ingredient Dough Pretzel Bites by Cook It Real are so quick and easy to prepare. The miracle dough is made with greek yogurt and self-raising flour - no yeast or proofing time is required! Make these delicious bite-sized pretzels in the oven or the air fryer in under 30 minutes.
Air Fryer Pizza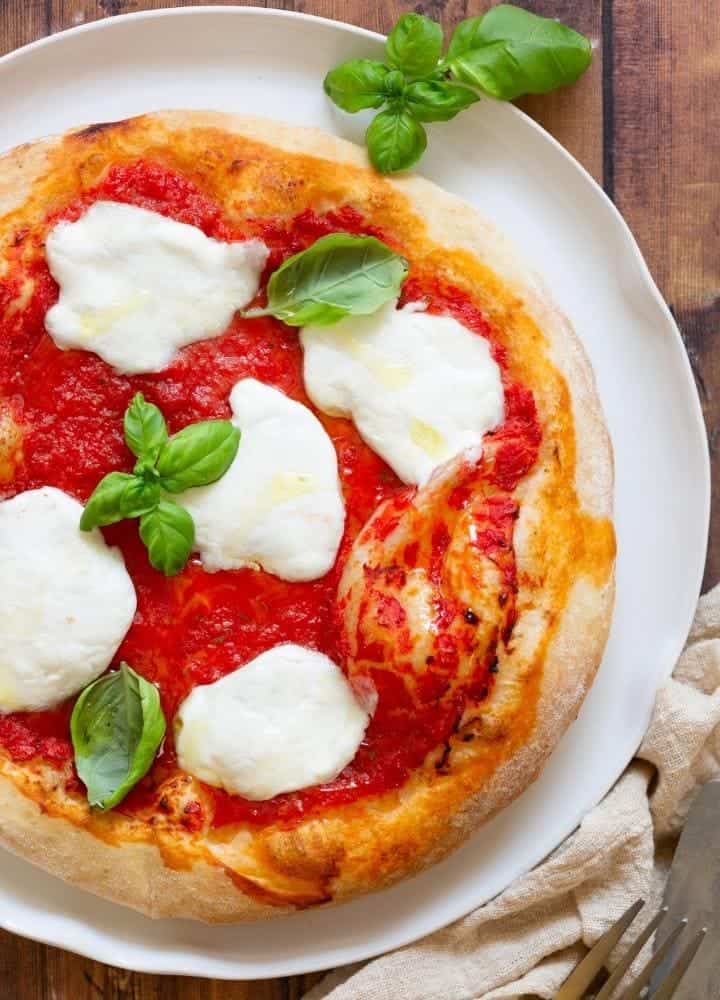 Show off your pizza skills on game day. Learn all the tricks and tips to make the BEST air fryer pizza by The Petite Cook and you'll never make pizza in the oven again!
Air Fryer Potato Recipes
French Fries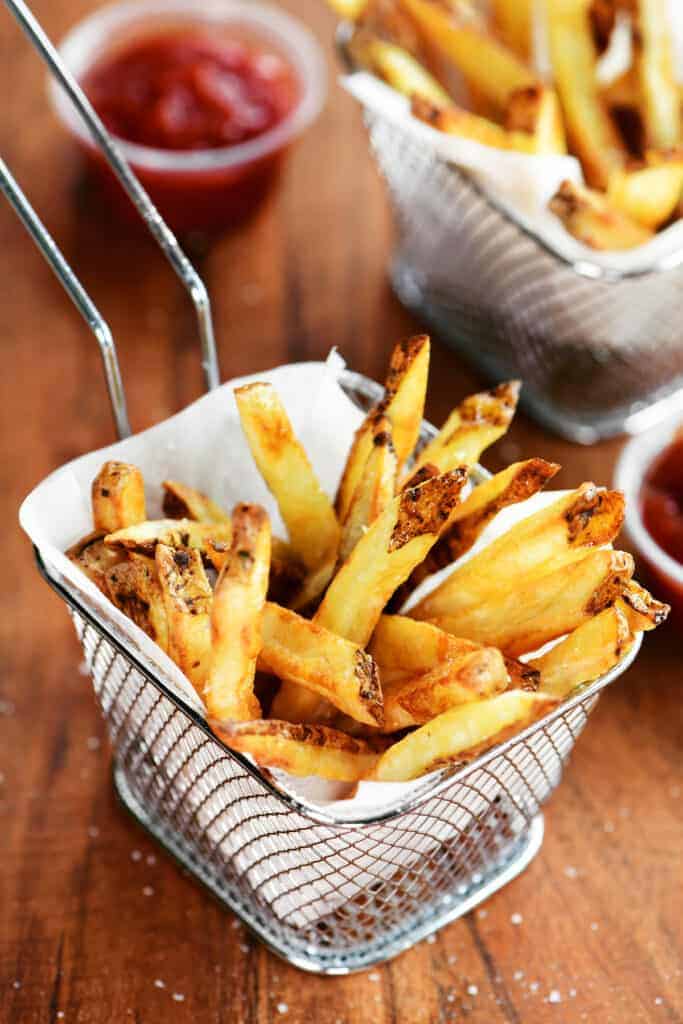 These Air Fryer French Fries from The Gunny Sack rival those from a restaurant! They are crispy on the outside, tender on the inside, and easy to make.
Frozen French Fries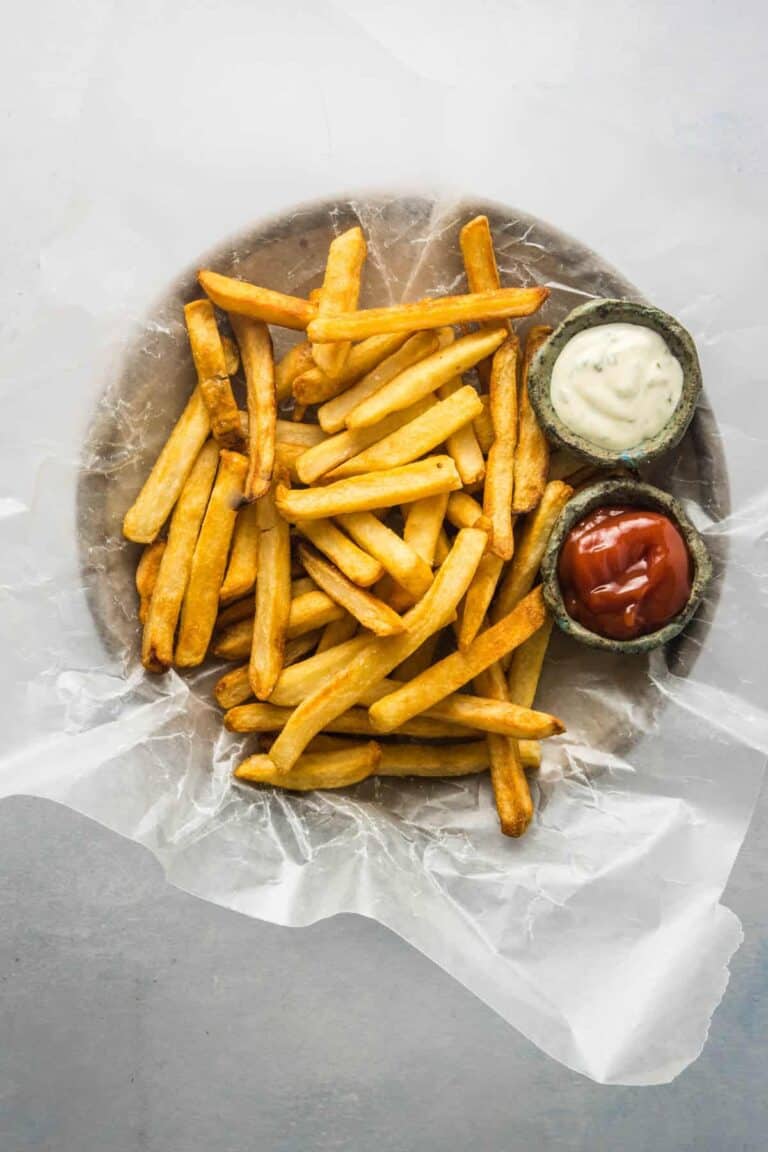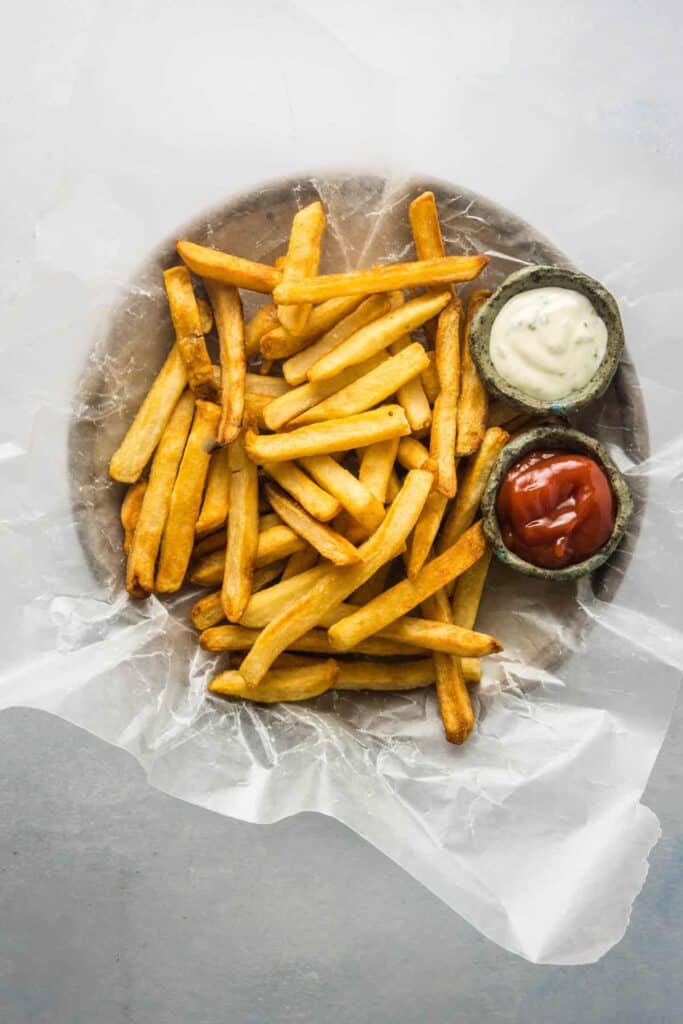 These air fryer frozen French fries from Urban Farmie are an easy, super quick, and healthier way to make crispy French fries right at home! Way better than frying or baking!
Air Fryer Chaat Fries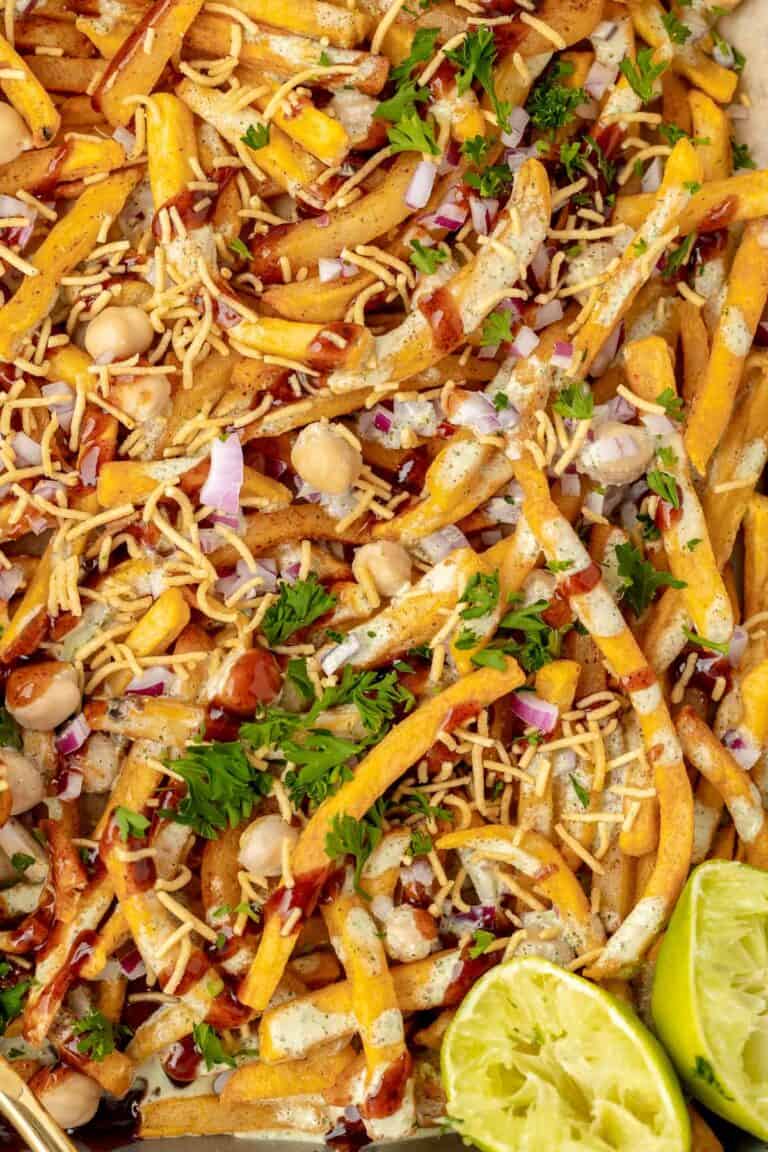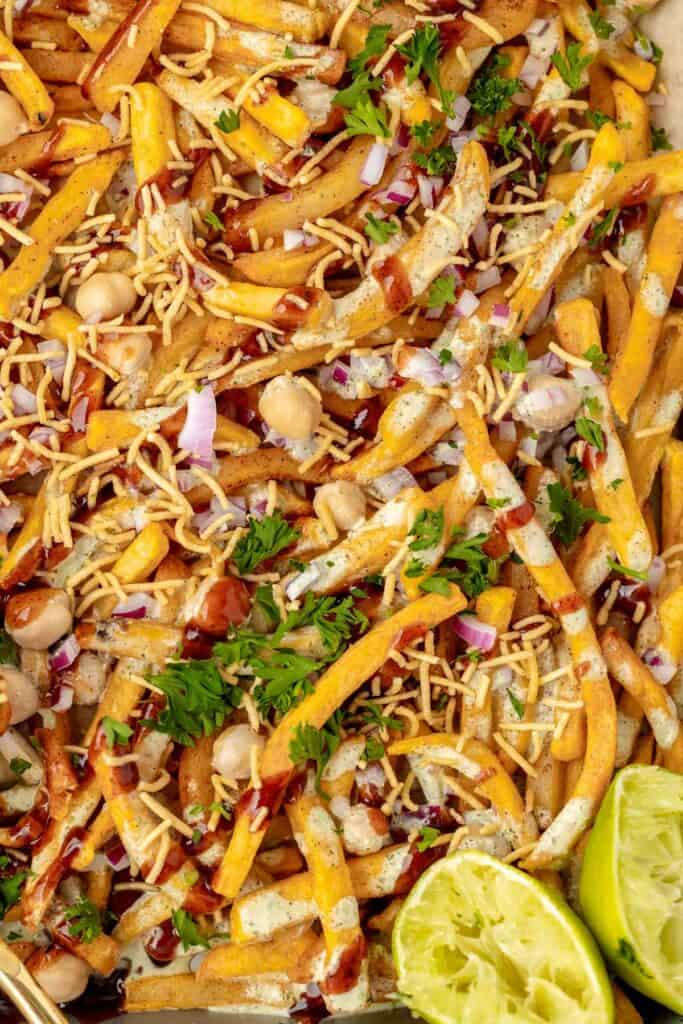 If you love homemade french fries, take it to a whole new level with this Loaded Chaat Fries recipe by The Sassy Foodie.
Loaded Tater Tots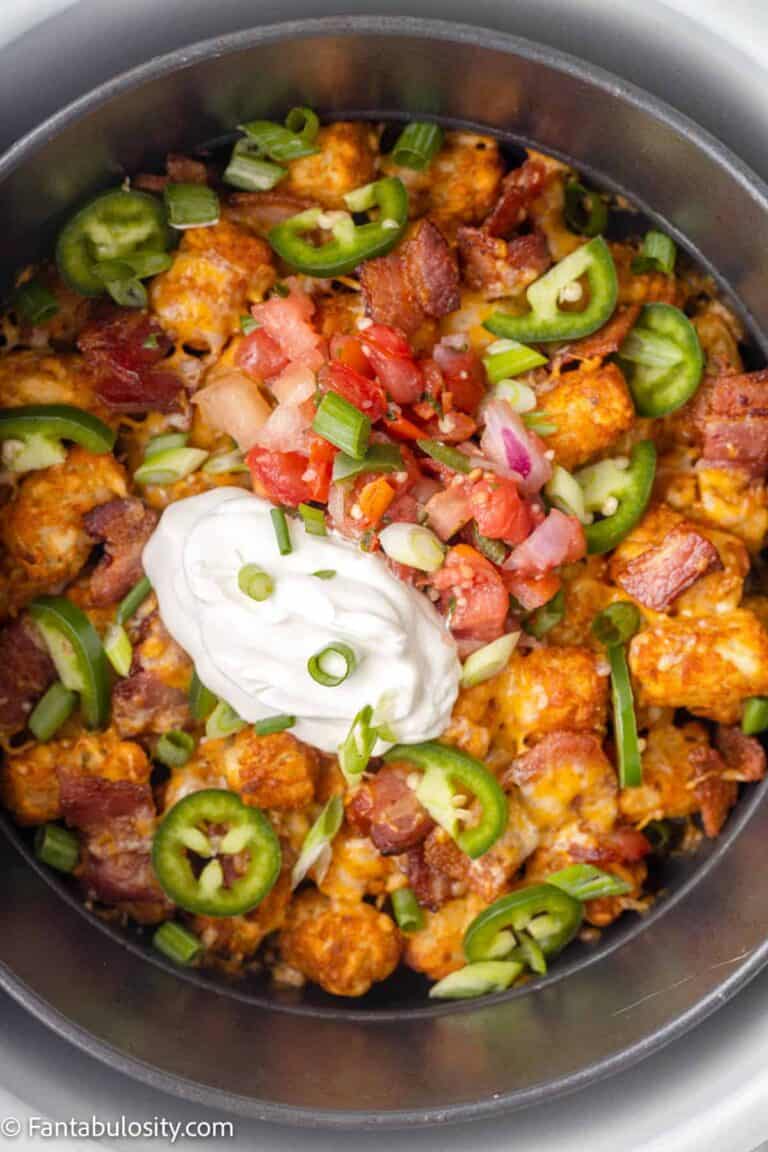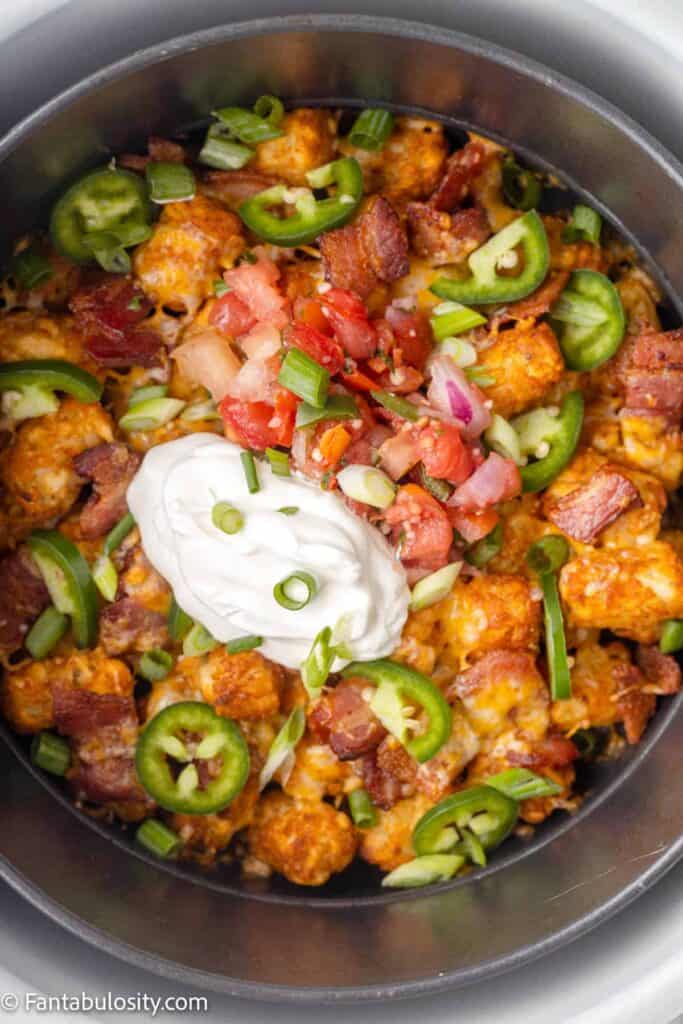 Loaded tater tots in the air fryer by Fantabulosity are easy to make, especially when you can cook frozen tater tots, leaving very little prep!
Air Fryer Breaded Vegetable Recipes
Jalapeno Poppers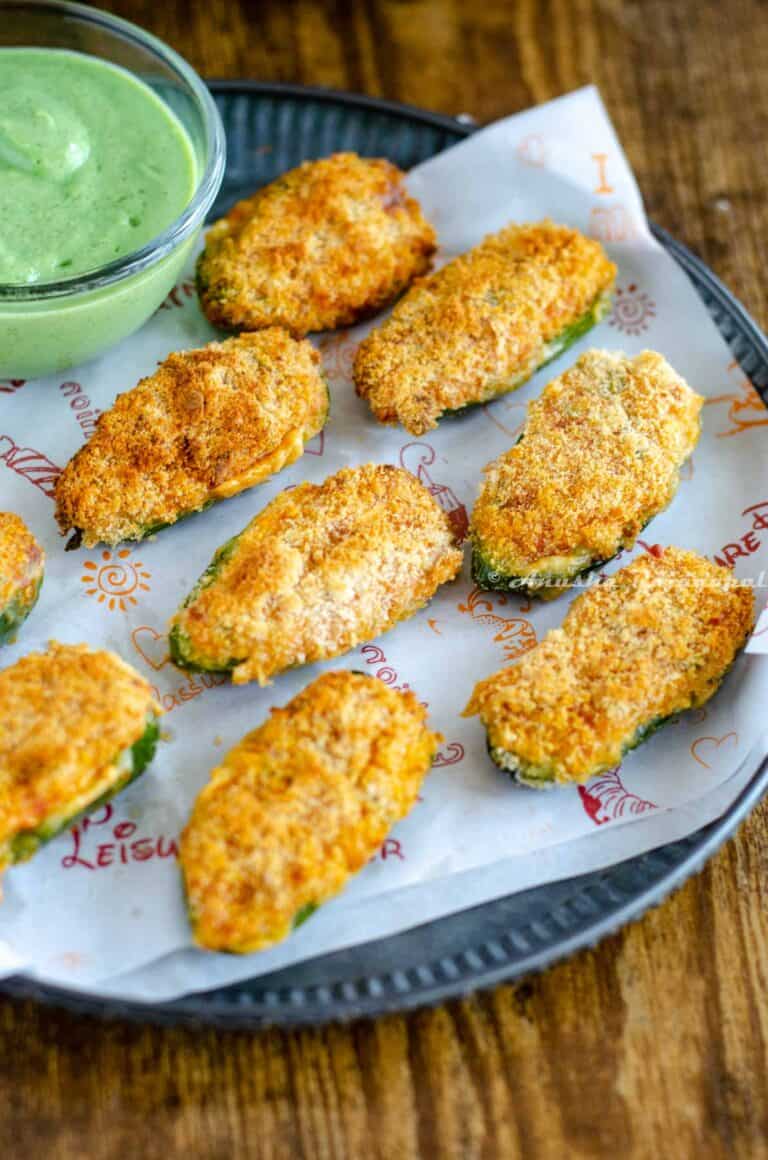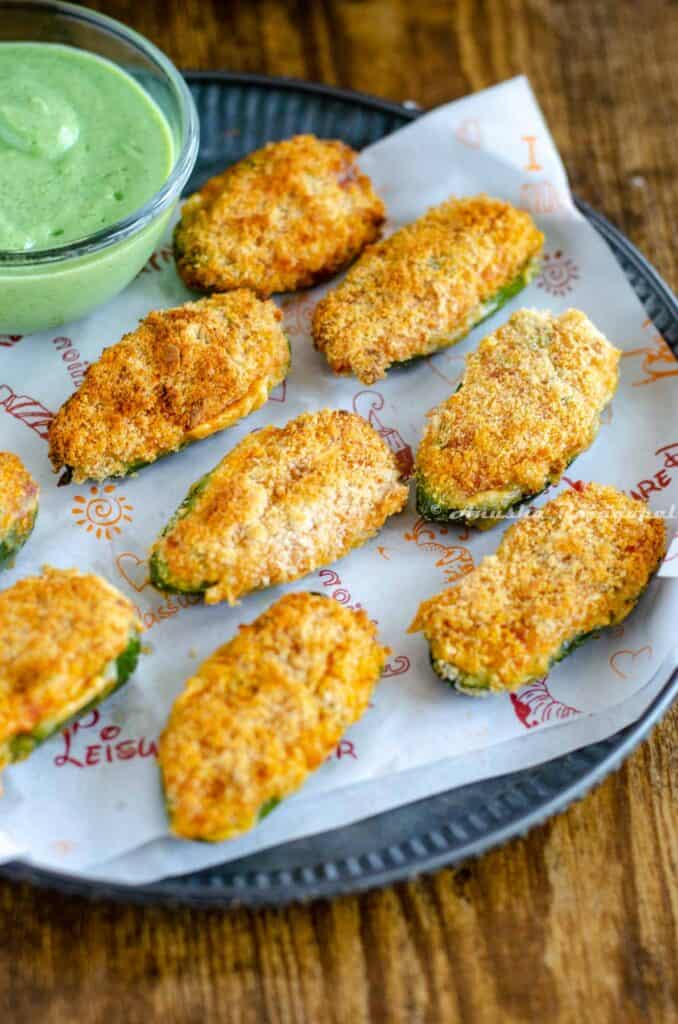 Cheesy Jalapeno Poppers in the air fryer by Tomato Blues are the perfect snacks for game nights, parties, gatherings and any occasion that calls for a celebration. These cheesy bites are fantastic appetizers as well. The air fryer just made this effortless because it takes less than 30 minutes to put together.
Air Fryer Buffalo Cauliflower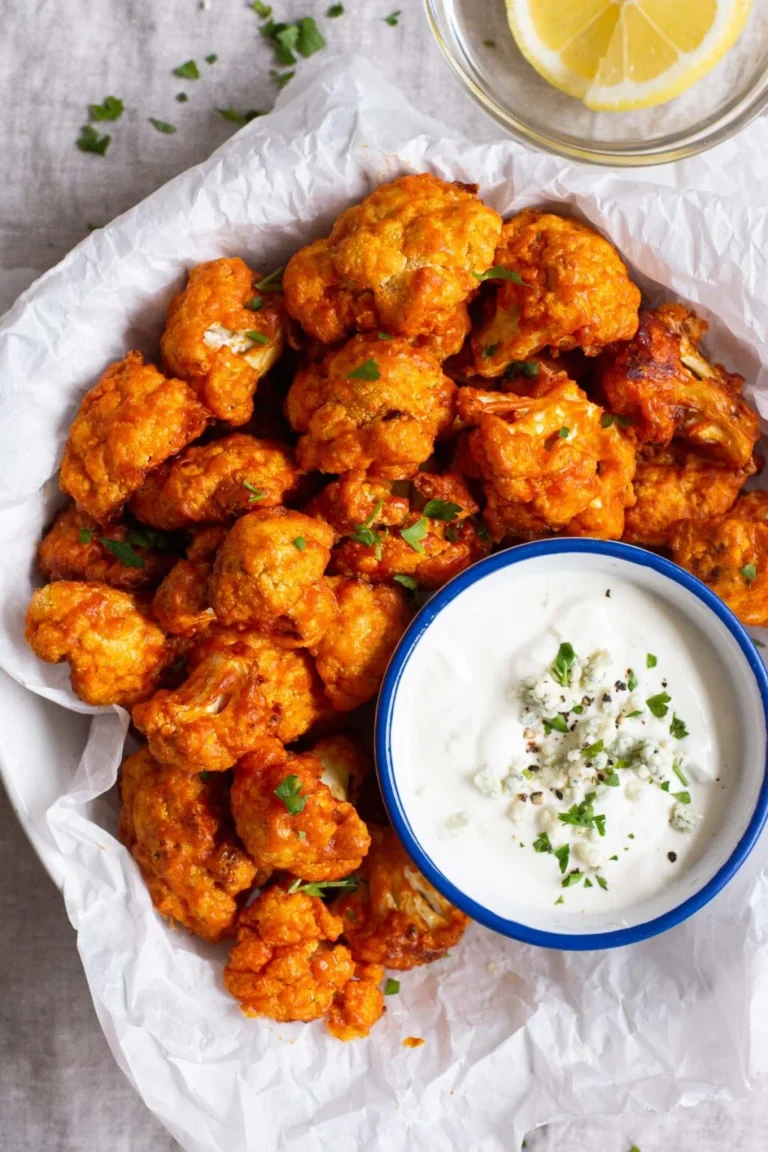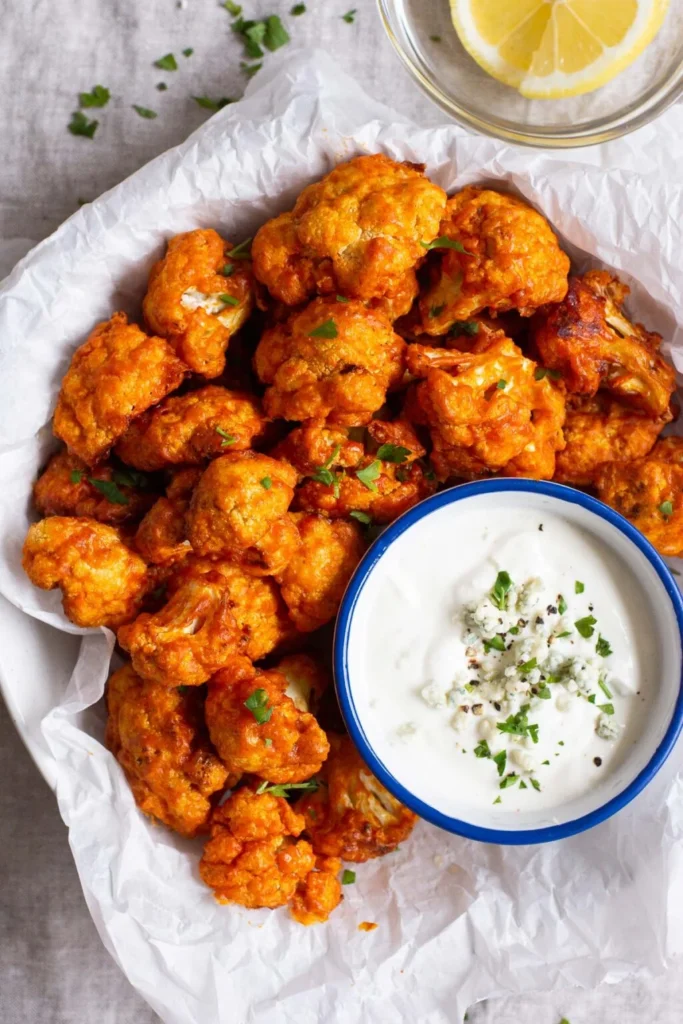 Saucy and crispy Air Fryer Buffalo Cauliflower by I Food Real makes the best game-day appetizer, vegetarian snack, or side. Easy to make and perfect for pairing with a creamy dip!
Teriyaki Cauliflower Wings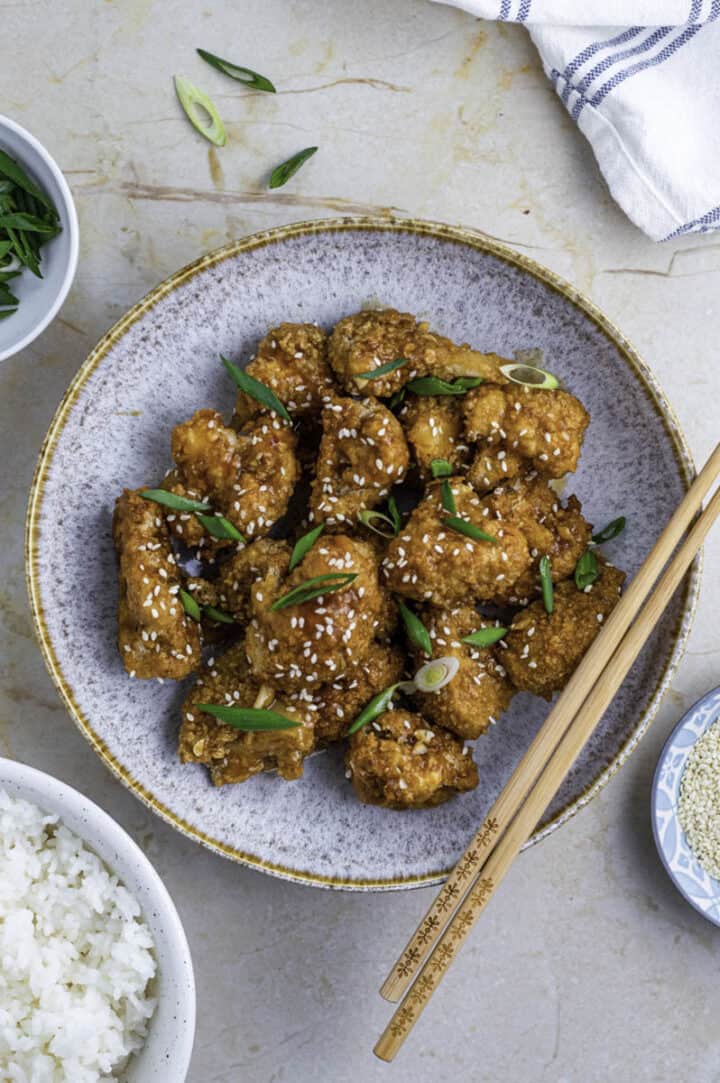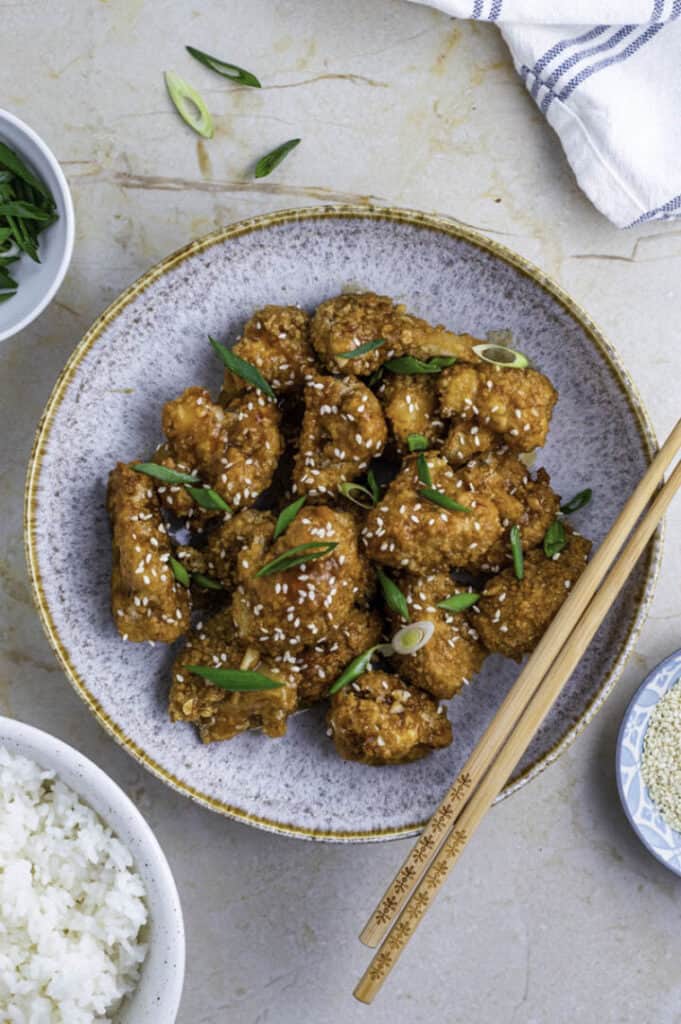 Tender on the inside, and crispy on the outside, these Teriyaki Cauliflower Wings by Sunglow Kitchen will be your new favorite appetizer! They're completely vegan, and can easily be made gluten-free!
Crispy Whole30 Buffalo Cauliflower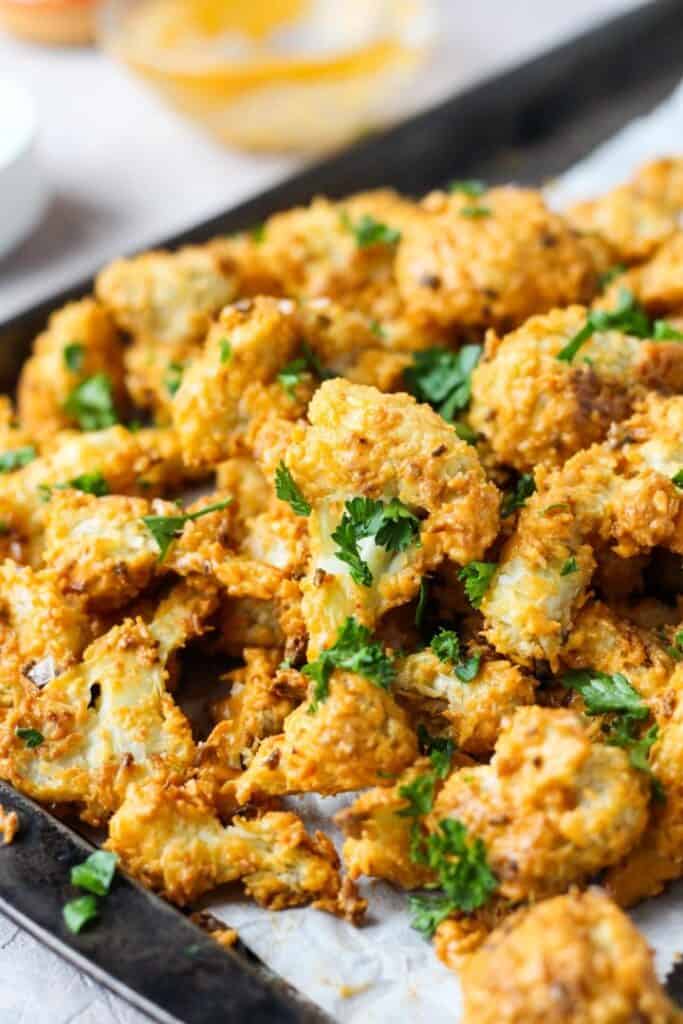 If you're obsessed with all things spicy, you will love these Crispy Buffalo Cauliflower Bites by Fresh Water Peaches! They're coated in a simple gluten-free flour blend that gives the outer coating its delicious crispy texture, and then they're tossed in a dairy-free Buffalo sauce!
Air Fryer Blooming Onion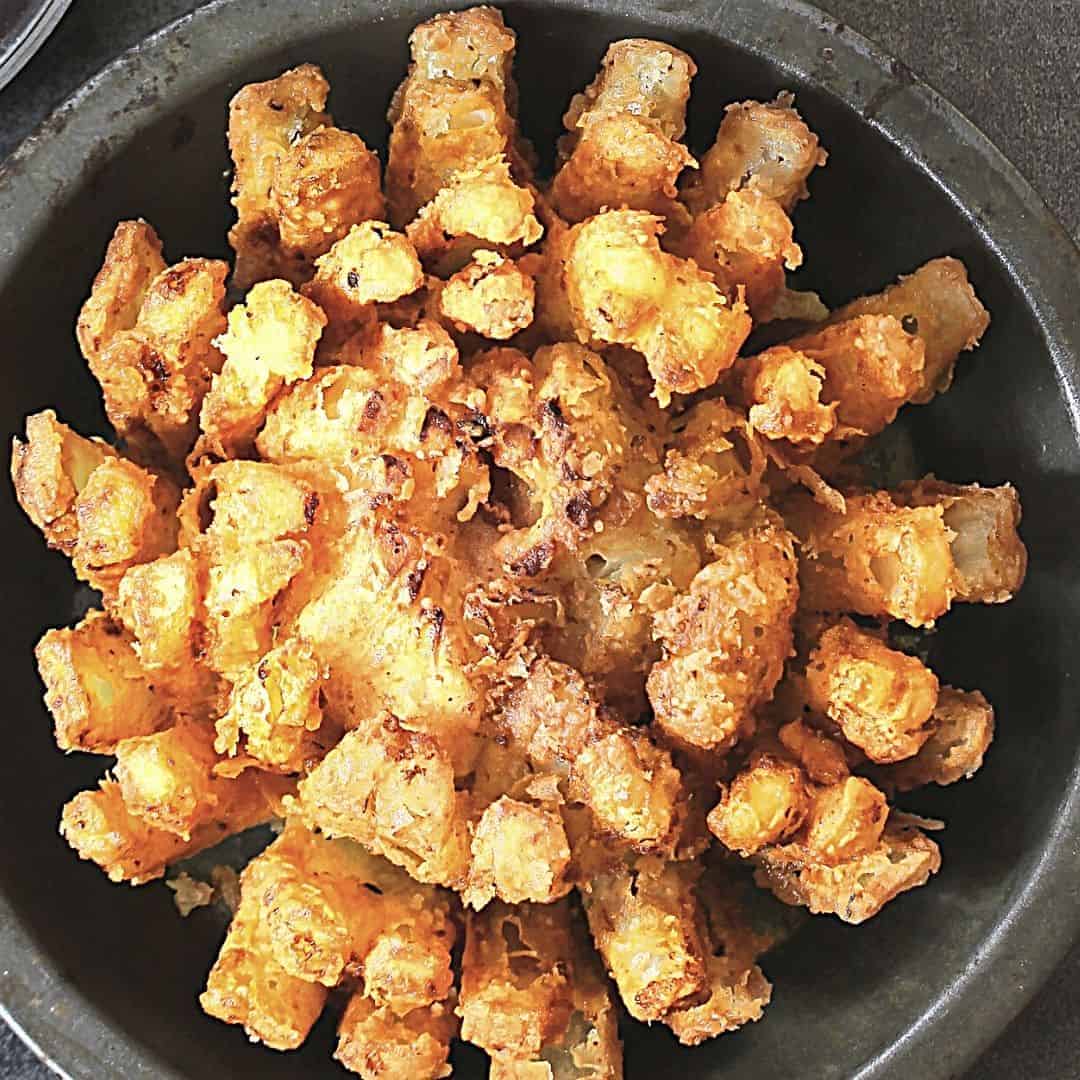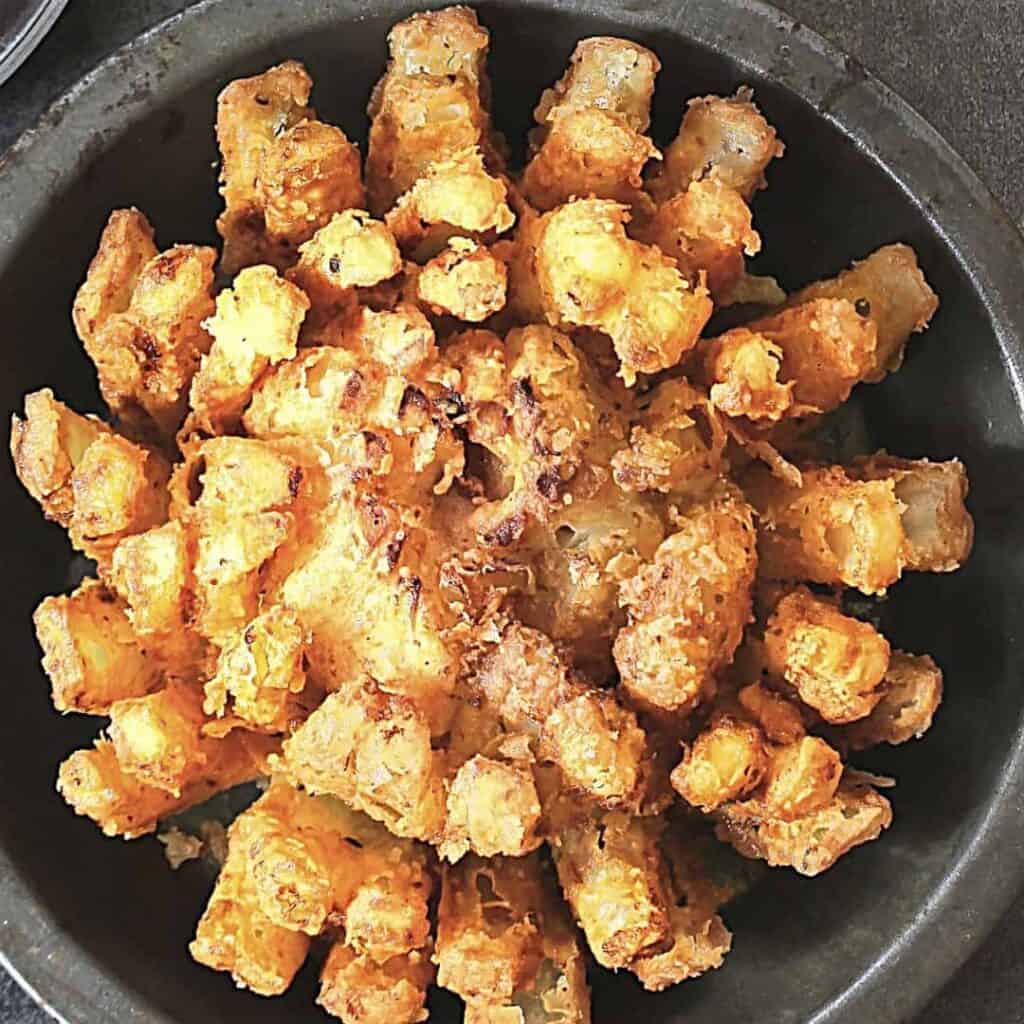 This Air Fried Blooming Onion recipe by The Sugar Free Diva is a great alternative to the usual oil-fried version.
Air Fryer Onion Petals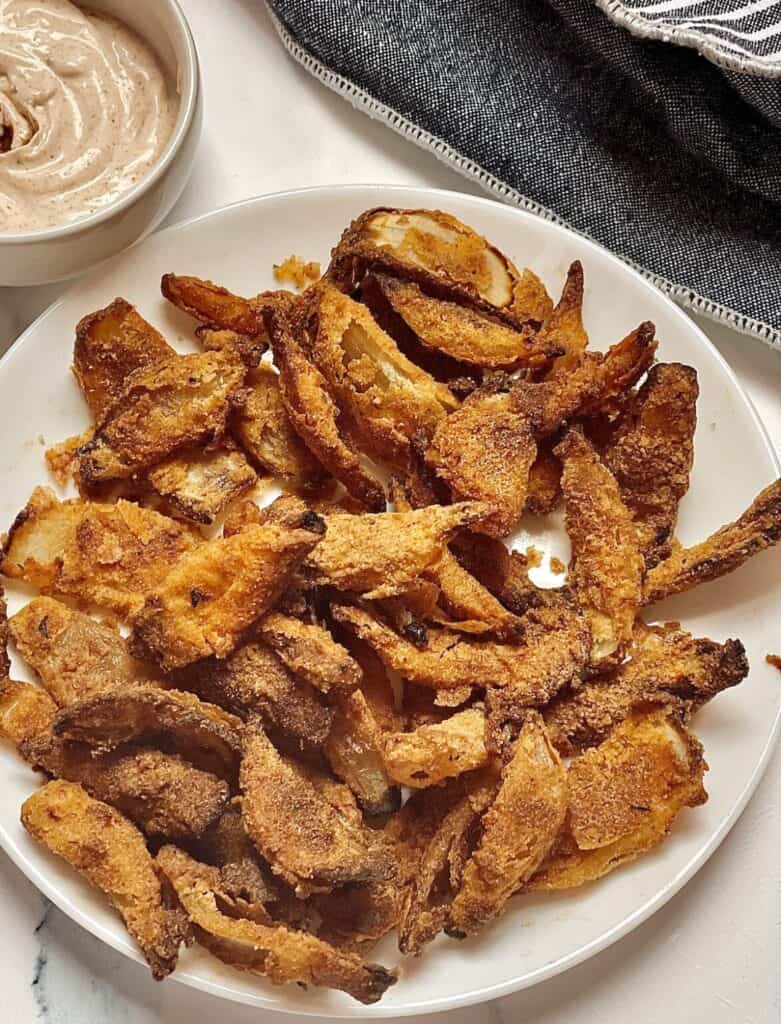 If you're ready for an awesome, addicting snack these Air Fryer Onion Petals by Tasty Oven are it! This tasty take on an air-fried bloomin' onion is perfect for snacking on at parties and game day!
Air Fryer Pickles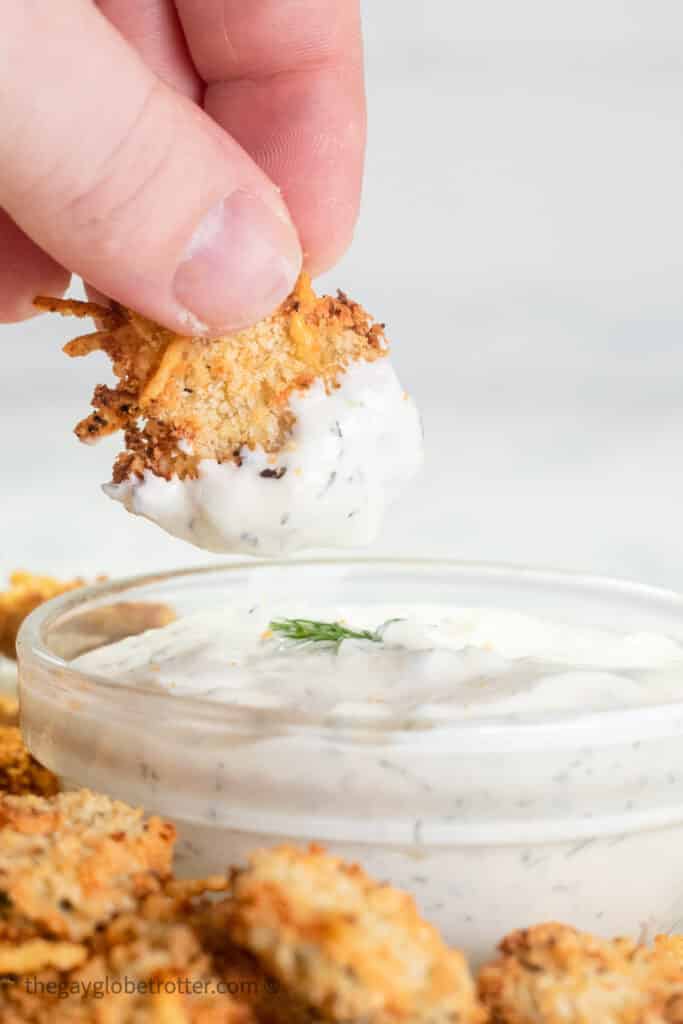 Air fryer pickles by The Gay Globetrotter are breaded with panko and parmesan, then air fried to perfection. They're served with a quick and easy dip and make the perfect appetizer or snack!
Zucchini Fritters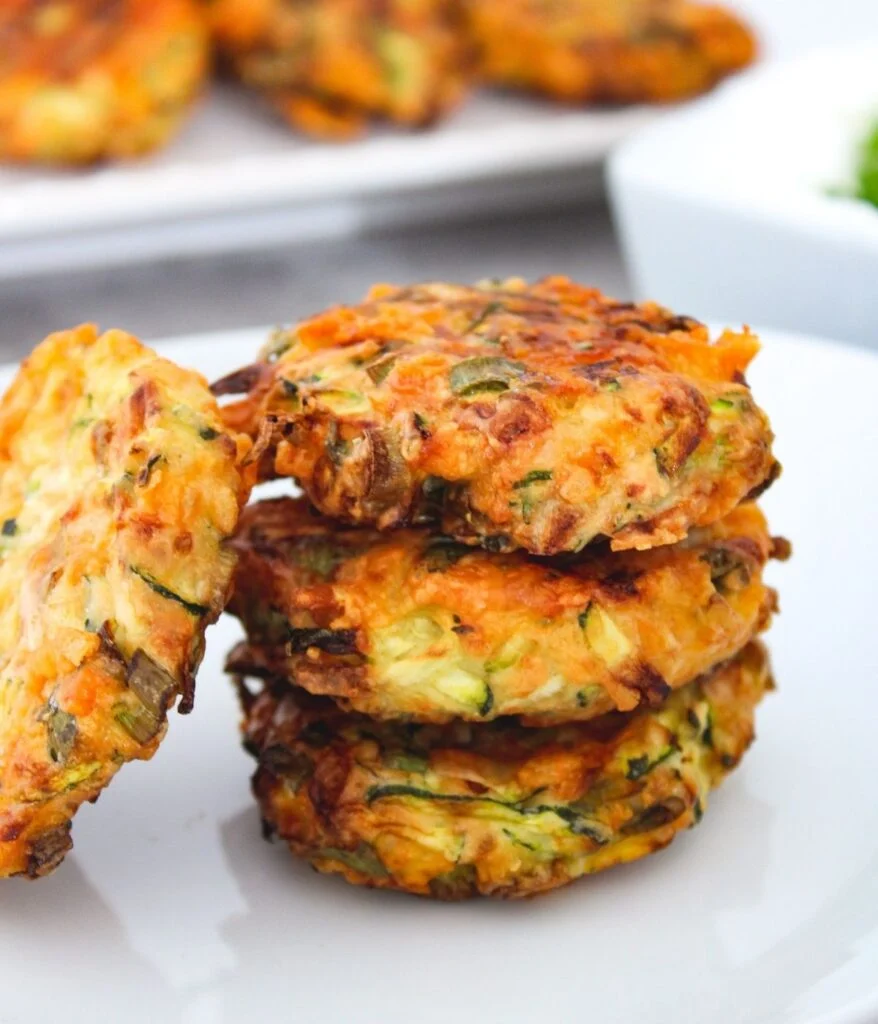 Air Fryer Zucchini Fritters by Simply Scrumptious Eats are an easy go-to side made with simple ingredients and have a crispy outside texture and a soft inside. These make a perfect side or snack. Pair with a creamy dip, like Tzatziki sauce, or eat right out of the air fryer.
Southwestern Egg Rolls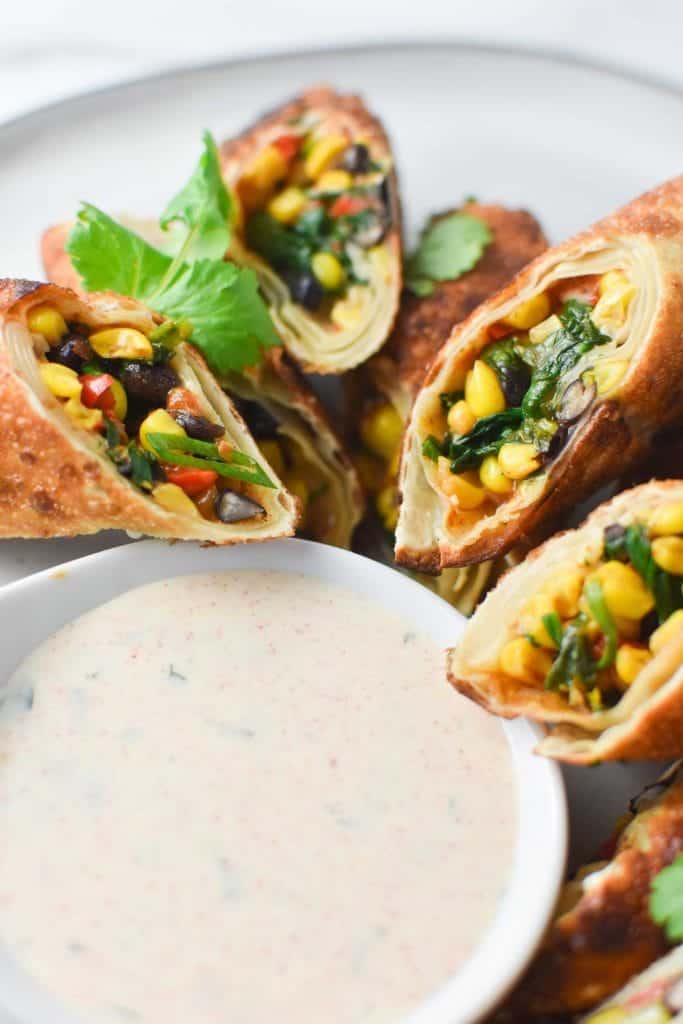 These Air Fryer Southwest Egg Rolls by The Dizzy Cook are the vegetarian version of Chili's famous appetizer. Crispy on the outside and filled with a mixture of spices and veggies.
Air Fryer Avocado Fries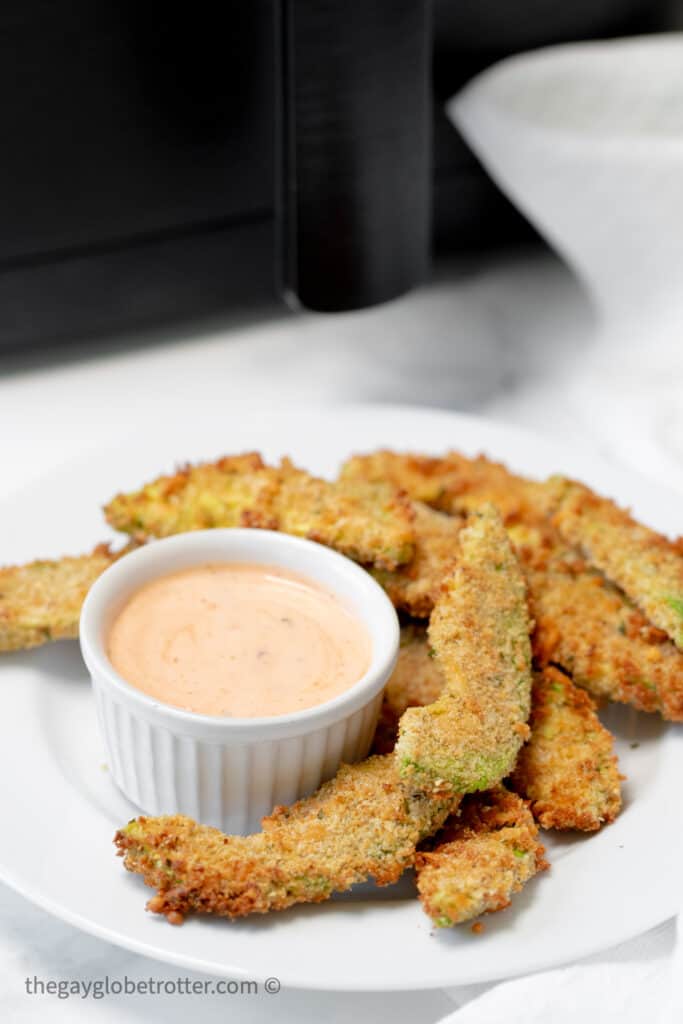 Air fryer avocado fries by The Gay Globetrotter are the perfect guilt-free snack! Avocado is sliced into fries, breaded in a panko parmesan mixture, then air fried until crisp and golden.
More Recipes You May Enjoy