Impress your guests while spending less time in the kitchen with these easy game day foods! Below is a list of super bowl appetizers and recipe variations of the top 10 football foods. Cheers to a delicious game day!
Wings
Whiskey Glazed Hot Wings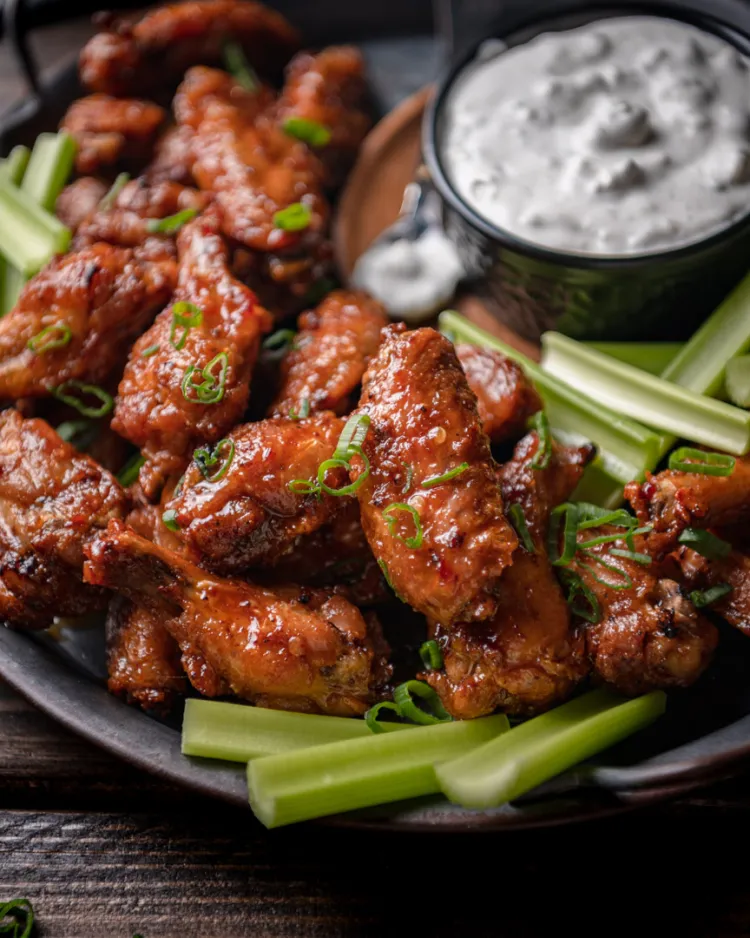 This sweet and spicy Baked Whiskey Glazed Hot Wings recipe by Cooking with Wine is just what you need for any game day, party, or any night of the week!
Fall off the Bone-Baked Chicken Wings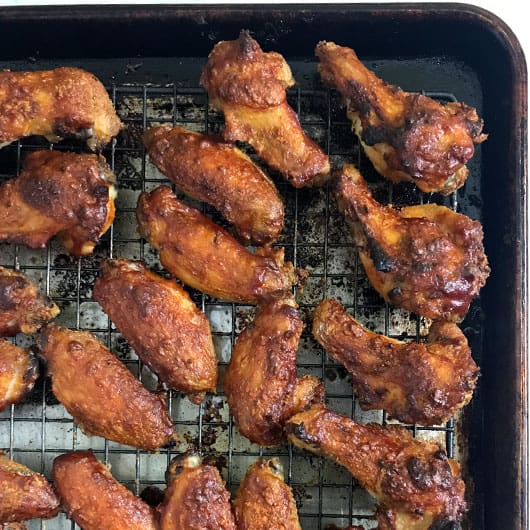 This recipe for Fall-off-the-bone, Crispy, Baked Chicken Wings is the ideal snack for watching Sunday sports with some good friends. Even non-Chicken Wing lovers will want this recipe!
Mango Habanero Chicken Wings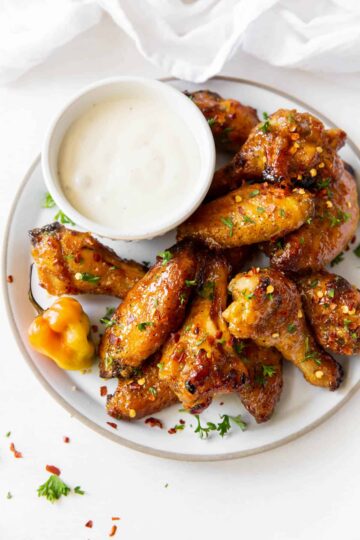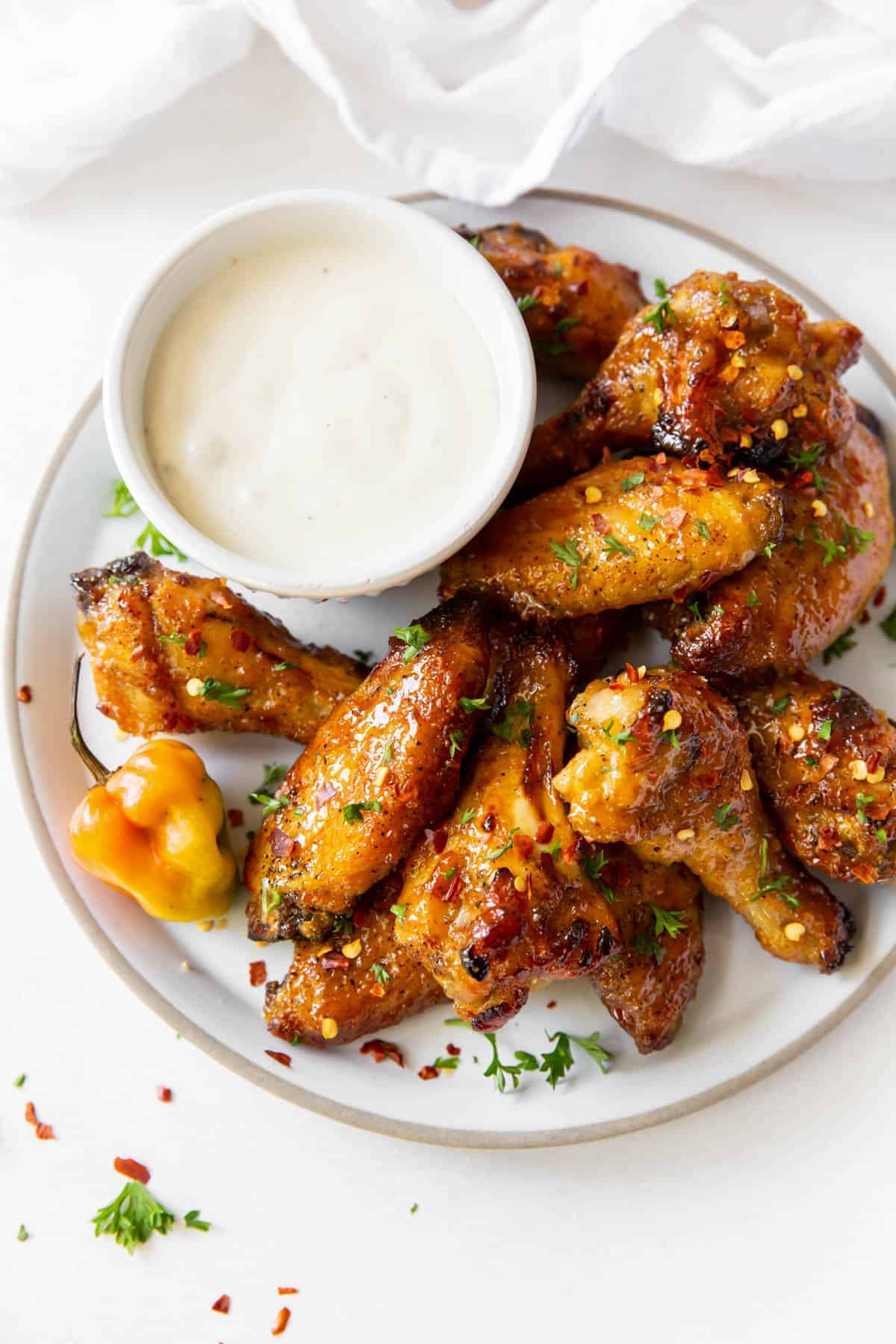 With a handful of ingredients and spices, these Baked Mango Habanero Chicken Wings from Spoonful of Flavor will steal the show at your next get-together. No frying is required for these crispy, sweet and spicy chicken wings!
Teriyaki Cauliflower Wings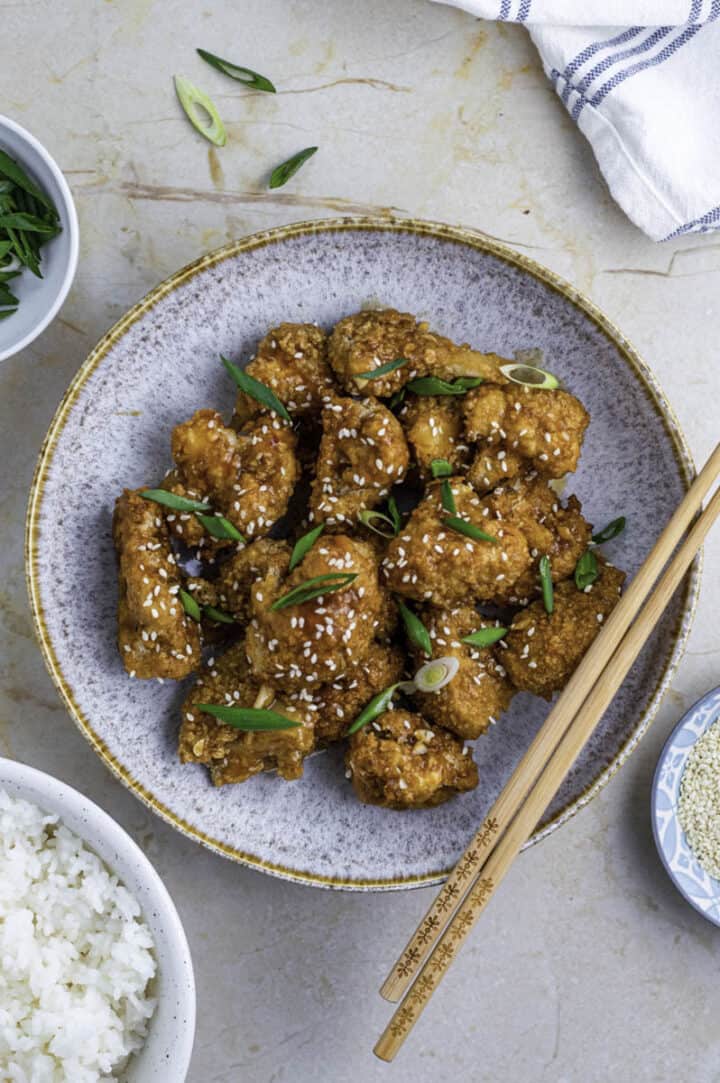 Tender on the inside, crispy on the outside, these Teriyaki Cauliflower Wings by Sunglow Kitchen will be your new favorite appetizer! They're completely vegan, and can easily be made gluten-free!
Pizza
Cheesy Pepperoni Bread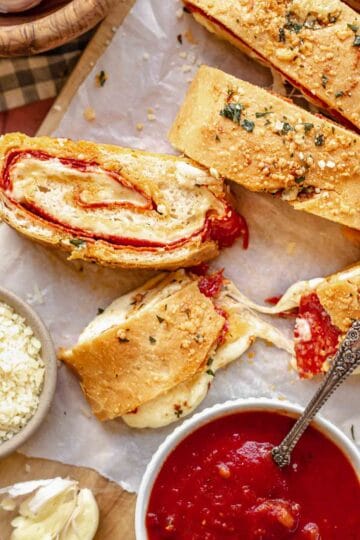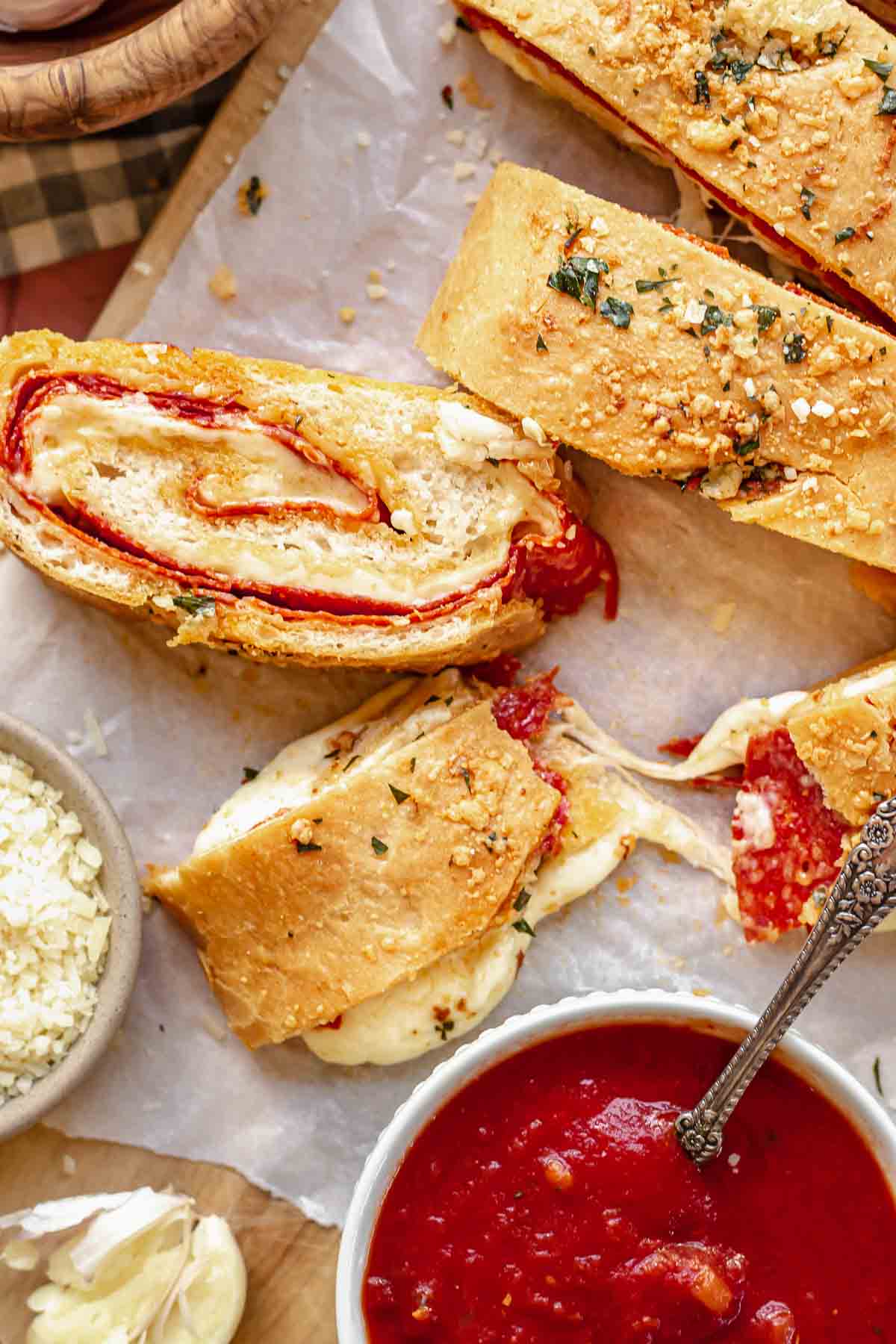 Chewy, cheesy pepperoni bread by The Cozy Plum, also known as a pepperoni roll, is easy to make from scratch and is a great snack, main meal, or game-day appetizer.
Cheesy Garlic Bread Fingers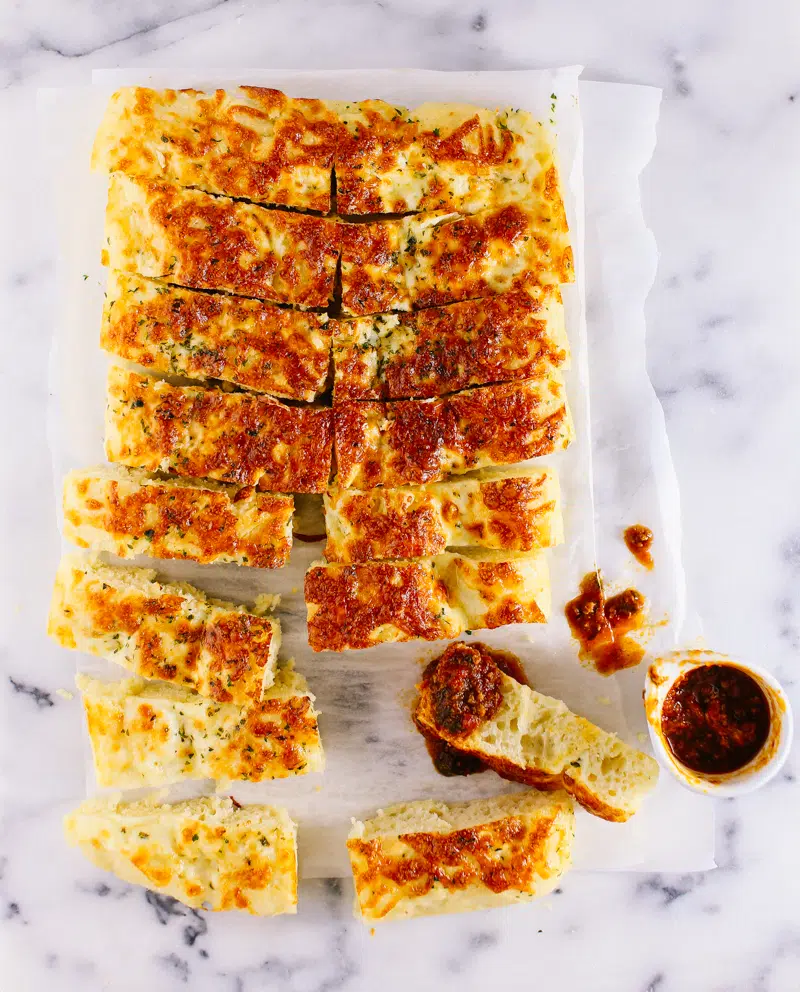 Comfort food bliss. These Cheesy Garlic Bread Fingers by Foodess are pure heaven. Hot, tender, fluffy bread baked under garlic butter and a blanket of stretchy, gooey mozzarella.
Pizza Poppers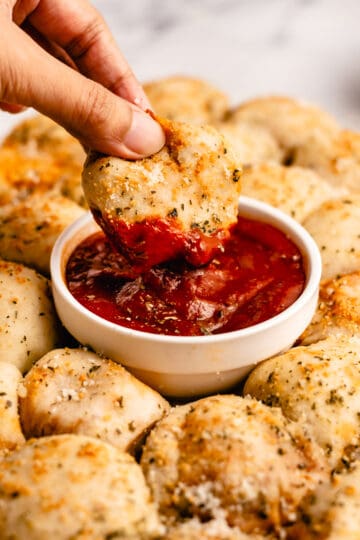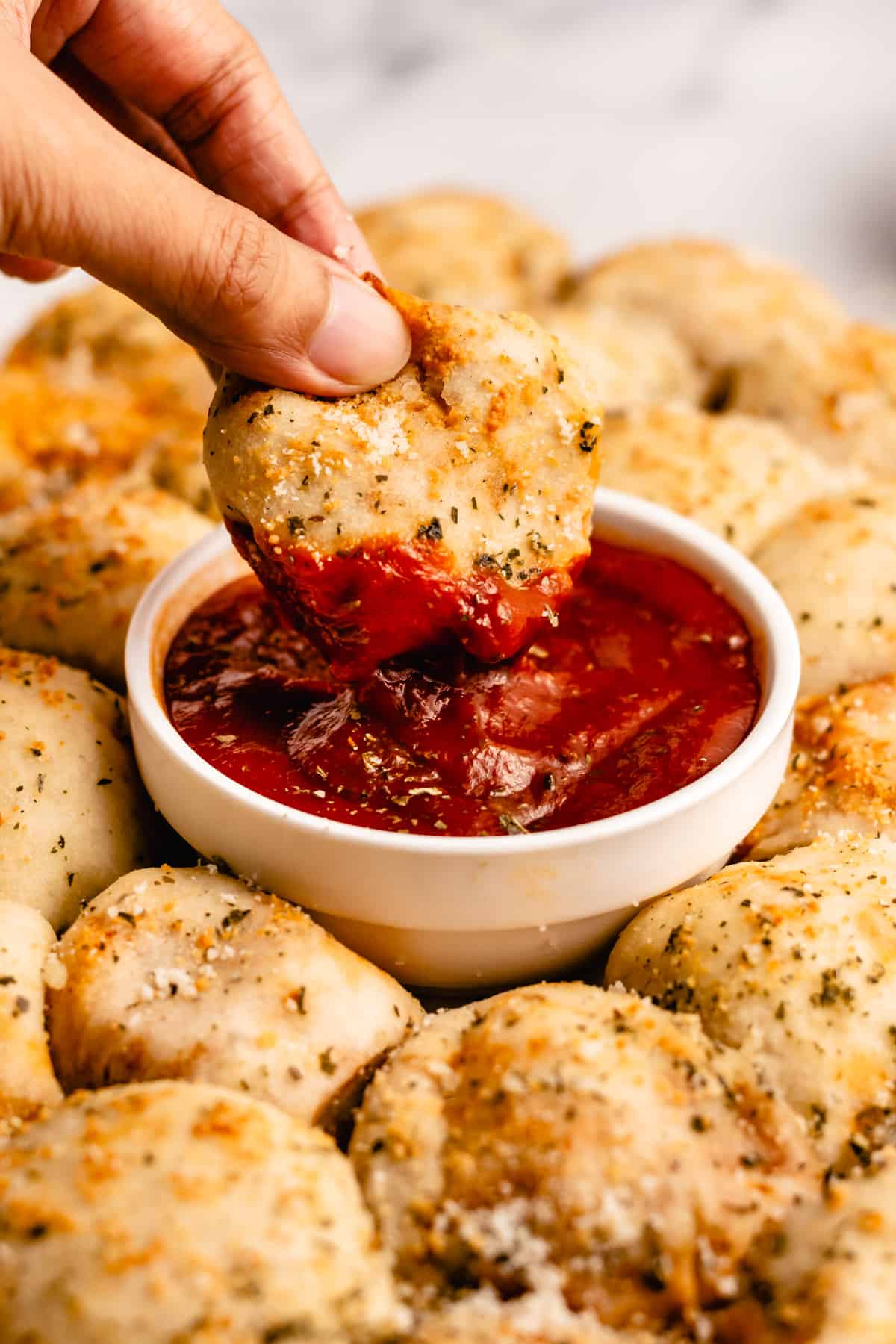 Pizza Poppers, or mini pizza bites by My Mini Chefs are a fun and kid-friendly finger food for your next party! Mozzarella cheese and pizza sauce are stuffed inside pizza dough and baked in an irresistible butter herb sauce. Pizza poppers can be customized to include your favorite pizza toppings, like pepperoni or sausage. Ready in less than 20 minutes, they are a delicious snack that adults and kids can't get enough of!
Sliders + Sandwiches
Steak Sliders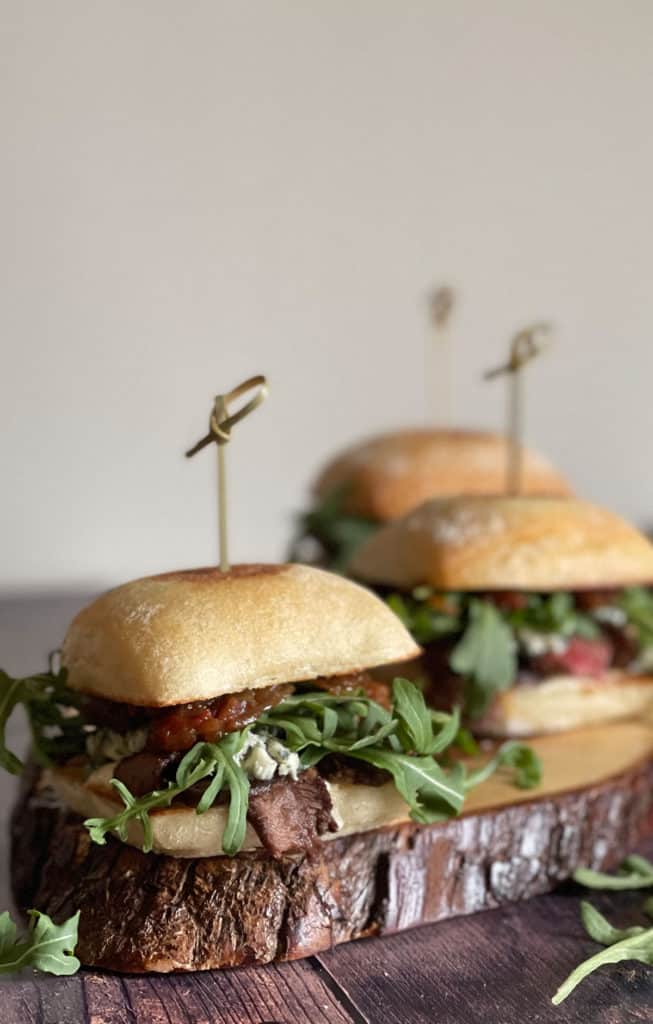 This post is all about Steak Sliders topped with blue cheese, arugula, horseradish mayo and tomato onion jam. They are savory, smoky, cheesy and balanced with a hint of sweetness. Not only are these sliders easy to make, but they also make fantastic game-day snacks!
Philly Cheesesteak Sliders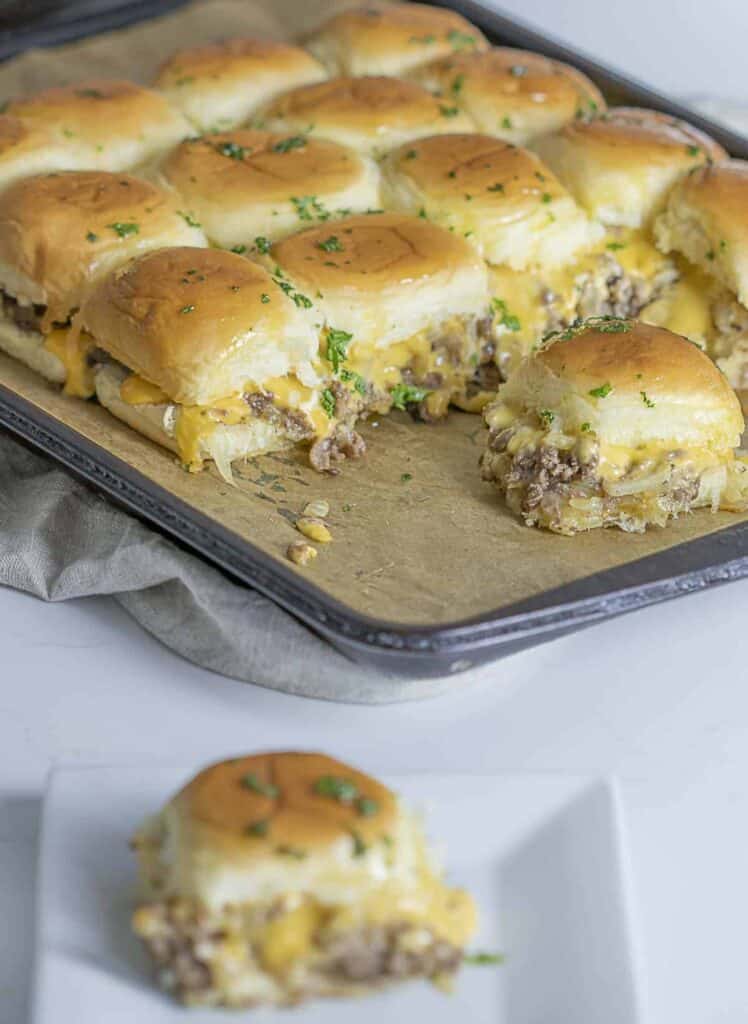 These Hawaiian Roll Pull Apart Cheesesteak Sliders by Aleka's Get Together are ah-mazing!! Cheese whiz, provolone, caramelized onions and thinly sliced steak are sandwiched between a layer of sweet, tender King's Hawaiian Rolls and baked until gooey perfection.
Crockpot BBQ Meatball Subs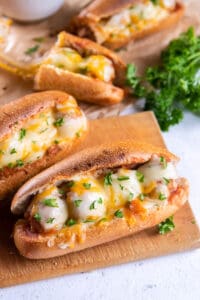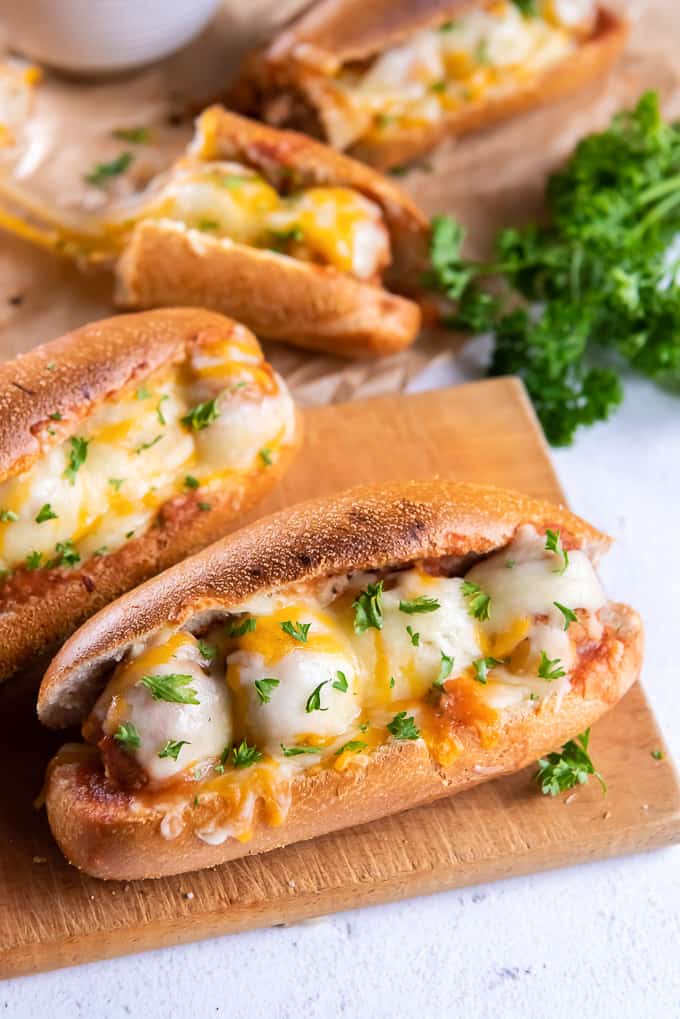 Game day food doesn't get better than these easy Crockpot BBQ Meatball Subs by Flavor the Moments! The meatballs are tender and flavorful, smothered in bbq sauce and topped with melted cheese for a meal that may just make you forget about the game!
Italian Grinder Sandwich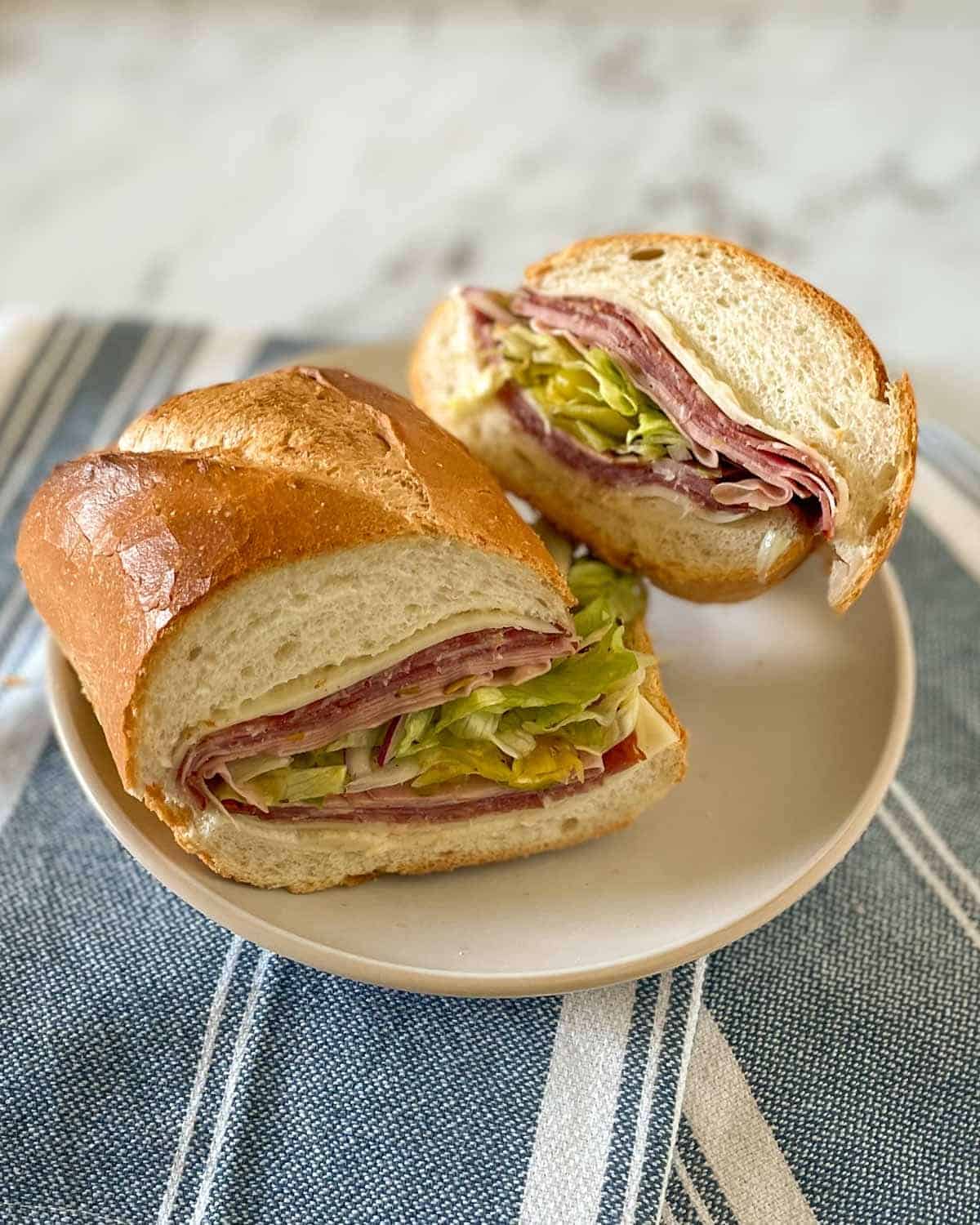 This Italian Grinder Sandwich recipe by Two Cloves Kitchen, combines savory deli meats, creamy provolone, crisp lettuce, onions, pepperoncini, and bright vinaigrette on a crusty Italian loaf. It's perfect for gatherings or to share with friends and family at home!
BBQ Pulled Chicken Burgers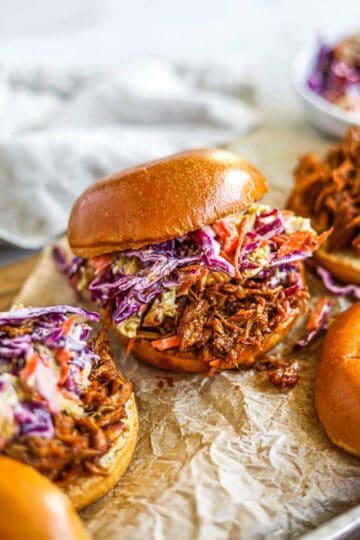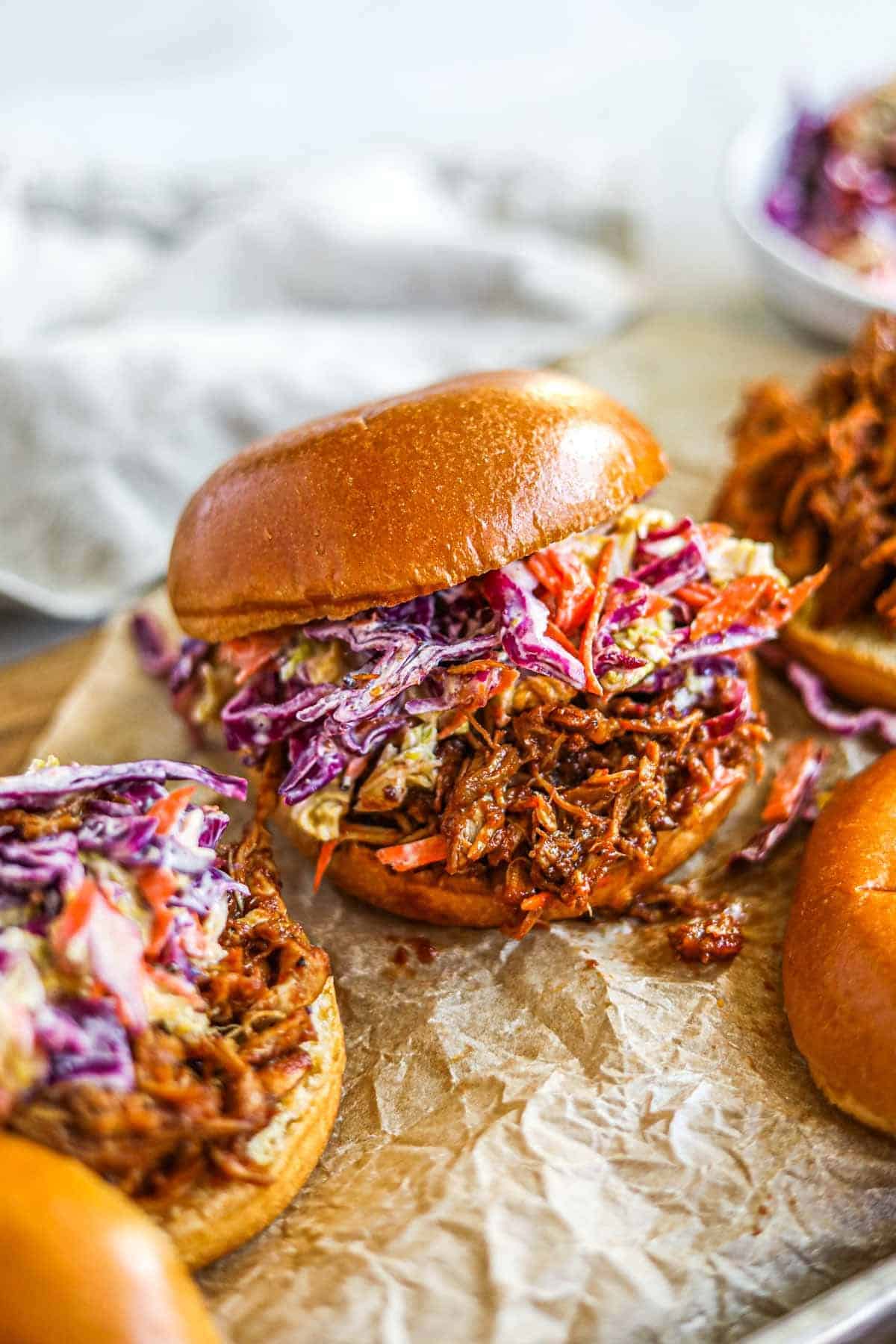 BBQ Pulled Chicken Burgers by The Heirloom Pantry feature tender, slow-cooked pulled chicken dressed in tangy BBQ sauce with crunch coleslaw on buttery brioche buns. Enjoy them for an easy weeknight dinner or make them as sliders or sandwiches for game day!
Nachos
BBQ Chicken Nachos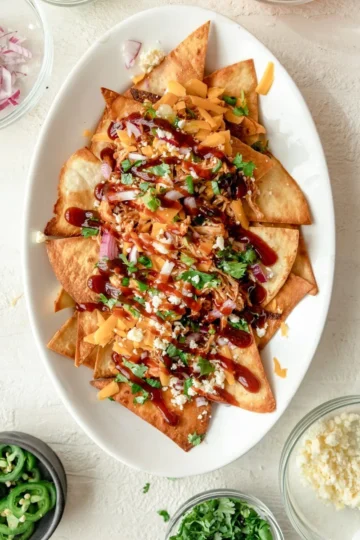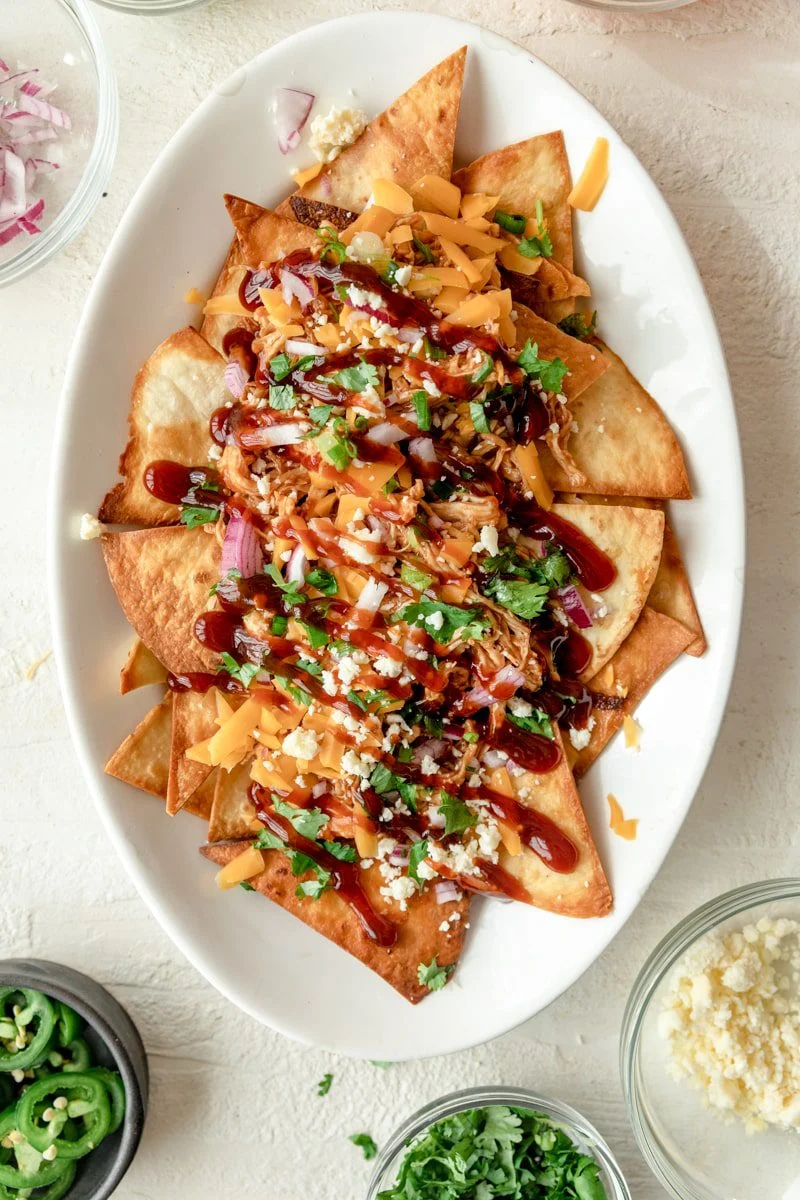 Whether you're in need of a speedy, mostly hands-off dinner for a busy weeknight or want something fun to serve at your next game day gathering, this short and sweet recipe for BBQ Chicken Nachos by White Kitchen Red Wine is what you've been looking for. Made with just 8 simple ingredients in all of 20 minutes, these sheet pan chicken nachos deliver big flavor without any fuss.
Tex Mex Sheet Pan Nachos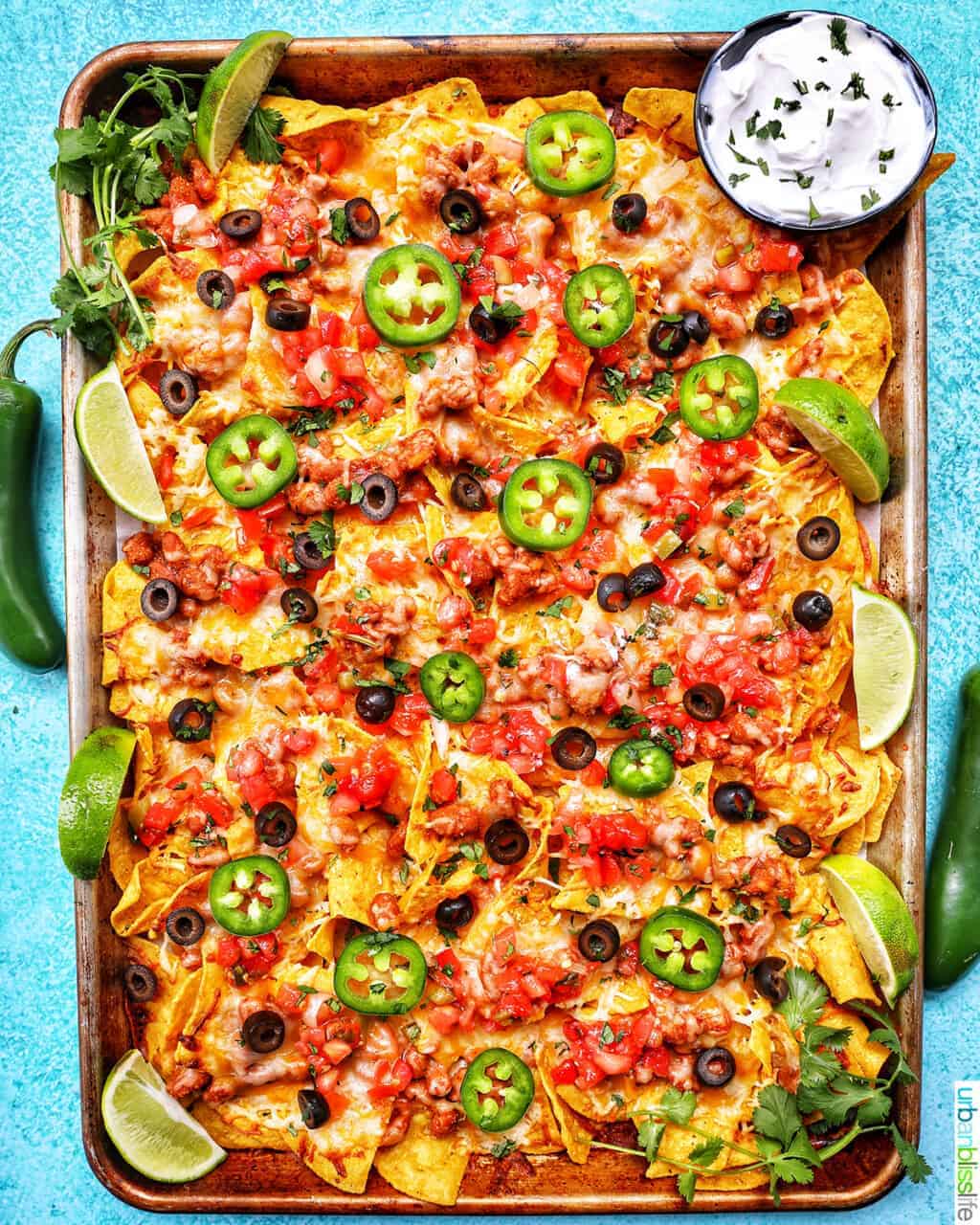 Colorful, vibrant, crunchy, savory vegetarian nachos are packed with delicious Tex-Mex flavors. This easy sheet pan nachos recipe by Urban Bliss Life can be made in just 30 minutes and served as an appetizer or full meal. Perfect for Game Day, Cinco de Mayo, or any weeknight dinner!
Blackened Tilapia Nachos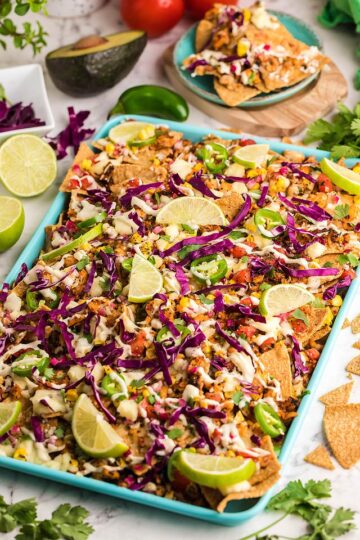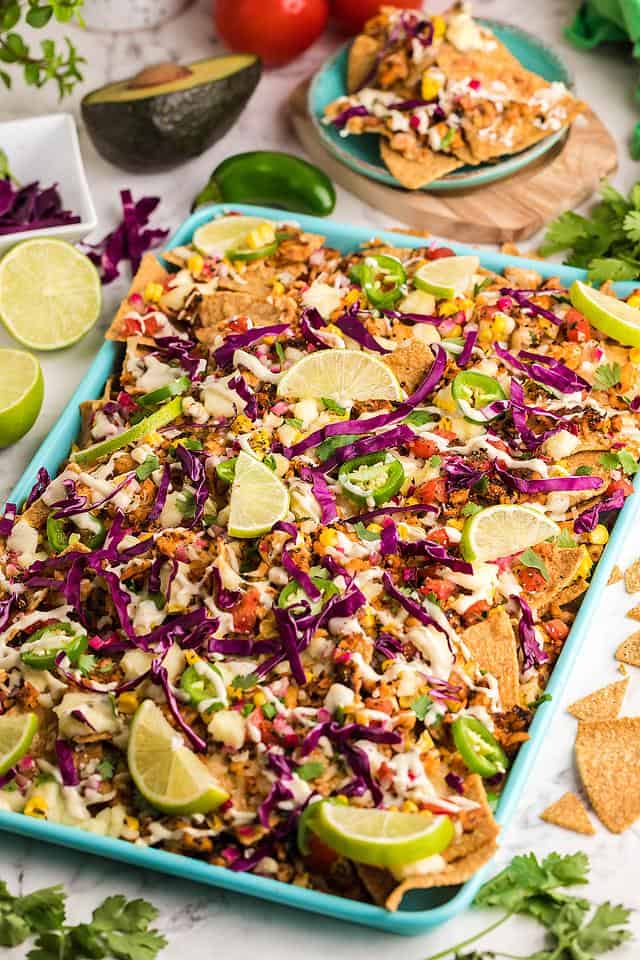 this simple seafood nachos recipe by XOXO Bella, is ideal for Super Bowl or game day. Use whichever topping ideas you want. This is one of the best sheet pan recipes I've tried recently. You just have to try it too!
Chili
Slow Cooker Turkey and Bean Chili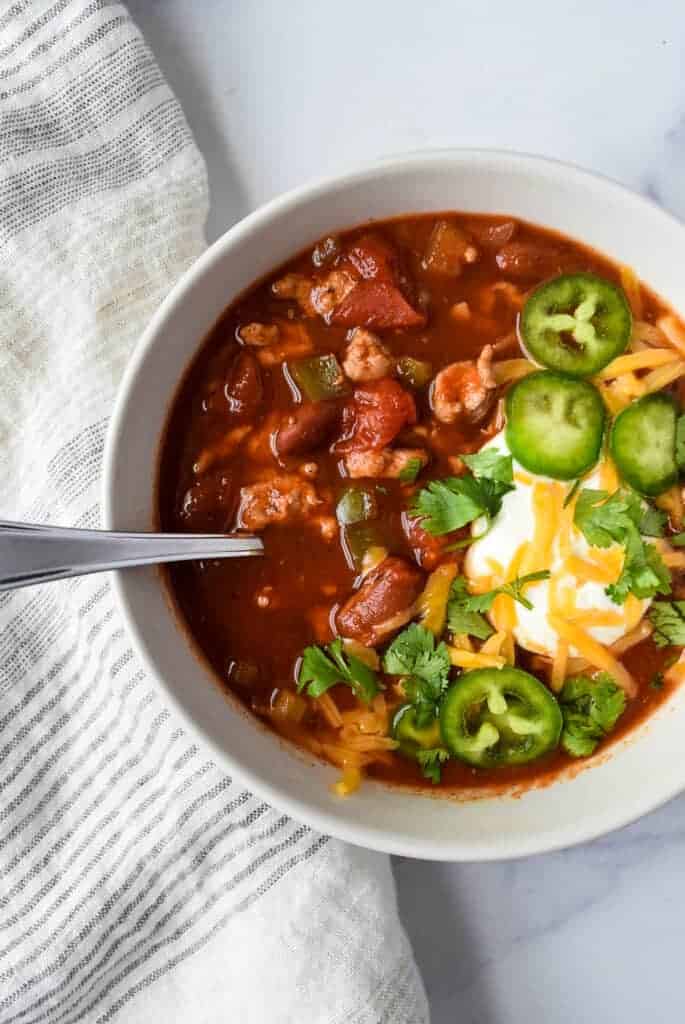 This Slow Cooker Turkey and Bean Chili by Fresh Apron is going to be your new go-to chili recipe! It's easy to make and will definitely be a crowd-pleaser. This is a simple weeknight dinner or football party food. Consider this recipe one of your healthy game day food ideas!
Hand Held Game Day Snacks
Cranberry Serrano Glazed Meatballs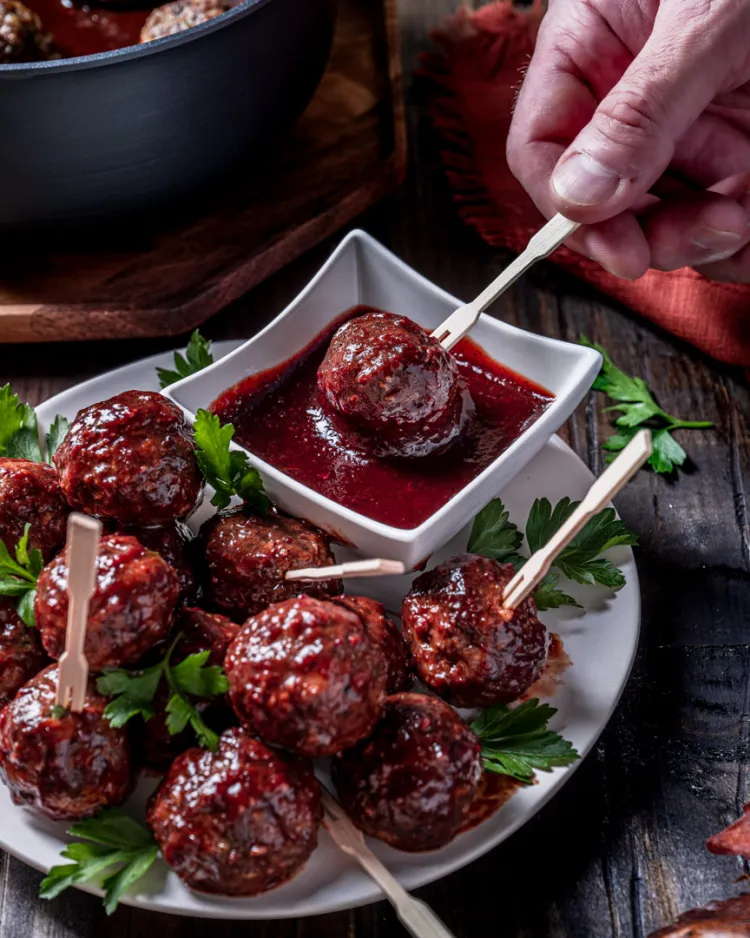 These meatballs have a great holiday flavor and are perfect for the cooler seasons when cranberries are widely available in stores. The semi-sweet and semi-spicy meatballs are hard to stop eating! If you are looking for the perfect fall appetizer or side dish for your next get-together, look no further your guests will love these Cranberry Serrano Glazed Meatballs by Cooking with Wine!
Little Smokies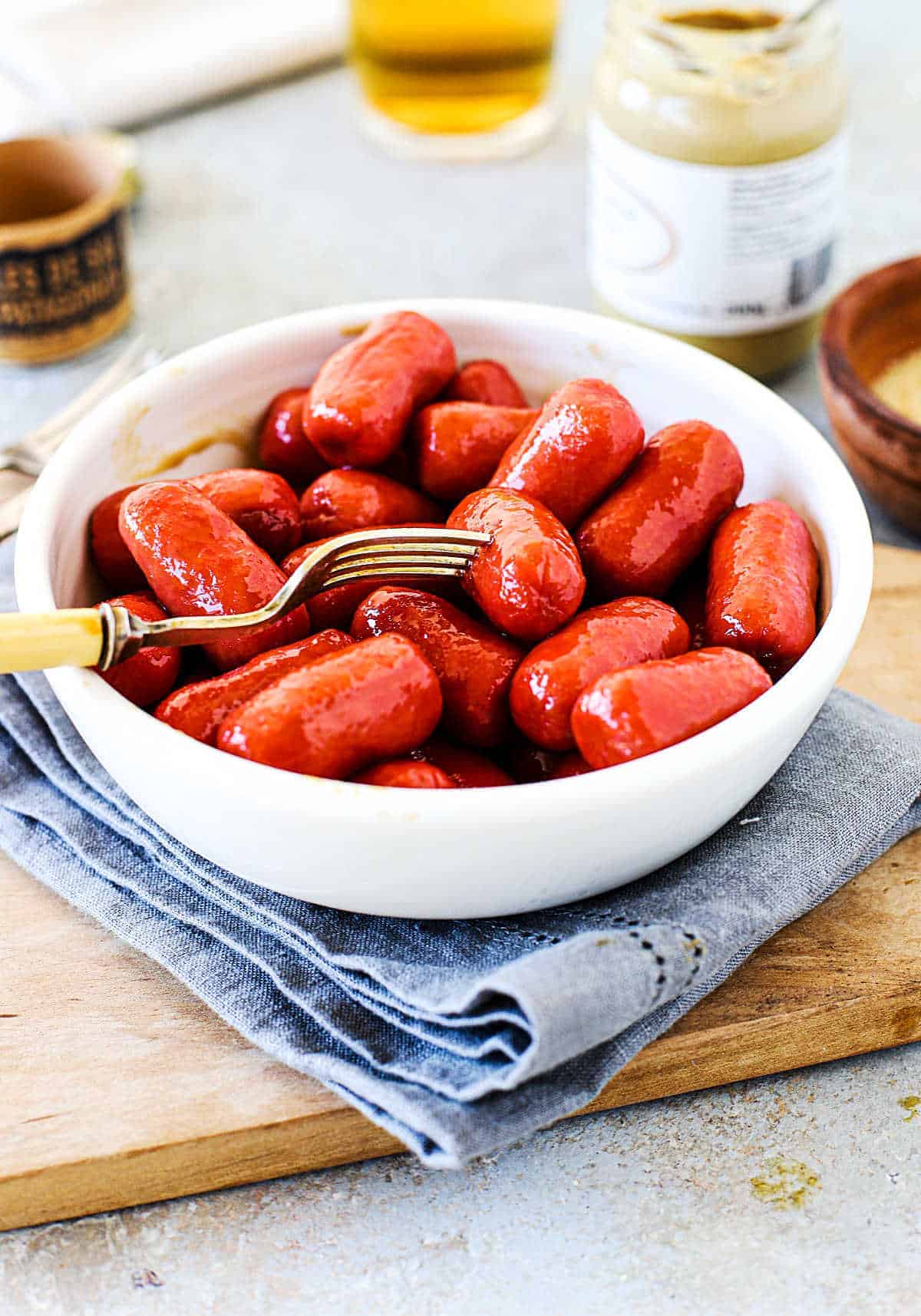 The easiest sweet and smoky most delicious appetizer ever by Vintage Kitchen! There's hardly any prep work and less than 5 minutes on the stove are needed for you to enjoy these addictive cocktail sausages, cocktail weenies, little smokies, or however you call them. It's a perfect recipe for any type of gathering, to munch on before a barbecue, for easy game day food, movie night, or just because. Any excuse is a good one to enjoy these!
Deep Fried Pickles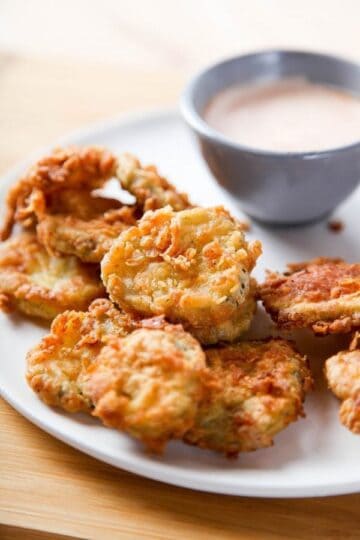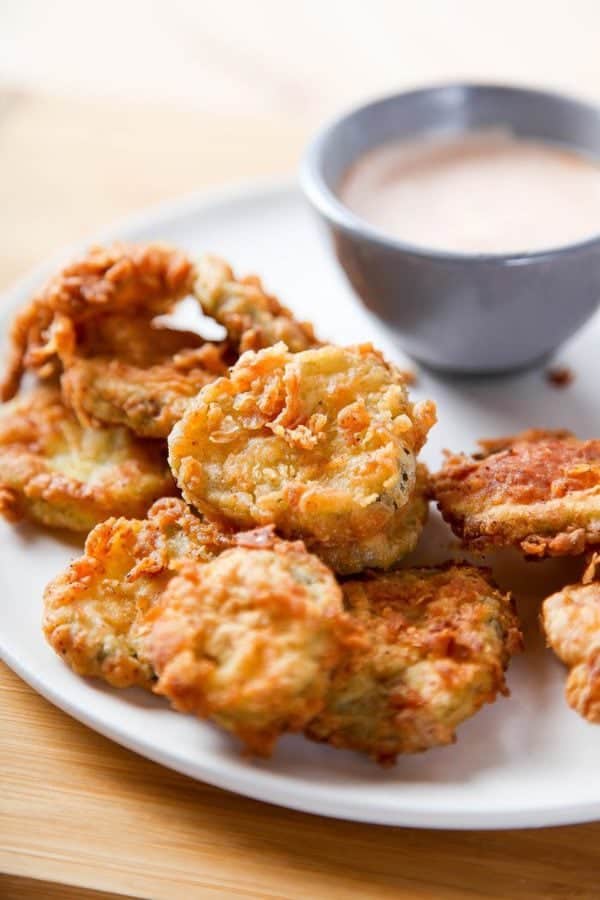 Ultra crispy on the outside, yet tangy on the inside. These Deep Fried Pickles by Baking Beauty are sure to become your new favorite appetizer!
Bacon Guacamole Deviled Eggs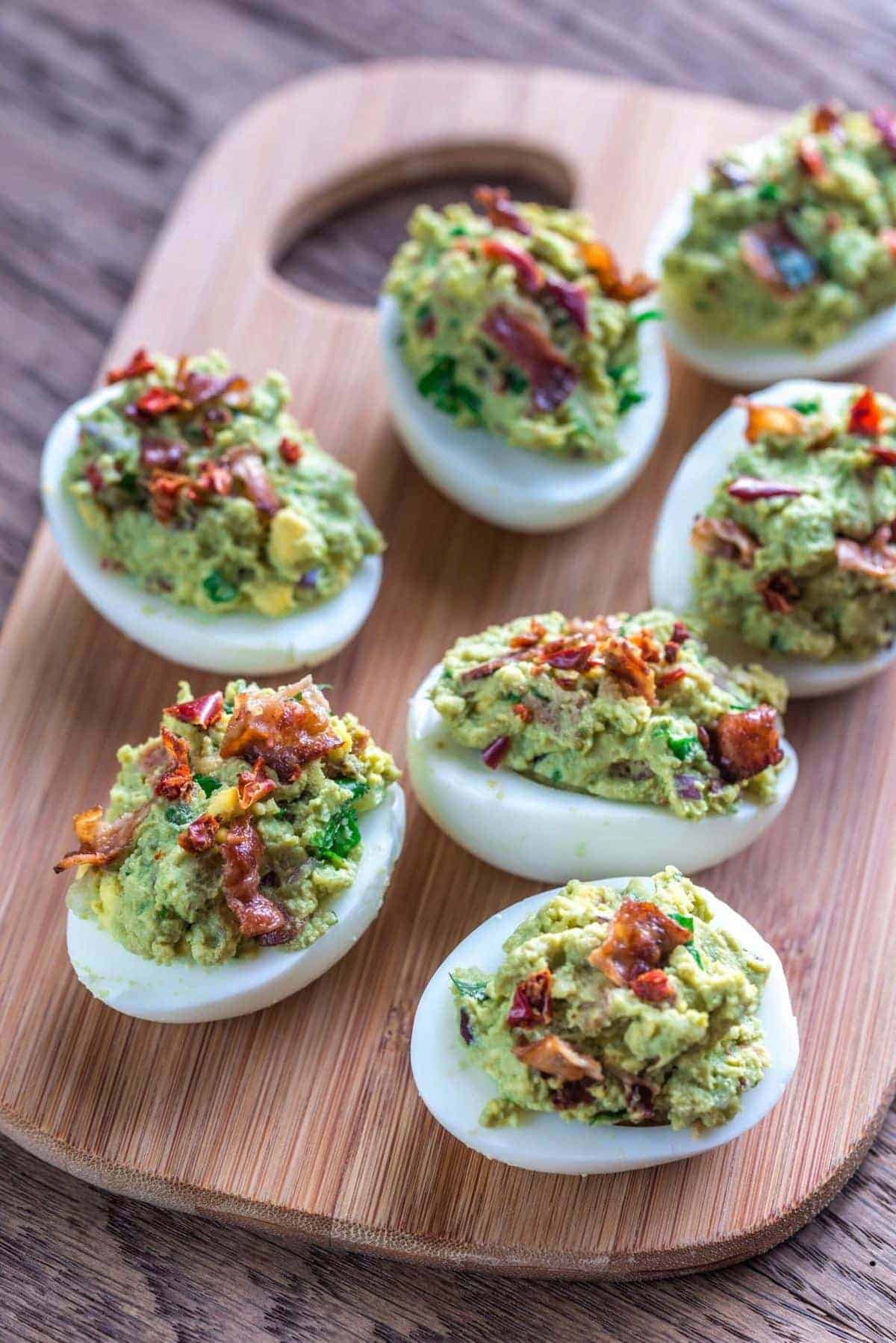 Deviled eggs made with savory guacamole and smoky bacon. You haven't tried the perfect deviled egg until you have tried these Keto Bacon Guacamole Deviled Eggs by Peace Love and Low Carb.
Pigs in a Blanket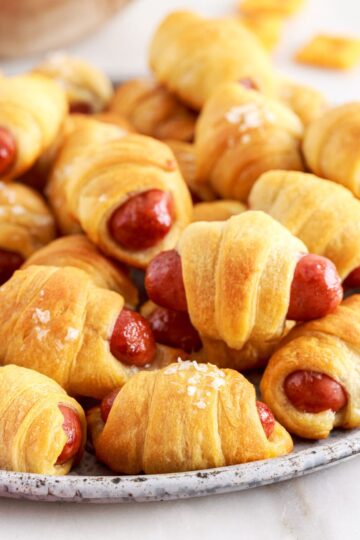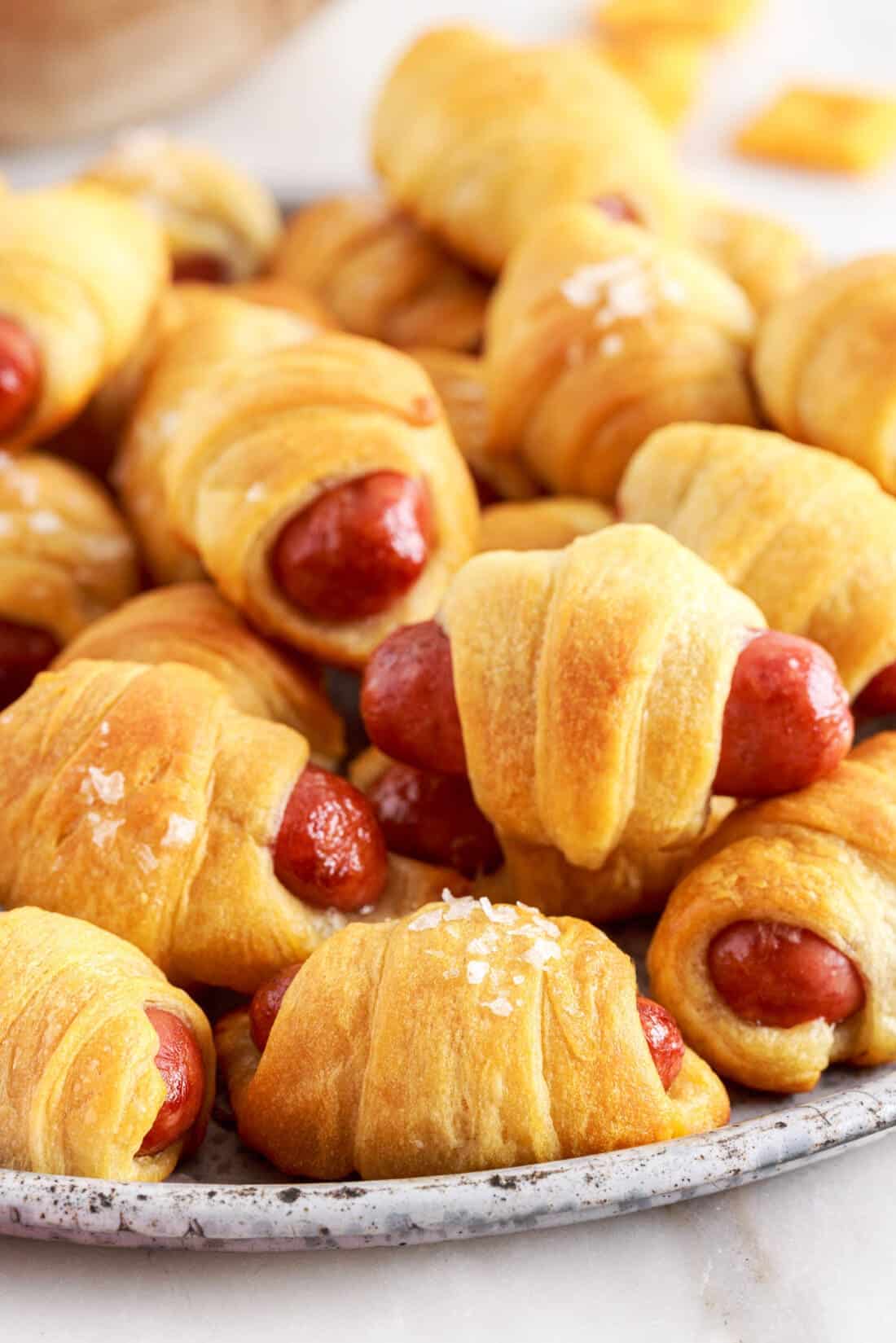 This 4-ingredient pigs in a blanket by Amanda's Cookin' starts with mini sausages that are snuggly wrapped in blankets of crescent dough, basted with butter, and baked to a puffy golden brown. Dip and dunk in an endless sea of sauce options for one some amazing game day food!
Individual Charcuterie Cups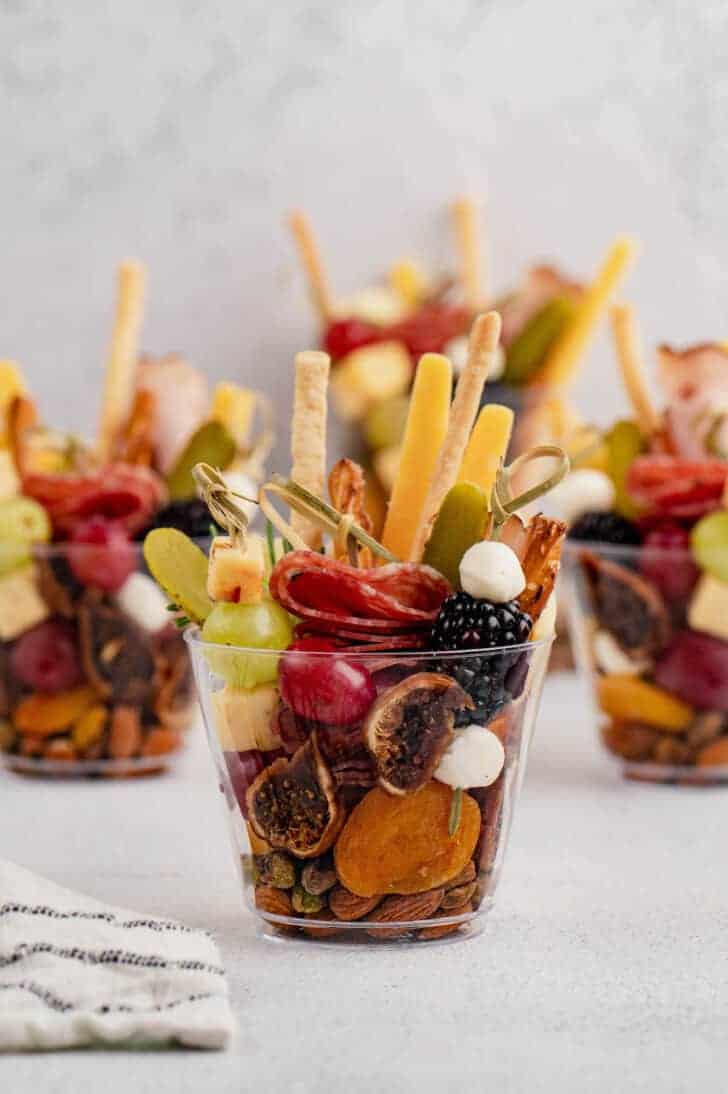 The options are limitless with these Individual Charcuterie Cups by Foxes Love Lemons. Grab some plastic cups and load them up with meat, cheese, fruit and all sorts of garnishes. Perfect for holidays and for easy game day food ideas!
Beer Brat Bites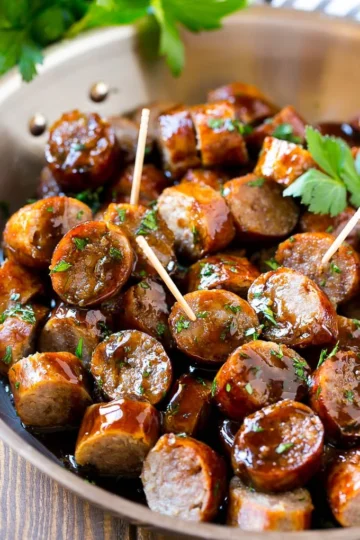 Beer Brat Bites by Dinner at the Zoo. Bratwurst and beer are a classic flavor combination; this popular dish has been transformed into an easy snack that's great for parties, football games, or as a hearty snack.
Dips
Jalapeno Popper Dip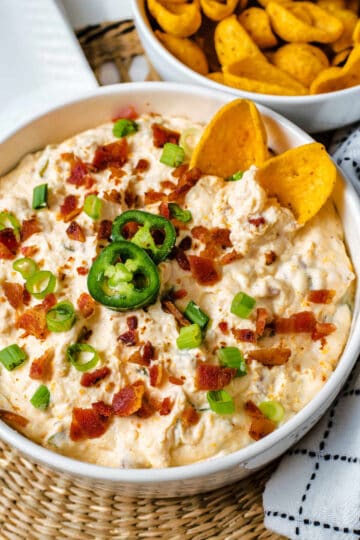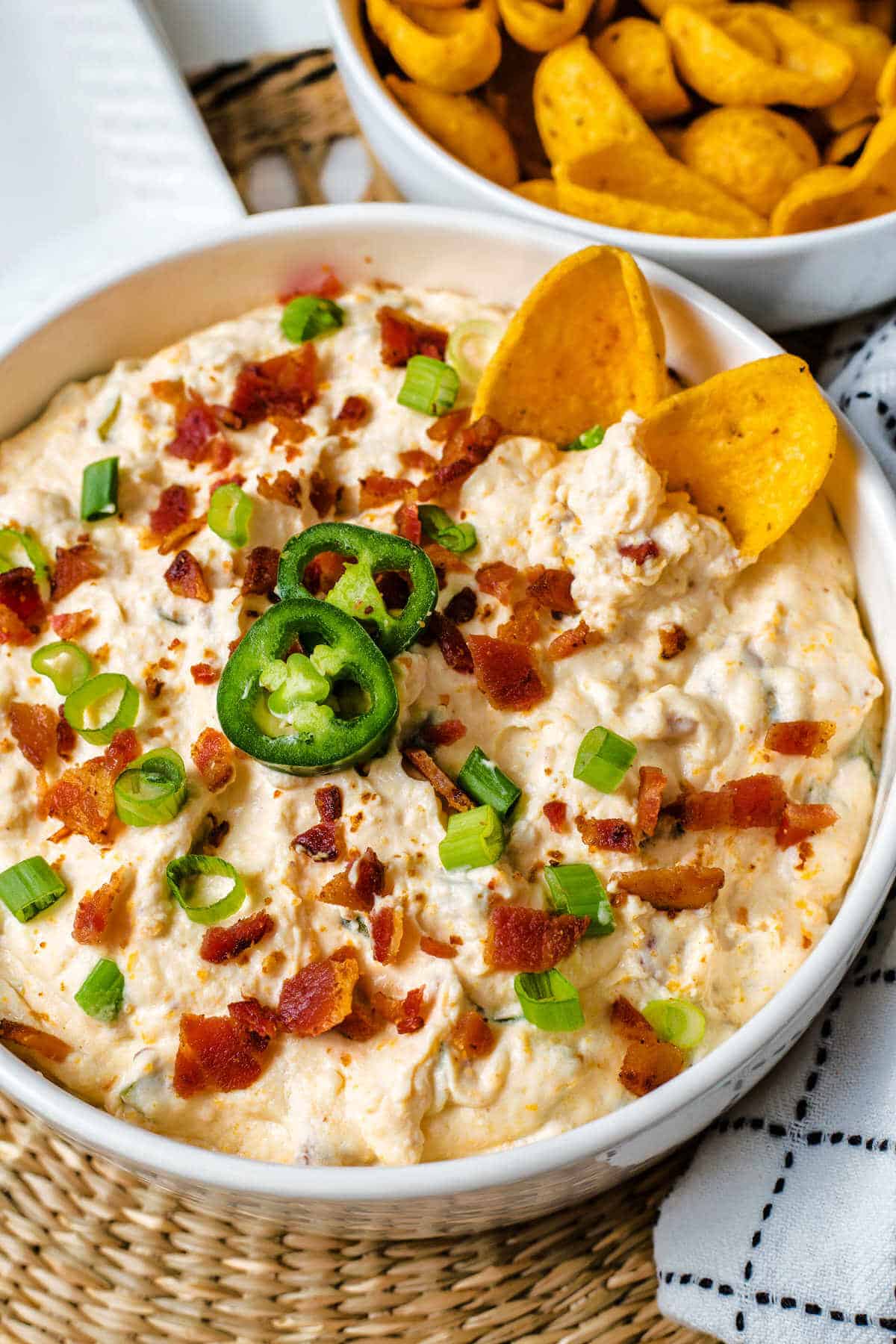 Jalapeño Popper Dip by Life Love Good Food is oh-so-creamy and cheesy with a subtle kick of heat! Just like fried and bacon-wrapped jalapeño poppers, this crowd-pleasing dip is made with a variety of cheeses, crispy crumbled bacon, and, of course, spicy jalapeños!
Crab and Artichoke Dip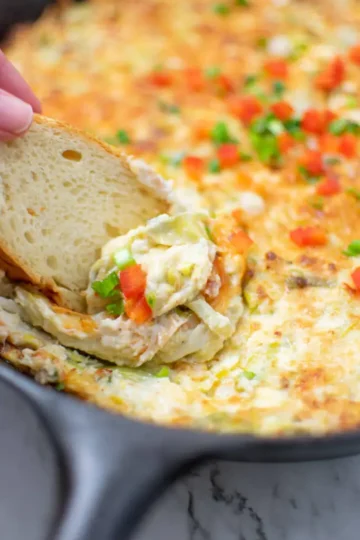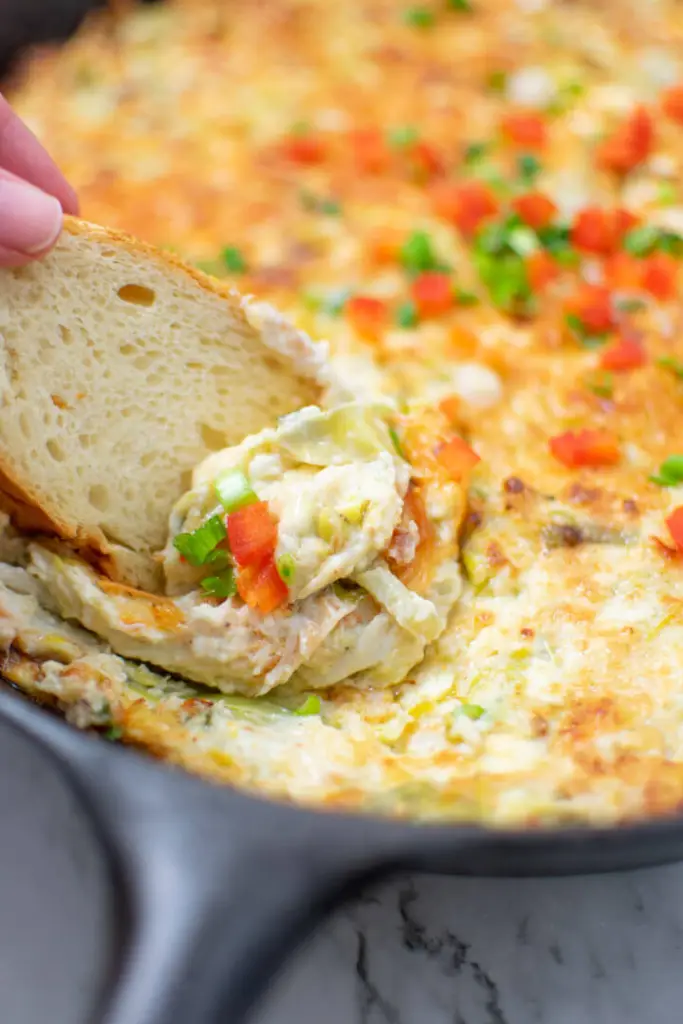 Crab and Artichoke Dip by a A Sprinkle and a Splash, is warm, creamy and oh so good! You HAVE to try this one! Loaded with chunks of artichoke, fresh crab meat and cheeses, it's the perfect party or game day appetizer!
Caramelized Onion and Bacon Dip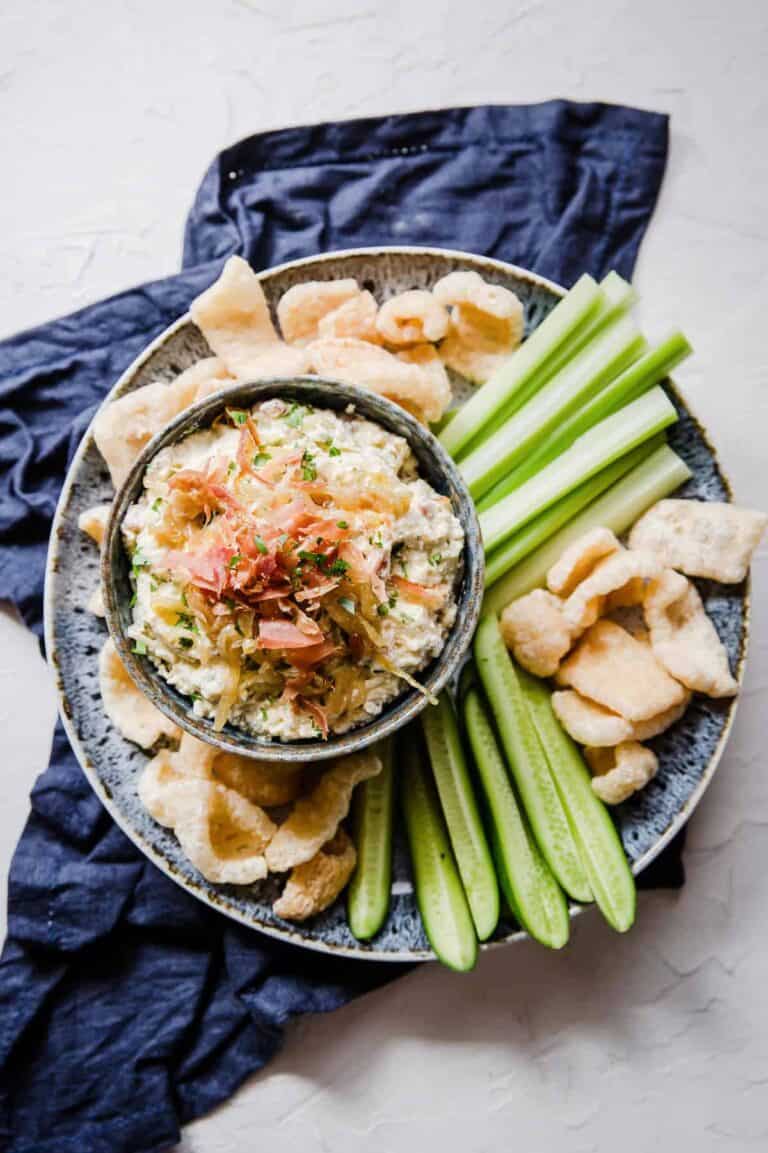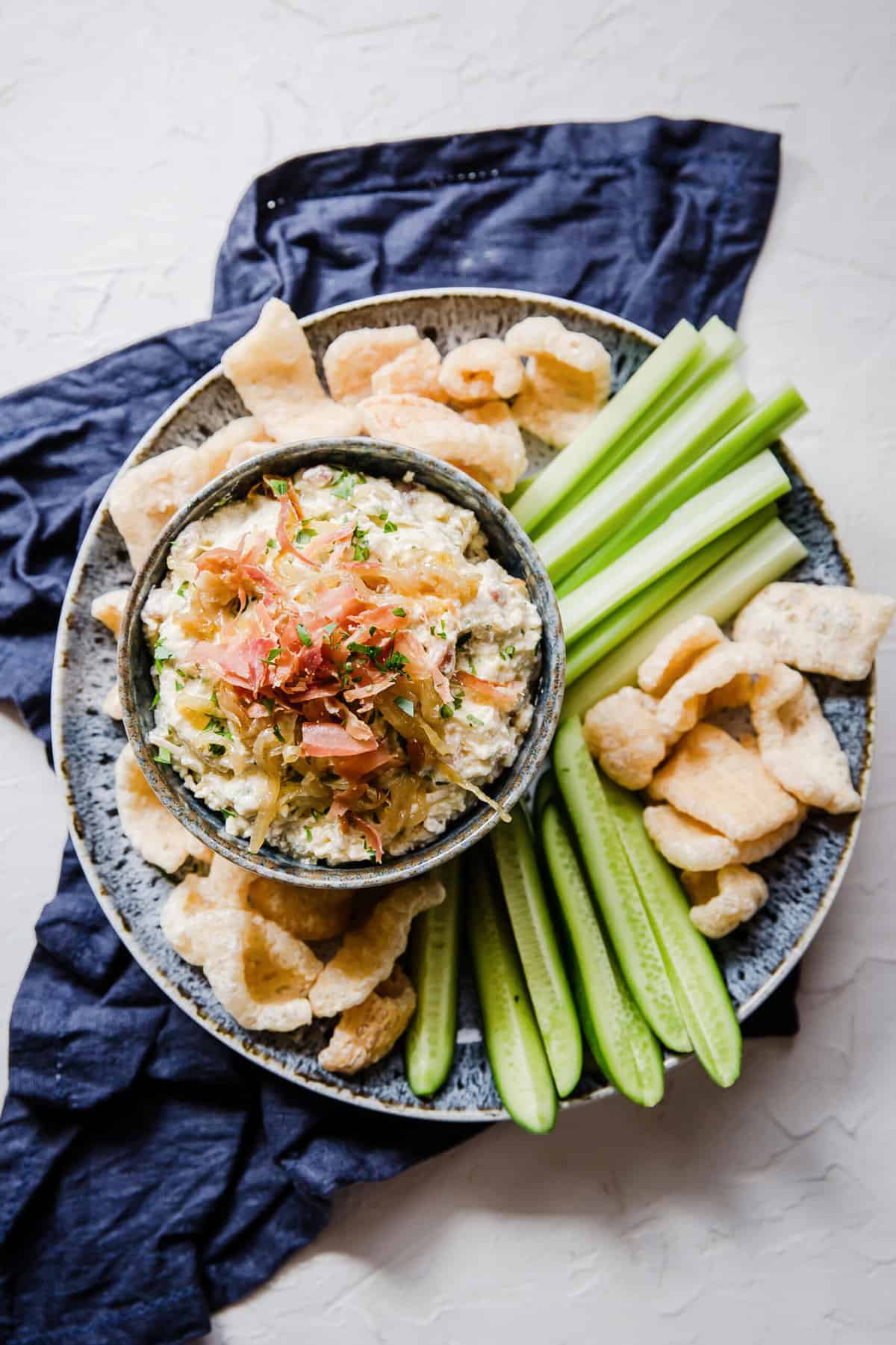 This Caramelized Onion and Bacon Dip by Peace Love and Low Carb is rich and creamy and makes the perfect low carb appetizer. Tender onions caramelized in butter and sherry, sautéed garlic, and smokey bacon, mixed with cream cheese, parmesan and sour cream.
Buffalo Chicken Dip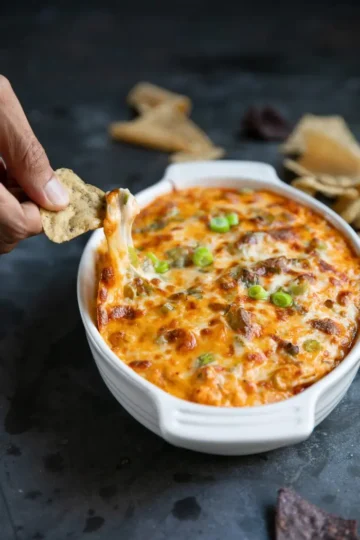 This Buffalo Chicken Dip Recipe by the Forked Spoon is everyone's favorite game day or party appetizer! Made with juicy shredded chicken, creamy ranch dressing, cream cheese, hot sauce, and loads of cheese, this easy and delicious Buffalo Chicken Dip is then baked until golden, bubbly, and perfect for dipping.
Cheesy Meatball Sub Dip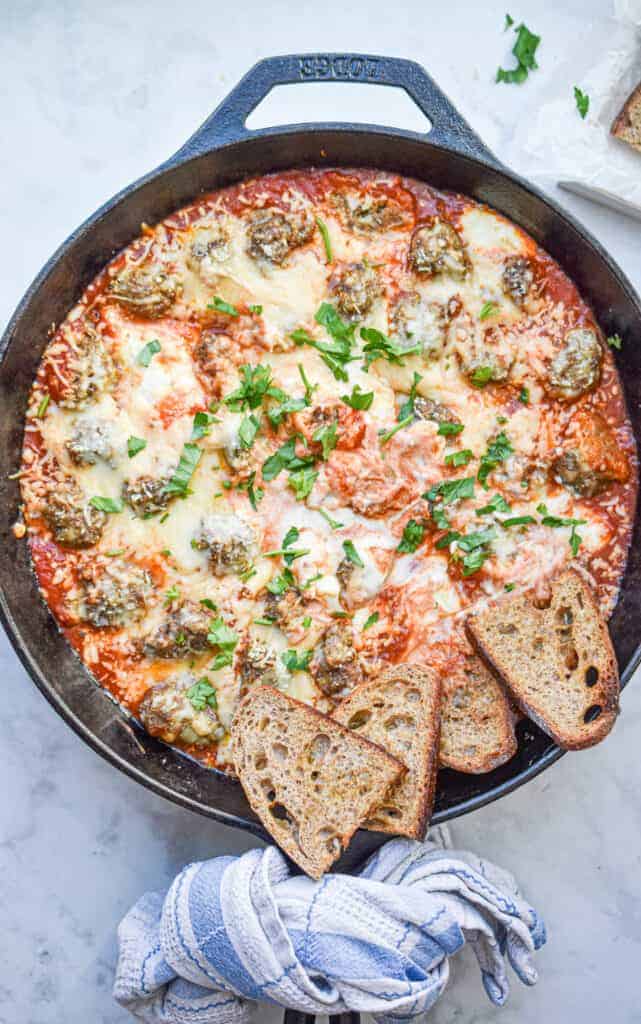 Homemade Italian mini meatballs are surrounded by a ricotta and rich tomato sauce in this cheesy meatball sub dip by Lynn's Way of Life. A fun twist on a classic meatball sub, this dip is easy to make and perfect for the big game!
Bread Toasts for Dips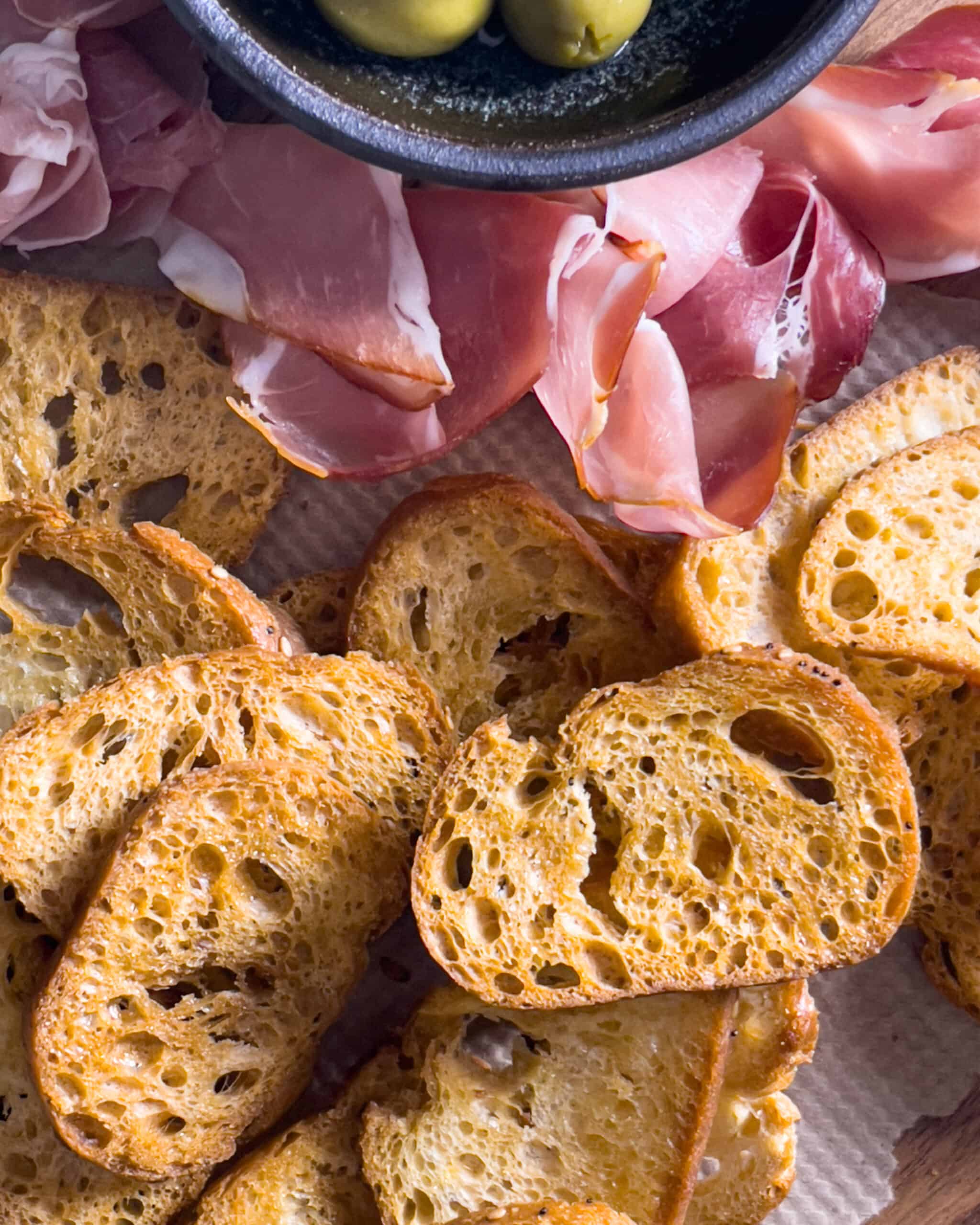 The Best Crostini Toasts by The Virtual Caterer is for those of you who like them THIN and CRISPY. Not too crispy and not burnt, just perfect according to my guests. Great for cheese or charcuterie boards and appetizer spreads. These chip-like toasts are easy to make, highly addictive and will have your guest singing your little "toast-making" praises.