Jump to Recipe
Oh the magical Pumpkin Spice Latte. I don't know about you, but I get a pretty hard craving for one of these puppies this time of year. Problem is, I'm on a pretty tight budget right now (ummm thanks Covid) so I won't be heading to Starbucks anytime soon. So today I got dressed in real clothes (not just PJs) and made myself a delicious Homemade Pumpkin Spice Latte. I was so impressed with myself I'm sharing it with you! I hope you looooove it as much as I do. 🙂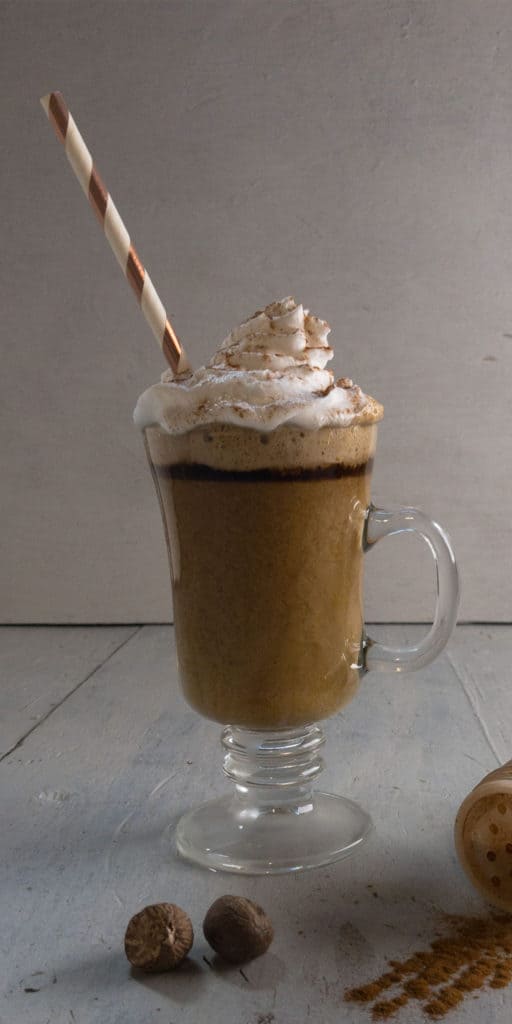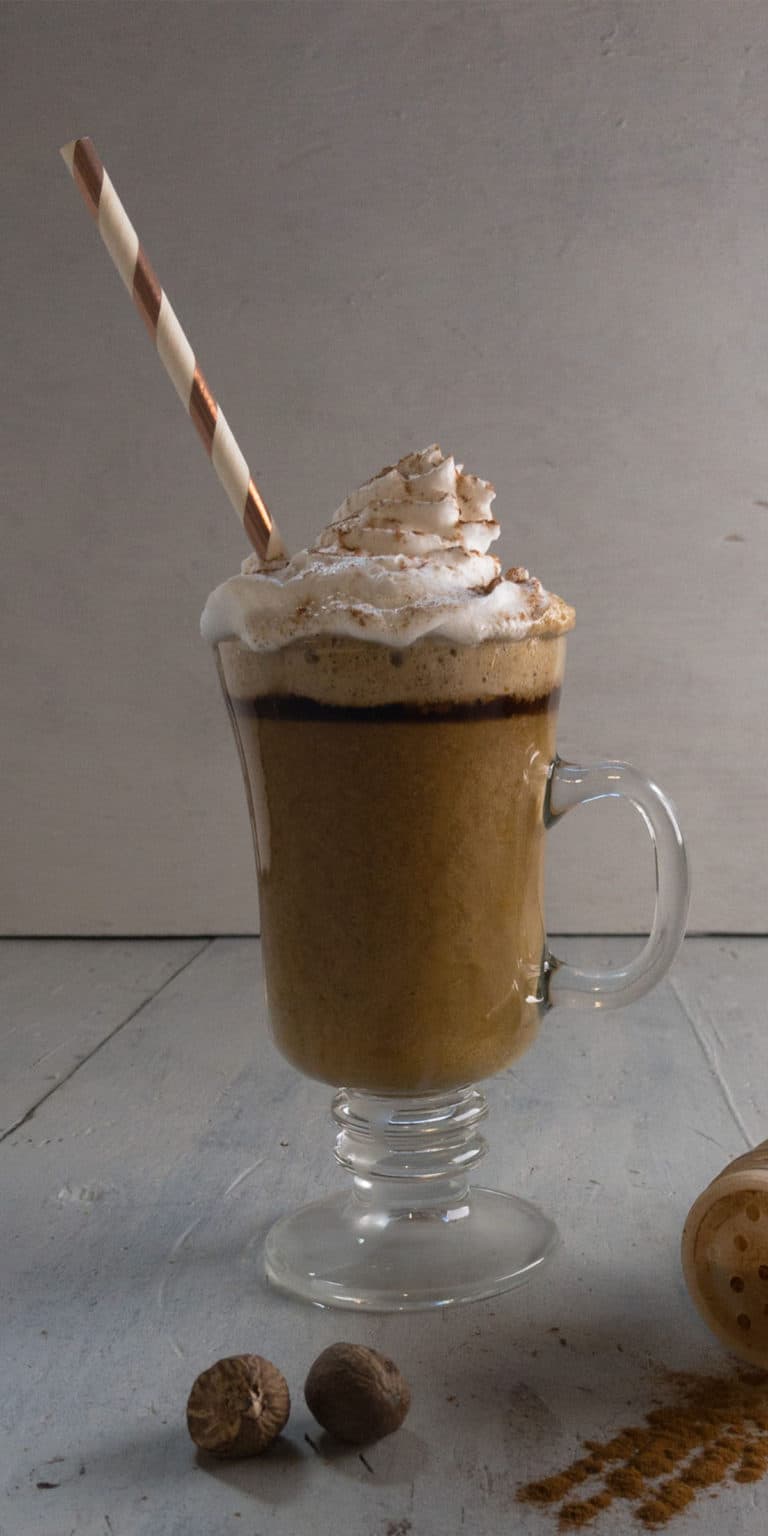 Brew a Batch of Strong Coffee
This recipe only calls for ¼ cup of coffee or espresso. You may be thinking that's not enough coffee. Well, that's fine..just add more! The reason I wrote the recipe with only ¼ cup of coffee is because I wanted this Pumpkin Spice Latte to have all of the sweetness and spice of the OG Starbucks PSL. Obviously, you'll want to change it up to suit your coffee needs.
Choose Your Milk Wisely
Great thing about making your Homemade PSL is that you can choose your milk. I know you can choose your milk preference at your local coffee shop. BUT a carton of milk is about the same price as a PSL at your local coffee shop AND will give you Pumpkin Spice Lattes for a week or even two!
If you want cow's milk you have choices that range between fat-free all the way to half and half. For a lighter latte choose a skin/fat-free milk, for a richer, dessert-style latte you might want to use some half and half.
Dairy free is easy here! There are so many non-dairy milk options these days. I used unsweetened vanilla almond milk in this recipe with coconut whipped cream. Coconut milk, oat milk or even soy would be delicious!
You'll want all these spices for the ultimate Pumpkin Spice Latte:
Pumpkin Pie Seasoning is one of the base flavors for this latte baby.
Cinnamon will kick the Pumpkin Pie Seasoning into high gear.
Vanilla extract will round out the spice and makes it extra yummy. If you have vanilla bean, vanilla paste or vanilla powder on hand it would be delicious in this recipe!
Fresh Nutmeg will take this latte from ah to ahhhhh man that's good!
I like to add a pinch of Cayenne for a little heat! (If you don't like it spicy, it's purely optional...but divine!)
Salt???? Yeah, salt will naturally amplify all of the flavors..just a touch but not too much.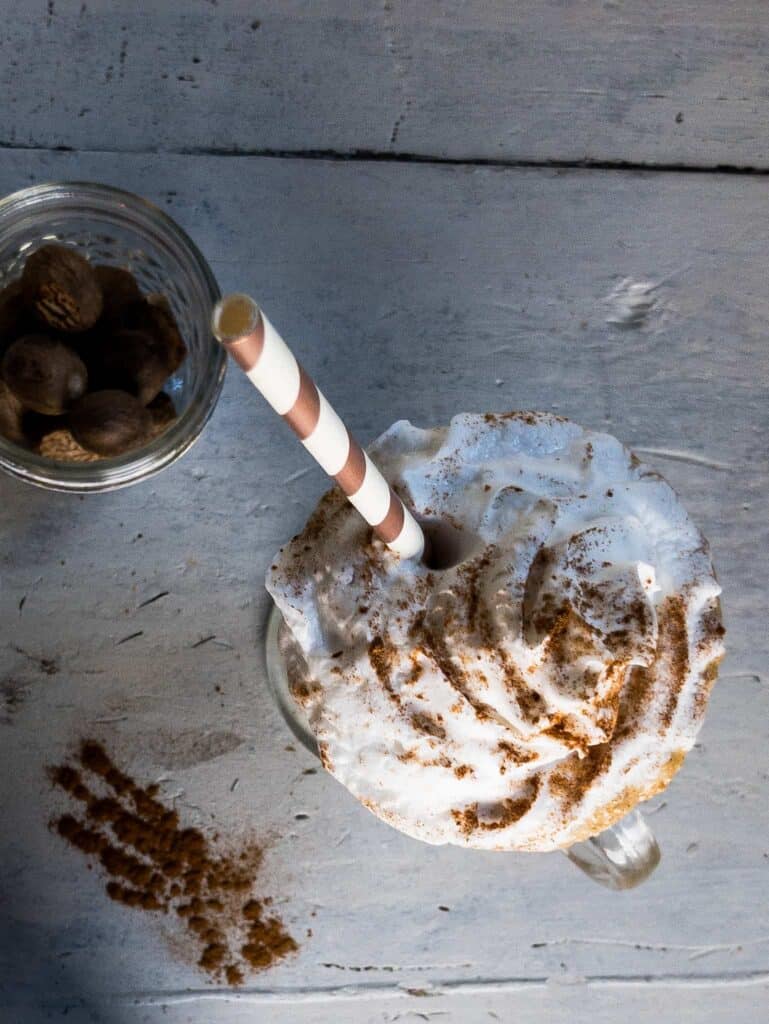 Sweeten your Pumpkin Spice Latte!
Brown Sugar...aww yeah. That's what I use for this recipe. Sweet and molassesy (hmm, not a word yet, huh? Well, it sure is on this blog!) Look, I never said I was a good writer..I just love food) 😉
If you're not doing the whole processed sugar thang, you can use maple syrup, agave, or even honey (if not vegan). If you try any of these out, let me know how it turns out by leaving a message in the comments! Well, if you try this recipe at all, I would love to know how it turned out for you! 🙂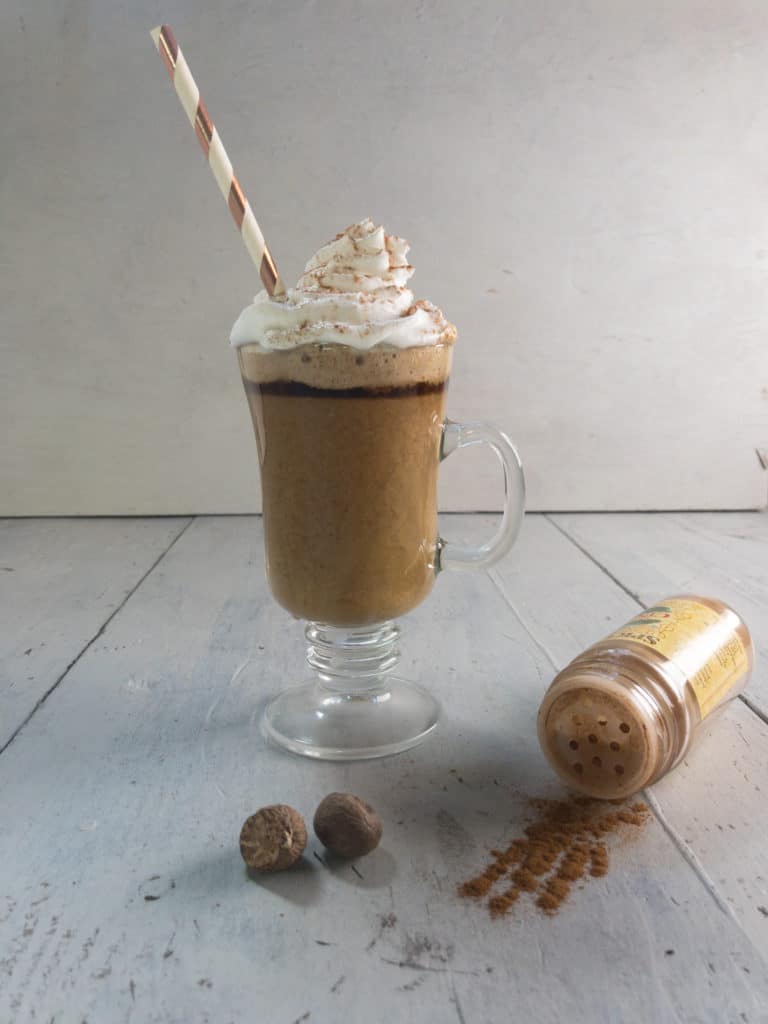 📖 Recipe
Homemade Pumpkin Spice Latte
A simply delicious homemade version of this trendy Fall latte.
Print
Rate
Ingredients
1 ¼

Cup

unsweetened vanilla almond milk

or milk of choice

¼

Cup

Strong Brewed Coffee or Espresso

1

tablespoon

Pumpkin Puree

2

tablespoon

Brown Sugar

2

teaspoon

Pumpkin Spice Seasoning

1

teaspoon

Vanilla Extract

½

Tsp

Cinnamon

pinch

Fresh Grated Nutmeg

pinch

Cayenne

optional

pinch

Salt

Prepared Whipped Cream

optional
Instructions
Combine all ingredients except coffee in a sauce pan. Using a whisk, blend well and over medium heat until the milk mixture is warm.

Use an immersion blender to create foam if desired.

Pour prepared coffee into a mug, then top with pumpkin spice milk mixture. Top with whipped cream and garnish with pumpkin pie seasoning if desired.

Serve with a little love and enjoy!! 🙂