French Onion Tartlets! Ok, I was inspired by the world famous, and completely delicious, French Onion Soup. This little tart is easy to make and a great appetizer for holiday entertaining.
One of my first kitchen jobs was a prep cook for a cute little American-German Bistro. Everyday, my job was to make huge batches of caramelized onions for the French Onion Soup and house quiche. It was a job full of crying from sweaty onions cooking away, but making these onions always smelled wonderful. It was a tedious task, but I loved it.
BUT, this recipe isn't about how to make caramelized onions. It's about what to do with them once you have them! If you want to read about caramelizing onions, check out this post.
What you need to make these French Onion Tartlets
Prepared Pie Crust - rolled, not already in a pan (you can make your own if you want) If vegan, use a vegan crust.
Goat Cheese - Or cream cheese. If making these vegan feta, works well!
Caramelized Onions - Check out the recipe here. If you're making them for this recipe, you'll need to add about 45 mins on to the time.
Dried Thyme
Breadcrumbs - Store bought or homemade (optional)
Tips and tricks for these tartlets
Tip # 1 - Save time! Use a prepared pie crust! Be sure to buy the rolled pie crust.
I chose to use store bought pie dough because it's easy! And this is one of those recipes where you can use something pre made and get away with it. Time and headache saver!
Tip #2 - Use a mild goat cheese (like Silver Goat) and put it on the bottom of the tart, under the caramelized onions.
I tested this recipe with gruyere cheese, fontina cheese and goat cheese. The gruyere is classic for French Onion Soup, and it tasted great on this little tartlet. However, when I would take a bite, the stringy cheese made the tartlet harder to eat than I wanted.
So, I tested with goat cheese on the bottom of the tart and the top of the tart. The goat cheese was best on the bottom, had great creaminess, stayed in place while taking a bite and had great flavor. Goat cheese was the clear winner.
Tip # 3 - Make the caramelized onions in advance. They will last 1 week covered in the fridge.
Tip # 4 - If you don't have a 1 ½ inch round cookie cutter or biscuit cutter, you can use the top a small mason jar (not the lid, but that would work too).
Making these tartlets vegan
Use a vegan pie crust. Be sure to buy the rolled prepared crust. Like this vegan pie crust.
Only fill the tartlets with the caramelized onions and a sprinkle of thyme prior to baking.
The vegan feta melts into a liquid quickly when baked. To maintain the structure of the vegan feta, it's best to top the tartlets after they are out of the oven and cooling.
I recommend skipping the breadcrumb step if making vegan.
Top the tartlets with the 1 teaspoon of crumbled vegan feta cheese and some thyme once the tartlets have cooled for 3 minutes.
Serving the tartlets
These tartlets taste great straight out of the oven. They also taste great after they have cooled, which makes them a perfect party appetizer.
If you want to take these French Onion Tartlets to the next level, after plating, drizzle them with some Balsamic Glaze. It's divine. I forgot to take a picture because it was so good! A little messier, but good. 😉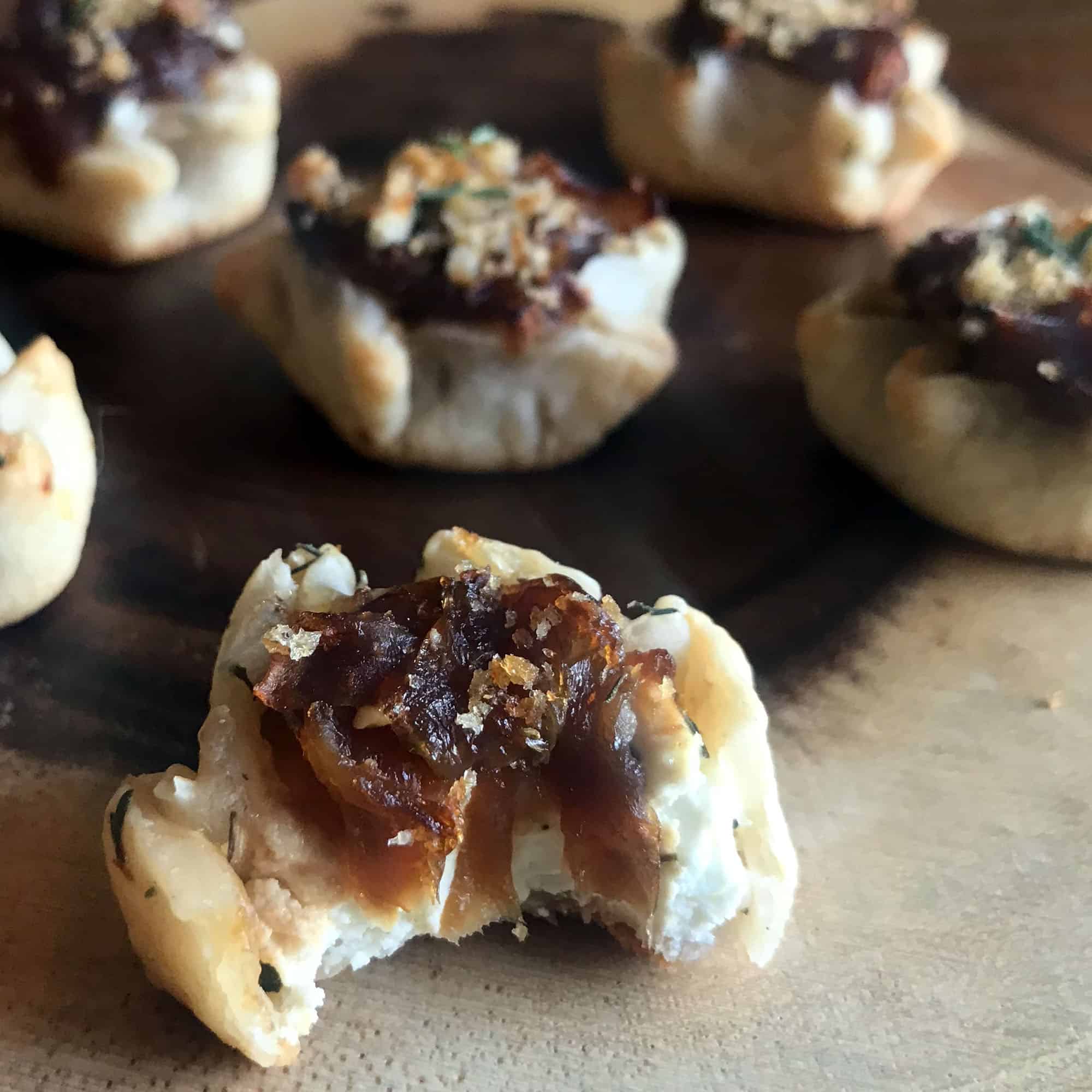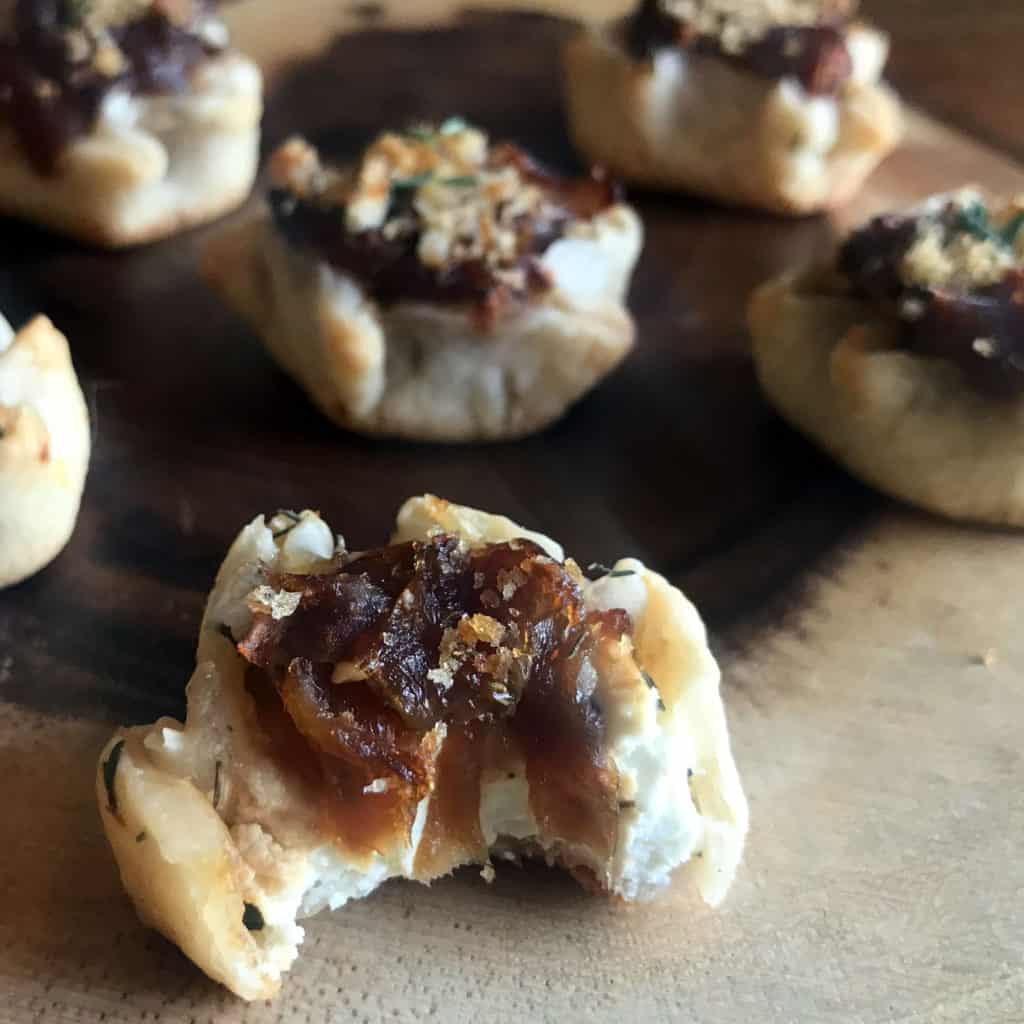 Let me know if you tried this recipe by leaving a comment below! I'd love to hear how it went for you! Hope to see you at the next post!
Suzie
📖 Recipe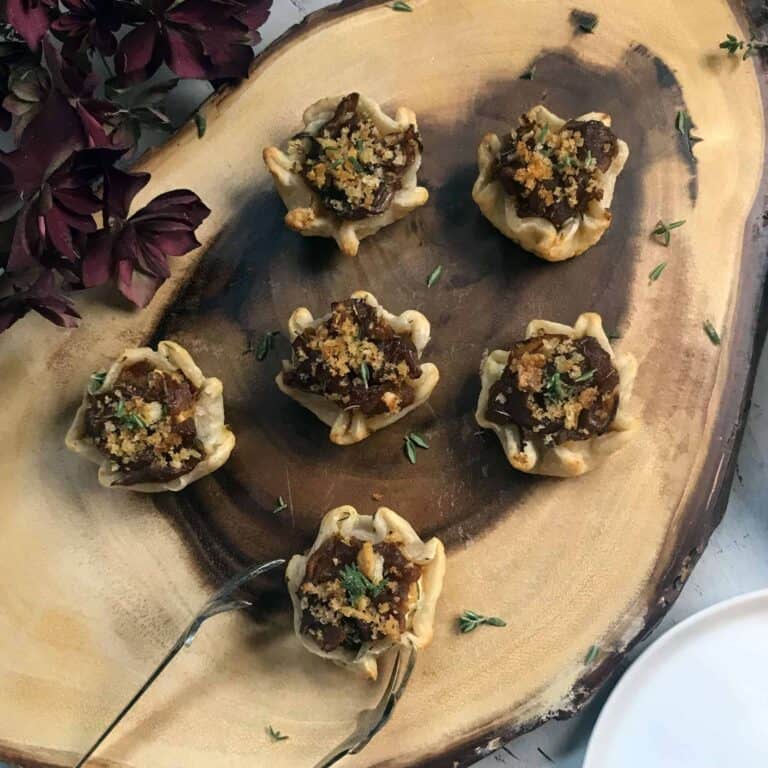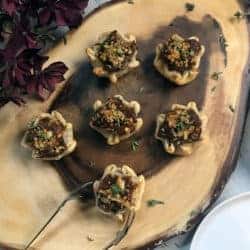 French Onion Tartlets
A sweet little appetizer inspired by the famous French Onion Soup.
Print
Pin
Rate
Ingredients
2

Rolls

Prepared Pie Crusts

Rolled

½ - 1

Cup

Caramelized Onions

1 teaspoon per tartlet

½

Cup

Goat Cheese or vegan feta

or Cream Cheese - 1 teaspoon per tartlet

2

tablespoon

Dried Thyme

for sprinkling

½

Cup

Breadcrumbs

to top tartlets, optional
Instructions
Preheat oven to 400°F (200°C)
To Make the Tartlets
Roll out packaged pie dough on a large cutting board. Using 1 ½" cookie cutter or small mason jar, cut out 12 circles per sheet of pie dough.

2 Sheets - Prepared Pie Dough

In the middle of each circle, place 1 teaspoon of goat cheese, top it with 1 teaspoon of caramelized onions and a light sprinkle of thyme. (skip the cheese in this step if making vegan)

½ Cup - Goat Cheese (more as needed)½ Cup - Caramelized Onions (more as needed)Sprinkle - Thyme

Gently fold in the edges to meet the filling and crimp the sides until the edges are snuggly holding the filling. After crimping the edges, top the filling with breadcrumbs. (Skip adding breadcrumbs if making vegan and top with thyme) Then place the tartlet on a baking tray. Repeat with the rest of the tartlets.

½ Cup Breadcrumbs (sprinkle to top each tartlet)(optional)Sprinkle Thyme - if making vegan

Bake in the oven for 9 minutes, rotate and cook 3 more minutes. Check bottoms to make sure they are not burning.

If making vegan, allow tartlets to cool for 3 minutes, then top with 1 teaspoon of crumbled vegan feta and top with thyme.

½ Cup Vegan FetaSprinkle Thyme

Serve warm or cool with a little love and enjoy! 🙂
Nutrition
Calories:
28
kcal
|
Carbohydrates:
3
g
|
Protein:
1
g
|
Fat:
1
g
|
Saturated Fat:
1
g
|
Cholesterol:
2
mg
|
Sodium:
35
mg
|
Potassium:
28
mg
|
Fiber:
1
g
|
Sugar:
1
g
|
Vitamin A:
57
IU
|
Vitamin C:
1
mg
|
Calcium:
18
mg
|
Iron:
1
mg
Are you looking for a specific recipe but can't find it? Let me know! I'd love to create a recipe just for you!
https://www.pinterest.com/thevirtualcaterer/